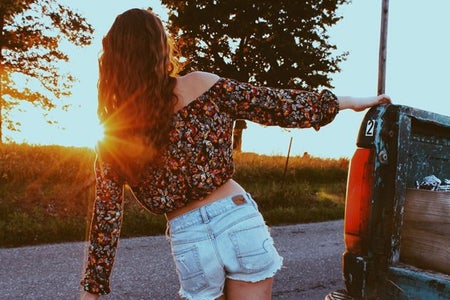 Amelia Kramer / Her Campus
Top 4 Places for a Daytrip in Gainesville
With homework, clubs and an overwhelming amount of commitments, college students often don't know how to adequately plan their free time.
When they finally find a minute to spare, they often default to watching their favorite television shows or taking a nap.
However, many students forget that their four years on a college campus are unlike any other time in their lives. And they should take advantage of it. 
In a society that's constantly hustling, always worrying about what's next, people often forget to enjoy themselves and live in the present. 
When people think of a college town, their minds probably go to different libraries, food-stops and architectural sculptures.
Many people don't always think to plan out a fun-packed day.
In a city like Gainesville, packed with culture and activities, there are many hidden gems spotted close to the area.
As a college student looking to make the most of her four years and to not looking back and saying, "what if?"
I'm constantly looking for new activities to fill up my weekend.
Here are a few of my favorite day-trip spots that are all at least under two hours away from the city of Gainesville.
1. Devil's Den Prehistoric Spring

Located in Levy County, Florida, Devil's Den is an underground spring known as the scuba-diving hot spot.

Whether you are a newbie or an expert, Devil's Den is a great place to test out your scuba diving skills and explore your adventurous side.

Visitors also have the chance to go snorkeling and camping. 

2. The Canyons Zip Line and Adventure Park

What could be better than ziplining across a scenic view?

The Canyons Zip Line and Adventure Park is a great spot for all of the nature-lovers and thrill-seekers out there. 

2.

For Those Who are Looking For the Perfect Getaway: 

3. Ginnie Springs

Known for its tube rafts, kayaks, paddleboards and rope swings, Ginnie Springs is the perfect lake spot located under an hour away from UF campus.

It's the best combination of relaxation and adventure.

Ginnie Springs is a great destination spot for a group of friends to take a break from campus life and truly enjoy themselves. 

3.

For Those Looking to Stay Close to Campus: 

4. Depot Park

Depot Park is easily known as one of the best leisure spots near UF campus.

Aside from being a typical run-of-the-mill park, Depot Park is always jam-packed with visitors.

The atmosphere is unmatchable.

This park is elaborate and well-built, to say the least.
Throughout my time at UF, I hope to continue finding great spots to spend my time at. So far, I am enjoying every moment of it.