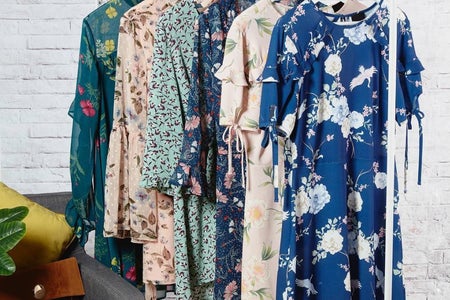 Thrifting From My Parents' Closet
My house came with a spare bedroom and closet that my family allocated as the guest room. The guest room became my bedroom when I moved out for college. I moved all of my left-over belongings into the room. The only space I didn't fill was the closet because it was already filled to the brim. My parents sent all of their old clothes from their college days and young adult lives to that closet to die. But that was where I stumbled upon some of my favorite clothing pieces. Whenever I get bored at home, I drift to the closet and start sorting through items. So far, I've found five pieces of clothing that are better than anything I've found at a regular thrift store so far.
1.

The trouser pants of my dreams

My favorite item by far that I found in my parents' closet of doom is a pair of work pants that my mom wore when she was in her late 20s. Originally, I thought they were my dad's. I was confused about how high-waisted they were. But my mom quickly told me that they were her pants. The trousers are a dark grey-blue color. They fit perfectly around my waist (could we say it's genetics?), and they give me that loose slouchy fit that's often hard to find in modern stores. I like to pair them with girly tops to give me an edgy, feminine vibe.

2.

A Wilson hoodie taken straight from the 80s

One of the first things I found in my parents' closet was an old grey Wilson sweatshirt. Wilson, as in sports brand. It was plain except for the teal logo sprawled across the front. I still have not ever seen another Wilson clothing item. Maybe I live under a rock, but I thought it was a pretty cool find. I ended up giving it to my roommate. She likes to wear the oversized grey hoodie around our apartment when it gets a little too chilly.

3.

A Ralph Lauren button-down I never knew I needed

Like the hoodie, I'm assuming this gem was courtesy of my younger father. The button-down is a blue and white checkered print. The worn-down fabric makes the shirt fall in a flattering way, and it feels great on my skin. The shirt looks kind of like a flannel, which is what drew me to it. I'm not super into flannels right now, but for some reason, this shirt fits the bill. It gives me a laid-back look while still making me feel put-together.

4.

Sweater vests – it's a trend

When I saw sweater vests were making a comeback, I knew where to look. I asked my dad if I could comb through his closet, and I came up with three options. Two had diamond patterns, and one was a plain cream. After much manipulation, I convinced him to let me keep two of them. He hadn't worn them in years, but he still felt attached to them for some reason. I assured him that they were going to a good cause… my college closet.

5.

Pencil skirts that still do the trick

My mom still keeps most of her old suit skirts in her closet. I don't take the jackets because I haven't gotten on board with shoulder pads, but the skirts are fair game. She's given me a black one and a maroon one that I keep in my closet for business wear and business casual attire. I could also use them for a casual look if I wanted to pair them with Converse and a jean jacket. The fit is still modern, but I didn't have to pursue the racks of JCPenney to find a pencil skirt.
I enjoy combing through my parent's closets every time I go home.  Even if I don't find anything worth keeping, it's an entertaining activity. I've tried on my mom's wedding dress, her suits and my dad's old clothes, too. My mom and I have enjoyed laughing at me in her old clothes, and my dad gets a thrill out of seeing the outfits I come up with.
Thrift stores are fun and sustainable way to engage with fashion, but during the pandemic, parental closets offer another opportunity. You can thrift decades of fashion trends without leaving the comfort of your house. This could be safer during the pandemic since you won't have to be around other shoppers or touching the same items. Next time you feel like shopping, check out your parent's closet. It will make the question "where did you get that" even better to answer.