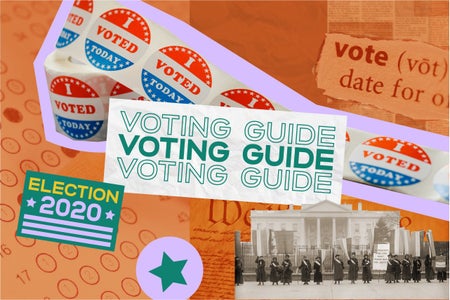 A Roadmap To the 2020 Presidential Election
The 2020 presidential election is nearly here, and your vote is more important than ever. Not only will you be voting for the next president, but you will also be voting for different people and propositions that will affect you for the next four years and beyond (depending on where you live). The following is a non-exhaustive list of things that would be affected by your vote:
Local renovation
School district funding
Tax cuts and other economic policies
Criminal justice reform
The next Supreme Court Justice
Climate change
Healthcare accessibility and insurance
Racial and social justice
And much, much more
There are two ways you may vote: voting by mail and voting in person. Voting in person requires you to vote at a specified polling location, and you may either vote early or vote on Election Day. Voting by mail requires you to request a vote-by-mail ballot from your local Supervisor of Elections and to fill it out accordingly and carefully. You may then send it out (on time) through USPS or dropping it off at a secure drop box at your local Supervisor of Elections office or early voting site.
If you are voting by mail, please make sure to avoid making any mistakes that can disqualify your November mail ballot. Here are the five mistakes you can make when filling out your ballot and how to avoid them:
1.

Improperly filling out your ballot

When you receive your ballot, take the time to fill it on a flat, dry surface and avoid accidents like drink or food spillage that could damage your ballot. Carefully follow the instructions that come with it — ballot scanners can accept only certain colors of ink and ballots that are filled out properly. Therefore, make sure to fill out your ballots with blue or black ink ONLY (no graphite pencils, highlighters, markers, or any other writing utensils). Avoid making stray marks with your pen and fill in the bubbles fully without going past the edges. Additionally, do not make more than one choice for the same office. In a vote-by-mail system, there are no second-chance opportunities.

2.

Forgetting to sign the envelope

Your ballot will be rejected if the envelope does not have a signature. Every state requires the voter to sign an affidavit on the outside of their envelope containing their mail ballot affirming their identity and eligibility to vote, so make sure you sign in every place that requires a signature.

3.

Using a different signature from what your state has on file.

One common thing that sometimes gets overlooked by the voter is if your signature does not match the one they have on file when you first registered to vote. If you have any reason to believe that your signature has changed since you last registered to vote or made any changes to your registration, update your signature immediately. Your ballot may end up being disqualified if your signatures do not match because many states (at least 31 states) now use signature verification to confirm the authenticity of the ballots. Voting officials cross-check the signature that's on the ballot to the most recent signature on file with the election selection's office, DMV or another government agency. While signature matching does add an extra layer of security to ensure the integrity of mail ballots, it can also lead to a greater share of ballots being challenged or rejected. However, not all is lost if your signature is missing or does not match the one on record. Your Supervisor of Elections is required to notify a voter as soon as it is practical if a voter's signature is missing or does not match the one on record. 

Once a voter learns about the missing or mismatched signature, the voter may complete and return a "Vote-by-Mail Ballot Cure" affidavit with a copy of identification. The documentation can be returned by mail, email, fax, or in person. The deadline to submit the form and the ID is no later than 5 p.m. (local time) on the second day after an election. Failure to follow the instructions may cause the ballot not to be counted. (Note that these directions apply to the state of Florida; other states may have slightly different policies, so if you live in another state, please check your state's policies about how to correct a missing or mismatched signature on your mail-in ballot.)

4.

Not including required additional documentation.

Some states require voters to take additional steps, like having a signature from a witness, to authenticate their ballot. Thirteen states require all or some voters to submit a copy of their photo ID with their absentee ballots. Check online to see what additional things your state may require. If you need assistance with navigating the voter ID laws in your state, affording the cost of obtaining an ID, or making a photocopy to send in with your ballot or application, organizations like VoteRiders can help.

5.

Sending your ballot back too late

One of the most common reasons why mail ballots are rejected is that they arrive too late or lack a postmark. This year, 27 states require ballots to be received by Election Day or the day before in order to count, while 23 states and the District of Columbia require ballots to be postmarked by Election Day or the day before. If you live in a state where a ballot must be received by Election Day, USPS recommends that you put your ballot in the mail at least a week in advance.
The following information shows the various election dates and deadlines for the state of Florida and other important information:
Florida General Election date: Nov. 3rd, 2020
*Early voting: Oct. 19th, 2020 – Nov. 2nd, 2020
*This is when you can drop off your absentee (mail-in) ballot. Dates and hours may vary based on where you live.
Voter update/registration deadline*: Monday, Oct. 5th, 2020
*This is where you update your address, register under a party, etc. This deadline applies whether you register/update online, by mail, or in person. If by mail, your form must be postmarked by Oct. 5th.
Deadline to request an absentee ballot: Oct. 24th, 2020
Deadline to return an absentee ballot by mail: Nov.r 3rd, 2020 by 7 p.m.
Deadline to return an absentee ballot in person: November 3rd, 2020 by 7 p.m.
Click here to visit the page containing all of the Supervisors of Elections by county for their contact information and the county's website for other additional election information.
Click here for more information on how to vote by mail in Florida.
Voter registration deadlines for all 50 states:
Alabama – Oct. 19
Alaska – Oct. 4
Arizona – Oct. 5
Arkansas – Oct. 5
California – Oct. 19
Colorado – Oct. 26
Connecticut – Oct.27
Delaware – Oct. 10
Florida – Oct. 5
Georgia – Oct. 5
Hawaii – Oct. 5
Idaho – Oct. 9
Illinois – Oct. 6 (Mail) and Oct. 18 (Online)
Indiana – Oct. 5
Iowa – Oct. 24
Kansas – Oct. 13
Kentucky – Oct. 5
Louisiana – Oct. 5 (Mail) and Oct. 14 (Online)
Maine – Oct. 13
Maryland – Oct. 13
Massachusetts – Oct. 14
Michigan – Oct. 19
Minnesota – Oct. 13
Mississippi – Oct. 5
Missouri – Oct. 7
Montana – Oct. 5
Nebraska – Oct. 16
Nevada – Oct. 6 (Mail) and Oct. 29 (Online)
New Hampshire – Varies
New Jersey – Oct. 13
New Mexico – Oct. 6
New York – Oct. 9
North Carolina – Oct. 9
North Dakota – No registration required
Ohio – October 5
Oklahoma – Oct. 9
Oregon – Oct. 13
Pennsylvania – Oct. 19
Rhode Island – Oct. 4
South Carolina – Oct. 5
South Dakota – Oct. 19
Tennessee – Oct. 5
Texas – Oct. 5
Utah – Oct. 5 (Mail) and Oct. 27 (Online)
Vermont – Recommended by Oct. 30
Virginia – Oct. 13
Washington – Oct. 26
West Virginia – Oct. 13
Wisconsin – Oct. 14
Wyoming – Oct. 19
You have the right to vote and you are allowed to exercise this right. It is illegal for anyone to try to stop you from voting, whether it's through intimidation, coercion, threats, false information about voting requirements, and people impersonating poll workers or election officials. Click here to know your rights as a voter. You may also call the Election Protection Hotline at 1-866-687-8683 if you need immediate assistance if you come across any troubles or difficulties.
Every vote counts. Your vote—and thus your voice—matters in this country. It is more essential now than ever to cast your ballot. As Harry Emerson Fosdick said: "Democracy is based upon the conviction there are extraordinary possibilities in ordinary people." Encourage your friends, family, and loved ones to vote this year as well, whether that means to show up at the polls or turning in your mail-in ballots on time. Election results can often come down to a select few who decided voting is worth the effort—and you may end up being one of those deciding factors. The future depends on you. Continue to inform yourself, create meaningful and productive discussions on important topics, encourage everyone around you to participate in the election, and when it's time, vote.
Additional Important Links: