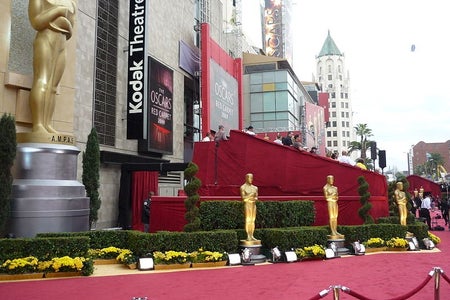 'Parasite' Makes More Than Just History at the Academy Awards
The Academy Awards took place a couple weeks ago, and I am still excited that "Parasite" swept the awards.
The South Korean film, directed by acclaimed director Bong Joon Ho, is a film that provides a commentary on the dynamic between the working class and the rich in the 21st century.
This is a concept most people are familiar with, especially in the age where Trump, a rich businessman, is president, along with other wealthy politicians who don't understand the needs of the lower classes.
Parasite proves that the language of the film is irrelevant to the viewing of the story, as all of us have something to relate to in the movie, regardless of what country or language it originates from.
"Parasite" won four of the major awards at the 2020 Academy Awards, which were Best Screenplay, Best Foreign Film, Best Director and Best Picture.
When I first saw "Parasite" win  these awards, it was surprising to me, because the Academy often makes decisions that I don't agree with.
Often, the Academy is not as inclusive as they should be. However, the results are justified this time, and so the question arose: "What does this mean for Hollywood?"
I think the better question should be "What does this mean for the film industry?"
Earlier this year, Bong Joon Ho, the director of "Parasite," called the Oscars "a local film festival," a quote that made many Americans take a step back. But it makes sense.
The Academy Awards usually concentrate and keep their focus on films created by those in America or about American culture, while it considers any other film outside of America to be foreign.
The debate as to "what is foreign?" Is now a more open question.
With a diverse America and a more culturally intertwined world comes a demand for a film and TV industry that recognizes and applauds stories reflecting this diversity.
The Academy has become more conscious of its effort to create opportunities for more than just white men, although their efforts are bleak. 
Amongst all the inefficiency, "Parasite's" win is a diamond in the rough; a surprising and simultaneously joyous occasion.
It is a way for people of color, specifically young East Asian filmmakers, to know that through all the countless walls that must be broken, one has already been broken and it will take time and many steps to continue to break the others. 
This win for "Parasite" has also created a wave within the film industry by demonstrating to the world that the "barrier of subtitles," as Bong Joon Ho said in his Golden Globes speech, is one that should not stop us from opening up to a whole other world of movies.
After "Parasite's" big win, many people took to social media to raise awareness and encourage others to watch Bong Joon Ho's past films along with the films of many other acclaimed South Korean filmmakers.
In fact, this event has created a new kind of appreciation for foreign films and has contributed to blurring the lines between what is considered a foreign film. 
The Academy's recognition of this film wasn't as much a testament to the film as it was to the fact that South Korea has an amazing film industry.
Although "Parasite" deserved every single award it won that night, it made the global film industry realize that films from around the world are worth exploring and recognizing, no matter how different they are from the films we see in America.
These films bring a variety and range to the film industry, and  create a more well-rounded, exciting and representative community illustrative of how films can unite a global entity and community.
"Parasite" does this by staying true to its South Korean culture in a largely Western influenced world and telling a story that everyone can connect to.