Music Mondays: Track-By-Track Review of Rihanna's New Album, Anti
Tracks unfit for radio play, no concern for commercial success, more slow jams than singles – none of these things would've been associated with Rihanna two weeks ago, but are now the defining traits of her new album, Anti.
Last year's singles "B*tch Better Have My Money," "FourFiveSeconds" and "American Oxygen" surprisingly make no appearance on the record – but it all somehow makes sense. Even without her latest chart-toppers, Anti is already the fastest album to be certified platinum, all the while selling less than 1,000 copies in the first week thanks to online streaming.
Anti marks a drastic 180 against today's commercial giants like Justin Bieber and Taylor Swift; it shows that consumers aren't necessarily as single-hungry as executives claim. (The same could also be said with Adele's 25.) All you need to sell albums is a badass artist who isn't into that whole conformity thing... and a few good songs wouldn't hurt, either.
1. "Consideration (feat. SZA)": 3/5 stars
The opening track of Anti sure has a groovy beat. Rihanna's vocal inflections remind me of her past work on Unapologetic, and SZA provides a great voice for her to blend with. It's odd to have a duet as the opening track of an album, but obviously the rules of music don't apply to RiRi.
2. "James Joint": 1/5 stars
Interludes are all the craze right now, and Rihanna's jumped on the train with this minute-long ditty. Warning: Listeners may be confused when listening to the opening lyric – "I'd rather be smoking weed" – and believe they've skipped to Miley Cyrus & Her Dead Petz.
3. "Kiss It Better": 3/5 stars
This song gives Anti its first slow jam and it's a great listen, Bowie-esque guitars and all. However, some sort of climax would've given it the extra stars.  
4. "Work (feat. Drake)": 3/5 stars
Rihanna teamed up with Drake to put together Anti's most club-worthy track. I'm not sure how well the song will do on the radio, but I can see it being a hit at Midtown bars.
5. "Desperado": 2/5 stars
This song reminds of me "B*tch Better Have My Money," which isn't necessarily a bad thing. But I can already see it being a great crowd-pleaser this summer on Rihanna's tour.
6. "Woo": 4/5 stars
The producing of this track is insane. (Thanks, Travis Scott.) It's so much fun that the sudden cut-off at the end leaves you wanting more. Here's my reaction of when the beat first dropped: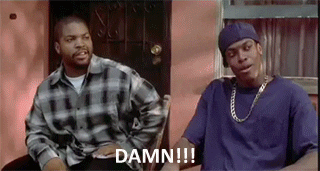 7. "Needed Me": 3/5 stars
To girls who are against the idea of love being a fairytale, this song is for you. If "F*** your white horse and your carriage" doesn't make Cinderella question her relationship, I'm not sure what will.
8. "Yeah, I Said It": 2/5 stars
Rihanna doesn't ever put her sexuality in a corner, but it's dancing under the spotlight in this song. Timbaland's magic touch here, however, doesn't quite turn into gold and leaves you going, "Wait, that's it?"
9. "Same Ol' Mistakes": 3/5 stars
This song oozes and flows more than any other on Anti. For some reason, the beginning reminded me of the opening of "Umbrella," but "Same Ol' Mistakes" is a testament to how much more mature Rihanna's music has become.
10. "Never Ending": 3/5 stars
No, it isn't a Christina Perri song, but that's an understandable mistake. "Never Ending" is the first track that starts Anti's easing away from hip-hop and easing toward R&B.
11. "Love on the Brain": 4/5 stars
A song that easily could've been released in the '70s, "Love on the Brain" would've been expected from Beyoncé but is a welcome breath of fresh air from Rihanna.  
12. "Higher": 5/5 stars
If you had any doubts about Rihanna's vocal chops, "Higher" proves them all wrong. She pours her soul into this track, and it's the best on the album for just that reason.
13. "Close to You": 3/5 stars
Rihanna's album ends on… another ballad? The beginning and end of Anti don't correlate whatsoever – and I absolutely love it. Though I would've preferred "Higher" to close out the record, "Close to You" provides a nice, mellow tune to fade out on.  
If you want the stereotypical Rihanna listening experience, the first half of Anti is just for you. However, if you want something new and unabashedly original, tracks nine through 13 are where it's at.
Photo credit: musictimes.com