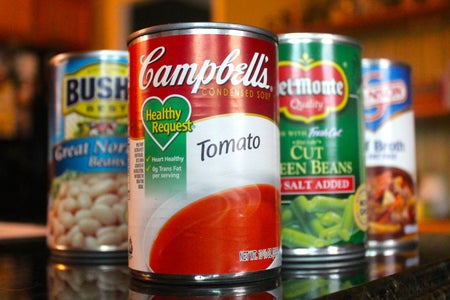 An Inside Look at UF's Food Pantry
For those of you who are new to campus, UF has several resources for students who need financial assistance obtaining groceries. For example, the university has a food pantry readily available for its students. It wasn't until recently that I heard about it. Having been a student for a year and a half, I had heard talk of it but had never seen firsthand how limited the options were.
In order to receive food from the pantry, you must be a student or an employee, and you must fill out a form beforehand. The form includes questions about which foods you would like and any dietary restrictions you may have. After filling out the form and selecting a date to pick up the items, you can head out to the pantry to receive your pre-made bag. Pre-COVID times permitted individuals to "shop" the pantry for anything they needed, but currently the pantry exclusively offers pre-made bags for students and employees.
What's in the food pantry?
After speaking with a fellow Gator about her experiences receiving food from the pantry, I decided to write about what types of food were available. I will keep her identity anonymous, as she does not feel comfortable talking about her current situation.
During her first trip to the food pantry, she was not too sure what to expect. The form she filled out did not include specific items—it was a general form formatted in a "this or that" manner, for example "chips or crackers." Nevertheless, her hopes were high, and she looked forward to receiving groceries this semester. Her bag included two bags of veggie chips, a chocolate bar, three packs of peanuts, two granola bars, three bags of tea, three cans of beans, and two packs of microwaveable food. At first, I was horrified. How could the university expect someone to be able to survive off such little food? However, after researching more about the pantry and understanding just how many students they serve, I understand that supplies are limited.
Her second trip was bit more eventful and "filling" as she received a carton of eggs. I think we owe it to our fellow students to keep the university more accountable, and even more so to donate 10 cents or canned food to feed a friend.
How can I pick up food and where?
In the event that you need to utilize the food pantry, feel free to fill out the form linked above. Also, each student and employee can fill out the form twice a week. Afterwards, head towards the Reitz Lawn across from the Hub and east of McCarty Hall A. Its nearby bus stops include Rawlings, Reitz, and Hub. Due to COVID and the spring semester, the hours of operation for the pantry are a bit different. Make sure to bring your UFID--the pantry needs to scan it in order to keep inventory and statistics on how many students utilize the facilities.
What can I do to help?
The biggest take-away from learning about the food pantry is that there is so much all of us can do to help our fellow students. For example, during my freshman year, anytime I would shop on campus, I would make a point to participate in the 10 cents to feed a friend initiative. Through this, every 10 cents a student spends goes towards replenishing the food pantry. Additionally, during normal (non-COVID) times, volunteers are always welcome to help operate the pantry. There are also two forms of donations available: monetary and food. For food donations, there is a pantry wishlist, great for doing personal donations and organizing drives. I encourage you to go out and donate. If you do, make sure to tag @hercampusufl and share your Gator pride by helping out all your fellow Gators.