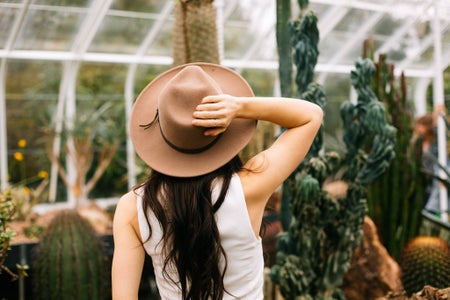 Breanna Coon / Her Campus
Her Campus UFL Talks Sustainability
As a college student, making the shift to living more sustainably can seem like an ambitious undertaking.
Never fear — our team is here to make it less intimidating.
Four members of the Her Campus UFL team spoke about how they have incorporated sustainability into their lives and provided advice on how you can do the same.
What is sustainability, exactly?
While the term sustainability is thrown around a lot, it can sometimes be difficult to know its exact meaning.
The dictionary defines it as 'the quality of not being harmful to the environment or depleting natural resources, and thereby supporting long term ecological balance'; however, members of the Her Campus UFL team have personalized the definition. 
"To me, sustainability means being aware of our impact as individuals on this planet and striving to make smarter and cleaner decisions," says Viviana Moreno, a junior journalism major and Her Campus UFL Co-Editor-in-Chief. "It's about caring for each other and for the amazing place we call home."
Like Moreno, Niha Maity, a senior computer science major and features writer for Her Campus UFL, emphasizes the personal nature of sustainability. 
"Sustainability is the act of doing our best and what we can to preserve the Earth in the best state possible, for as long as possible," Maity says. 
What is the importance of living sustainably on a personal level?
Sometimes, it can be difficult to recognize the importance of individual efforts in combatting the climate crisis — you may even feel like your actions don't matter. Not only do they matter greatly, but living sustainably helps your words match your actions.
"It's one thing to want to help the planet, but to make conscious efforts every day proves that you care about the planet," says Kaila Richardson, sophomore journalism major and Her Campus UFL features writer.
Dani Clarence, a sophomore public relations major and PR/Events team member at Her Campus UFL, simply states that sustainable living is a personal duty simply since it's 2020 and the climate crisis is highly present in our lives. She explains how the fast-moving world of today makes wastefulness easier. 
"We need to wake up and realize that this planet is dying, if we keep going at the rate we're going, we might not get to see a future, and that's scary," she says. 
How do Her Campus UFL members live more sustainably?
Moreno uses a reusable Keurig K-cup, thrifts the majority of her clothing, uses towels and cloths instead of disposable napkins and uses cleaner beauty and cleaning products.
"I follow a lot of inspiring individuals who share their sustainability journeys," Moreno says. "They taught me that the process is not overnight, but any progress is good progress"
Maity has started using bar shampoo in conditioner to replace her plastic waste. She also carries a reusable grocery bag, as well as a steel water bottle or coffee tumbler. 
Like Maity, Richardson brings a reusable bag when she shops and carries a metal straw. She has also decided to stop purchasing polyester.
Clarence has taken sustainable one step further: after researching how much clothing goes into landfills annually, she started a sustainable fashion store, Threads 4 Clearance. The Instagram-store features thrifted items or items Clarence previously owned. She has rejected the fast-fashion business.
"After reading tons about that and discovering the awful conditions these companies put their employees under, I decided I didn't want to partake in that," Clarence said. "Everything I wear now since 2018 is second-hand. Ever since then, vowed to never shop at a fast-fashion store again and haven't ever since."
Any advice for incorporating sustainable practices into daily routines?
Progress doesn't have to be instant when it comes to living sustainably. Richardson advises starting slow and growing from there.
"Make small changes in your life and stick to them," she says. "Repetition is key to starting any new habit."
Maity provides similar advice, saying, "Once you are comfortable with one habit, slowly try picking up more."
Clarence also emphasizes that small actions count. "Throw away your trash in the right bin, try to recycle as much as possible, don't buy more than you need and be wise about the companies you buy from. Do your research. Knowledge is powerful and can always steer you in the right direction."
Moreno says, overall, that she strives to make choices that will reduce waste and promote sustainability. 
"Start with small, easy ways that can build into habits and make your way down your sustainability journey knowing you're on the right path."