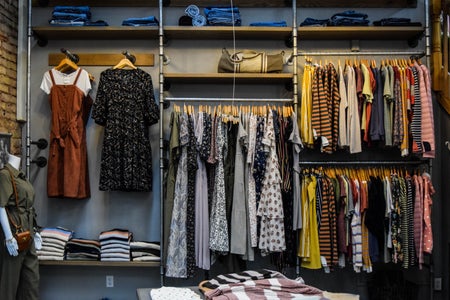 Faux Dresser or Trendsetter?
I see fashion as personal art, a creative outlet through which I can showcase to the world who I am and the things that best define me. Through inspiration ruts, getting dressed can sometimes feel like a chore, but, needless to say, at the best of times when my mind feels a bit lighter, my style naturally shines through. The phrase "finding your style" can sometimes be overly emphasized, making us rethink our entire wardrobe and at times question our confidence as a whole. 
As much as we may try to deny it, our clothing can often be a source of self-empowerment and a material way of feeling more secure. As shallow as that may seem, many of us can relate to these feelings because clothing can act like our superhero suits and help us embrace the manifestation of who we know ourselves to be. I encourage you to find the styles and pieces that speak to your soul and let go of social pressures that make you feel the need to emulate trends of today for the sake of "fitting in" — because who truly wants to be like everyone else?
How to begin to define your style
Finding your authentic style isn't something that happens overnight. By this, I mean building a wardrobe filled with pieces that play to your own beat is a process. The fact of the matter is your perfect wardrobe may never be completed, as we are ever-changing beings, whose likes and interests are steadily evolving. Just as life never remains constant, neither will your style, but the pieces that instantly own your heart and bring value and joy to your life far beyond their very fabrics — these are the pieces that speak to you, that echo your existence when you choose to proudly wear them. 
The pieces that make you feel like the best version of yourself begin to feel more like a part of who you are rather than a material item you own. If a piece of clothing jumps off the racks, desperate to be that one standout picks to help tell your story, then you instantly know these pieces are meant to be in your possession and are the ones worth inviting into your closet. Finding your style shouldn't be such a challenging task if you are following your intuition through the process.
Dressing for yourself does not mean that your inspiration can't come from others or even from today's trends; it should encourage you to come up with ways to adopt trends into your unique form of self-expression. The most powerful of dressers can attest to the fact that they own their clothing — their clothing does not own them. 
Does it resonate with you, or is it just a trend?
We've probably all admittedly fallen victim to the boundless ingestion of clothing through constant trend adoption. After all, this is usually the goal of retail companies. With every exciting new trend comes this social urge to play a role in society that may not align with who you are. So, what if what is "trendy" just isn't you? Try not to place an unnecessary burden on yourself or your wallet to buy into the trends that may never fit into your style identity.
Today more than ever, trends are quickly cycling through, constantly being replaced by the next big thing. If everyone bought into every trend, we'd ultimately end up with a wardrobe built on excess, impulsively throwing away our dollars and detrimentally falling into the trap and repeated cycle of overconsumption. Sure, impulse buying is a common instinct, but substantial change lies with intentional purchasing. 
I'm sure I am not alone in feeling like the most outrageous of trends have been born out of days of quarantine boredom. Just because society tells you that bold dressing is in, it does not mean you must follow suit, especially if these trends don't feel natural to you. Rather than calculating your style so intently and feeling left out of the fashion loop, take comfort in knowing that you are ultimately choosing to own your style and showcasing your personality through authenticity. The moral of the story is to wear what makes you happy. Never wear a piece that isn't you for the sake of being trendy. If anything, build up the courage to stand out and unapologetically be yourself.
When all is said and done, it is only when you feel like your best self in an outfit and wears your confidence on your sleeve that you come to genuinely own your look and wear your clothing better than anyone else ever could.