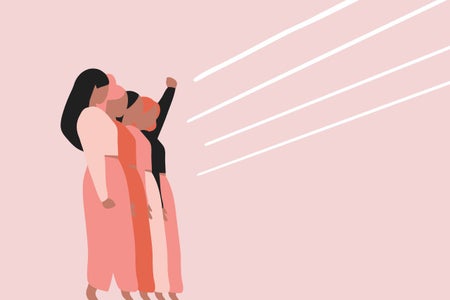 Original Illustration by Gina Escandon for Her Campus Media
Dear March: A Stroll Through Women's History Month
Hello, March!
We have been waiting for you, excited to welcome you with open arms. For many, you signify the mid-semester mark or the beginnings of spring. However, for me and millions of women worldwide, you symbolize the adversity faced, strength embodied, and empowerment that is possessed. Beneath the gorgeous weather, we choose to celebrate the history that you recognize. March, you have generously gifted us with Women's History Month.
By highlighting the women who have made a difference in history, you continue to remind young girls and women everywhere that the possibilities in life are endless.
The women you honor are inspirations beyond belief. Through celebrating women's history and recognizing prominent female figures, you act as one of my favorite months of the year. You make us want to drive with our friends, windows down, blasting Beyoncé as her lyrics boost and unlock our inner confidence. Her music is a vessel for woman empowerment, as she lets it be known that girls can run the world. You motivate us to write stories and share our experiences as Ida B. Wells has. They have been advocates for tapping into our creativity. You encourage us to be fearless like Taylor Swift and authentically ourselves, similar to Michelle Obama. All of the admirable characteristics portrayed by female figures in history have been beautifully broadcasted thanks to you, March.
With the will, love, and tenacity that women convey, we can do anything that we want to in this world. Through setting our minds to what we want and working diligently towards our goals, like our fellow females throughout history have, you have not only recognized that women can dream big and to write their own stories, but you also promote them to do so.
You bring attention to women of all backgrounds, shapes, and sizes. You let these women know that physical beauty comes in millions of forms, but internal beauty is what truly makes them shine.
March, you dedicate your time to reflect on many overlooked contributions made by women throughout history. You take your month to recognize their achievements, whether they have been publicized throughout their time or not. Many women have changed the world more than we care to think about—figures such as Susan B. Anthony and Rosa Parks are just a couple of women who have changed the course of American culture forever.
Between the historical footprints made by women throughout history and the determination that you instill in us all, it is no surprise that you use every single one of your 31 days to redirect the world towards female accomplishments and empowerment.
March, although you mean different things to an array of people, I know that women across the globe ought to be inspired by the stories you share over this year's Women's History Month. I am ready to be educated and gain a new sense of self from the history, culture, and compassion you share with women everywhere. March, thank you for not just being a month, but for being a time every year where the world can recognize women's capabilities and successes.