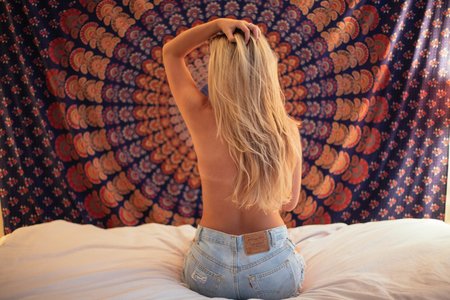 Breanna Coon / Her Campus
Billie Eilish Stomps on Body Shaming
"If what I wear is comfortable, I am not a woman. If I shed the layers, I am a slut."
These were some of the first words to come out of singer and Grammy winner Billie Eilish's mouth during the first night of her Where Do We Go? World Tour.
Eilish is known for wearing baggier clothing in her photoshoots, concert performances and special appearances at award ceremonies. Back in her Calvin Klein ad in 2019 featuring Noah Centineo and Shawn Mendes, she stood up on behalf of the campaign "I Speak My Truth In #MyCalvins." She said she didn't want the world to know everything about her, so she relied on her fashion and oversized clothing to cover herself. It is ultimately used as a layer of protection against any hate, judgement or sexualization.
"That's why I wear big baggy clothes," she said. "Nobody can have an opinion because they haven't seen what's underneath, you know. Nobody can be like, 'she's slim-thick,' 'she's not slim-thick,' 'she's got a flat ass,' 'she's got a fat ass.' No one can say any of that because they don't know."
Eilish was only 17 years old at the time, and she was already onto something big. Her revelation sparked an ongoing social media conversation covering the objectification of women and their bodies. Many fans posted tweets or Instagram captions with their personal stories on how they can relate to Eilish in that same way. Other fans pointed out the fact that one should not feel like they have to cover themselves up to avoid any kind of harassment or bullying in contemporary society.
In an interview with Vogue Australia, Eilish said, "It kind of gives nobody the opportunity to judge what your body looks like." She continued, "I want layers and layers and layers, and I want to be mysterious. You don't know what's underneath and you don't know what's on top."
Not long after this interview was released, Eilish told ELLE Magazine that she might want to make a video in the future where she looks desirable. She said she might want to release this video, be a woman and show off her body, but the people will say, "I've lost all respect for her."
Fast forward to March 2020 (aka Women's History Month), and Eilish strips down in a video removing her top and lowering herself into dark water. Here, she addressed the commentary of her choosing not to show her body and she is doing so in such a powerful way.
It's as if the world is infatuated with her body and what they imagine it looks like under all of the layers of clothing she piles on top. Using this as fuel, Eilish turned it into a poetic piece with a personal monologue reflecting on her past fashion choices making up who she is today and blocking out other people's opinions on who they think she is as a person. The crowd went absolutely wild.
"You have opinions about my opinions, about my music, about my clothes, about my body," she said in her video voice-over. "If I wear more, if I wear less, who decides what that makes me? What that means? Is my value based only on your perception? Or is your opinion of me not my responsibility?"
I think Eilish is still onto something big and empowering—especially as we are in the midst of Women's History Month. Kudos to this queen for stomping on body shaming and societal assumptions about people based on their size.