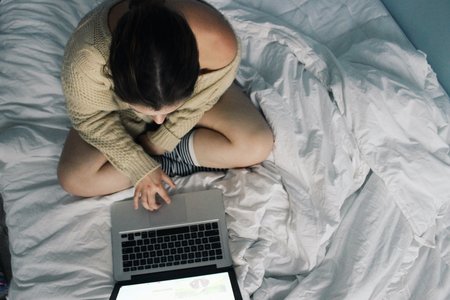 Anna Schultz / Her Campus
The Best Online Learning Services to Pass the Time in Quarantine
Quarantine is BORING! I think we can all agree on that.
The days and nights run together, and it's impossible to keep track of what day it is.
The only constant is the soft glow of a computer screen streaming How I Met Your Mother.
The days don't have to be so mind-numbing!
One of the few good things to come from COVID-19 is the variety of at-home learning services available to the public for free.
Instead of succumbing to the simplicity of television and online shopping, why not test out a few of these educational courses?
Rosetta Stone
The younger me would have thought this was a total score!
The commercials had utterly inspired me as a child.
When Chick-fil-A offered a limited version of their course in their kids' meal, I demanded that my mom played the CD over and over again in her minivan, its seats adorned with melted crayon stains.
Now, during this pandemic, they decided to fulfill my dream and release it to the public at no cost, and it lives up to the hype.
They offer a phenomenal vocal-auditory experience, making learning a language an incredibly engaging experience.
Plus, they have a great selection of languages to choose from, like Spanish, French, German, Mandarin Chinese, Russian, Korean and Farsi.
To create an account, just follow this link. 
Coursera 
This service is always free, but neglected, nonetheless.
Coursera allows its users to audit courses from some of the world's best institutions at no cost.
You can enjoy Yale's popular "The Science of Wellbeing" class, aptly nicknamed the "happiness course."
Courses servicing a variety of interests and skills such as computer programming, philosophy, history, writing, science and foreign language are at your disposal.
For a limited time, Coursera is offering a free certificate with completion.
This certificate can be used to demonstrate your proficiencies on resumes.
Take as many classes covering as many topics as you please.
You can find the aforementioned "happiness course" at this link.
Sophia Learning
This service offers for-credit courses at no additional credit during the coronavirus pandemic.
Unfortunately, the University of Florida does not accept these credits, but other institutions in the state, such as Broward College, Santa Fe, and the University of Central Florida, do.
Users can take up to one class at a time for free, normally valued at $50.
I took their course on environmental science and was pleased with the thoroughness of the material -- it really made me think.
This service is great for more traditional courses such as accounting, intro to business, macroeconomics and English 1.
It's a great way to develop a foundation of information for classes not pertaining to your major.
You can find a list of their courses at this link.