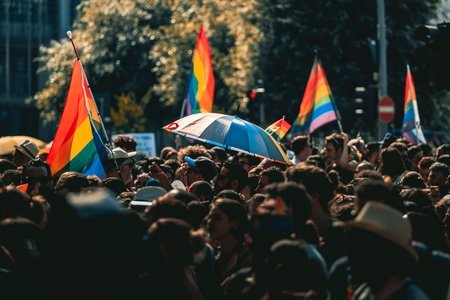 Virtual Pride Events You Can Attend This June (while social distancing)
It was more than half a century ago, on 24 June 1969, that the NY police raided the Stonewall Inn – the haven of the city's LGBTQ+ community. It sparked the start of a new era of resistance and revolution, and June became the month we celebrate Pride. With COVID-19 looming and everyone locked inside, there are many things we had to give up. But, celebrating who we are and who we love are not one of those things. This year, Pride is going virtual and online!
While we are going to miss the colourful streets and joyful comradery, virtual Pride has one massive benefit: for the first time ever, we can experience Pride across the globe. You can join the celebrations in Seattle, New York, London, Tokyo, Brazil and in Cape Town too. 
For me, this is going to be an experience like no other - and for the first time we can show some love to our international LGBTQ+ community too. It is going to take more than a global pandemic to stop us from celebrating who we are. You can spend days in bed and just scroll through the awe-inspiring memories of past Pride parades, see live feeds, and hear the stories of resistance and celebration by the LGBTQ+ community. See the available events from Global Pride and other celebrations below and join in Pride this June!
Global Pride: Exist. Persist. Resist – that is the motto for Global Pride 2020. During an all-day celebration, this event includes heart-warming stories, the traditional poetry slots, and interactive live-stream or videos. Every hour will be jampacked with musical performances and speeches. This event is phenomenal as it will give local Prides from East to West (from Sydney to San Francisco) their own time slots to speak on human rights components and to provide entertainment pieces. For more details visit Global Pride 2020's Facebook Page.
There are also many Facebook groups and established Pride pages (such as the Cape Town Pride Festival or NYC Pride 2020) that will launch their own content during the month of June. And do not forget to check out all those rocking LGBTQ+ anthems and playlists that will be featured on Spotify! Wishing you all a happy Pride month!