Changing My Major Changed My Life
I've come to dread the first week of every semester. I spend the days before the term starts contemplating all the courses I've ever taken and how unsatisfactory most of them have been. And then I wonder, "How can I make my life better this semester?" That's when the manic flipping through the handbook begins. It's followed by pencilling in my diary a number of lectures I need to sit in on during the first week. There's the rush to print change of curriculum forms and then the momentous wait at Neville Alexander; the queue at South Side Labs and finally, a brand-new timetable shows up on Peoplesoft. Only then can I breathe a sigh of relief. I've changed my major — again.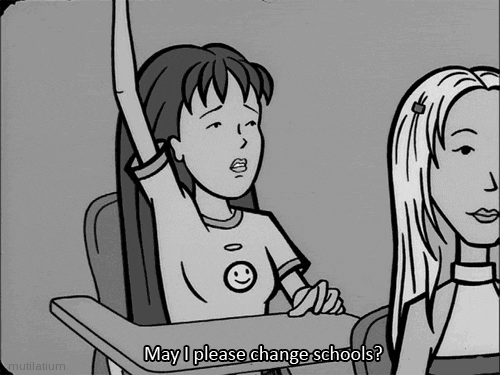 When I accepted a place in UCT's Humanities faculty, I could not have imagined how un-final that was. I'm in my fourth semester now and I've changed my major in all but one semester. I was majoring in economics before I rushed to change to French after a trio of overwhelming maths classes. After a year of theory and a course focused on film, I was replacing media and writing with African studies. Just one semester later, following an unrewarding course, I dropped French as a third major.
"Changing your major can be stressful," notes Susan Joubert, a former UCT psychologist in private practice. "The decision often does not depend solely on the individual. Family members might be invested in the first choice…Financial considerations often play a role."
Luke*, who changed from social work to a general social science degree at the end of the second year, took some time to make the decision and was worried about his parents' reaction to the change, especially regarding the financial implications. Although he had to start with a new major, he is enjoying the new courses.
Joubert has seen many students, in both undergraduate and postgraduate degrees, consider changing majors. Many stayed in the Commerce faculty, while some changed from Humanities or Medicine to Commerce. "It is not surprising that it can be very difficult to have to decide about majors at the age of 17, often without much helpful career guidance or information on the career opportunities a specific study direction might offer."
"Disappointing marks are sometimes directly related to not being invested in the chosen major. This can lead to low motivation, procrastination and generally not feeling excited about the academic project. It could even lead to a loss of confidence and low self-esteem, especially in previously high performing students, i.e. nearly all UCT students. Sometimes, it can lead to anxiety and depression."
Image by JESHOOTS on  Unsplash
My decision to change my economics major was because I foresaw myself suffering for something I wasn't 100% committed to. I knew that leaving economics as a major would make a major dent in my career prospects, but it also freed up so much of my time and headspace. By dropping maths, I could focus on economics (now only an elective) and give myself the time I needed to appreciate it. I had so much more time to work on understanding the economic theory from a social science perspective. Those two economics courses were the most stimulating courses I took that year and I knew that that would have been dampened if I was suffering through maths alongside it. 
"Changing my major allowed me to have more time," says Michelle Bashe, a second-year student who changed from human physiology to sociology to better complement her psychology degree. "I could get a job. It also made me feel more relaxed, because my major was outside of the science faculty. It made me focus on my major that will become my career."
I, on the other hand, planned on having a writing career but felt that my media and writing major was too theoretical and too film-focused to justify sticking it out. And then there was the fact that I'd gone along to an African Studies course and drooled over the department's courses in the handbook. I switched majors. I'm now doing my second and third African Studies courses out of the five needed to major in the subject. It's been the most stimulating, engaging and relevant set of courses. Even if there's no job advertised "African Studies Expert", I can see myself using the subject in my career as a writer.
Without a doubt, the most drastic change in my academic life came about when I dropped French at the beginning of this semester. Remember how I'd fled maths and landed up in French? I'd been a triple major and I had wanted to keep that status. In the long-term, though, I began to see that that had been a decision I had made out of fear — a fear that I wouldn't stand out to employers with 'just' two majors.
Dropping French and not replacing it with another major was a huge mind shift for me. I was only one semester away from completing my French major but I was so unhappy with the subject's content, structure and administration. So, I asked myself, "Why am I doing this?" My reasons seemed feeble and I realised that there was no need to force myself through something I hated, something that made me sullen and frustrated. I left French.
For Michelle, her decision to change majors just "made sense". Although human physiology required a postgraduate degree for her to turn it into a meaningful career, she had never wanted to do postgraduate level. "It was gradual and sudden. Gradual because I started thinking about changing my major after I failed my course but sudden because I thought I'd still be doing the science major. So, close to registration was the only time it was solidified."
In her 2015 TEDxFSU Megan Schwab, an academic advisor at Florida State University, explains that 78% of employers will hire any major. "What does matter is you and what you know to be true," says Schwab. "If you are living true to yourself, to your own voice, then you will have much more to offer any possible employer but, more importantly, you have more to offer the world."
"You should feel more comfortable with any decision you make, after some fact-finding and a period of thorough reflection," Joubert advises. "Many students who have taken the courageous step to make the change or decided to continue with the chosen major reported feeling that it worked out well for them. Their improved marks often reassured them that they made the right decision."
Luke* echoes this sentiment, "It was quite a lot of admin to make the change, but very worthwhile." He is very happy with the change and the flexibility that this brought. 
The best evidence I can give in favour of changing your major is this: After a year and a half, I finally have a semester where I enjoy all three of my courses. I'm happy to go to lectures, I feel like my degree has a purpose, I even enjoy doing readings —mostly, at least. Although changing my major felt like crossing a raging river, once I made the leap to the other side, the storm subsided and it all just made sense.
*This name has been changed to protect the student's anonymity.  
Are you thinking about changing your major?
Here's more advice from Susan Joubert!
"When it is difficult to change majors (often due to bursary obligations), it could help to think about continuing with your majors, graduate and start working and if you do not find opportunities that you can feel passionate about, start saving to study something else either full-time or part-time. 
No degree or work experience is ever a waste. Rather think about it as a journey showing you possible new and exciting options.   
If you are thinking seriously about changing your major, speak to people about it.  Speak to other students doing the current major and those working in that field. They might give you career ideas which make you realise you can continue. Speak to people doing the prospective major and those working in that particular field. It might be a good idea to consult the Careers Office on questions or concerns you may have.
If you are feeling overwhelmed or stuck and alone with this big decision, consider speaking to a psychologist."