MY Korean Skin-Care Routine (no need to do 8-12 steps)
Everyone knows the Korean skin care routine, the 8 to 12 step routine to get the clear, milky skin that everyone desires. It's been the craze for years now. However, as a Korean myself, you do not have to go through all those steps. It takes time and money, a lot of things us young people do not have. It would be nice to be able to do all those steps that are "required", but honestly all you need are a few trusted products and positivity. YES, positivity….your mood can be seen on your skin. If you are happy so will your skin.
I have gone through my share of acne shame. Growing up I had the clearest skin, baby skin or 애기 피부. But all of a sudden, that was no more, I transferred to a four year university and my skin did a complete 180. I was stressed, upset, and did not know what to do. But, I knew me wallowing in my sadness and pity would not do anything. So, I did my research and found AMAZING products that I will take to the grave. I will say, I AM NOT a trained professional in dermatology. I did lots of research and even contacted my aunt in Korea who has colleagues in the dermatology department to figure out what to do.
These are the products that I have been using for the past few years and wanted to share with all of you!
This is my "Korean" skin care routine with amazing and trusted products.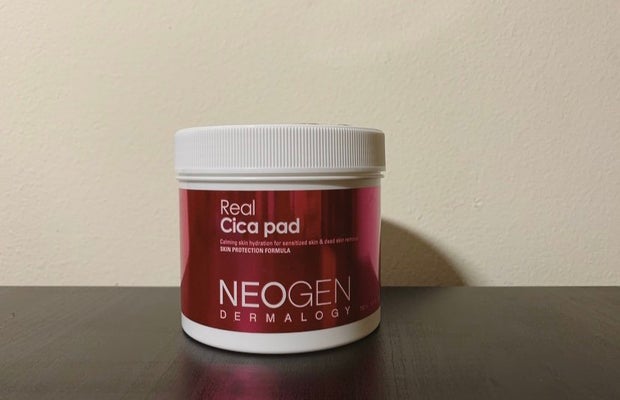 Original photo by Shannon Kang 1. Real Cica Toner Pads
These toner pads saved my life! (I will be saying that for all these products HAHA) But seriously, if you're like me, lazy and want things easy this is the product for you. These toner pads come pre-soaked in the toner. Whenever you do your routine, morning and night, take one of the pads and wipe it over your face and neck. The great thing about this product is that the pads itself have ridges so it really gets the product in while massaging your face as well. These toner pads come from NEOGEN and this is actually a Korean brand that is known for skincare.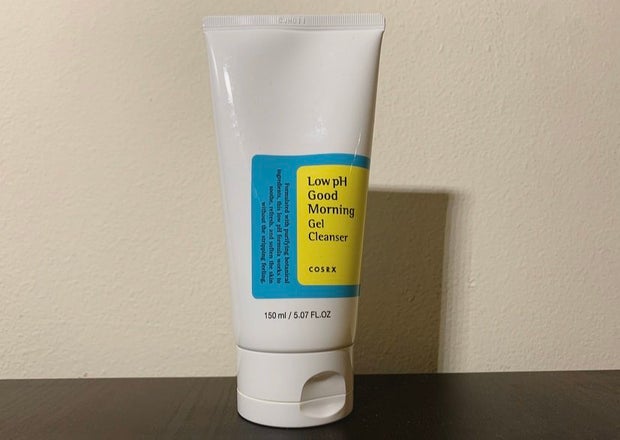 Original photo by Shannon Kang 2. Low pH Good Morning Gel Cleanser
This facial gel cleanser is from a brand called COSRX, another WONDERFUL Korean brand known for skincare. This cleanser is out of this world! It's a gel cleanser, but once you apply it, it becomes foamy. This product is tea tree oil based so it doesn't only smell nice, but it really awakens and brightens up your skin. Like in the name itself, good morning, it is a great start to your day. After using the product, my skin feels refreshed, light, and bouncy!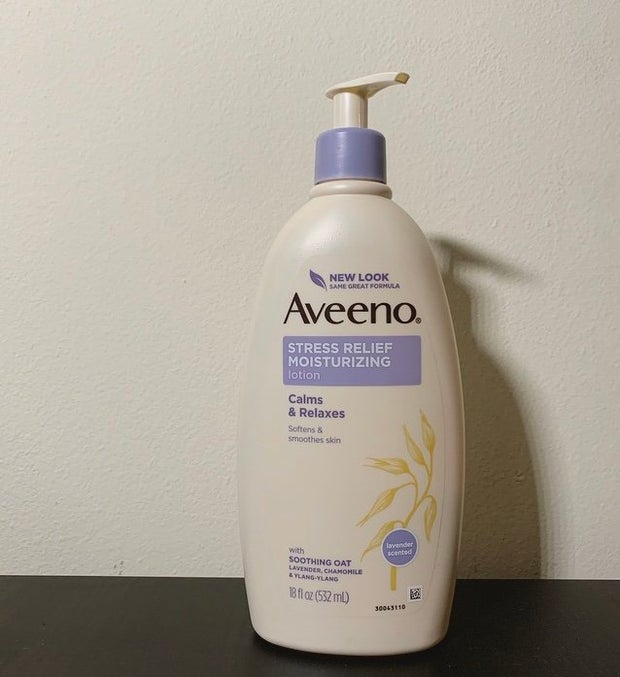 Original photo by Shannon Kang 3. Aveeno Lotion
Okay, with this people may be wondering why. It's just body lotion, however, for me I ONLY use Aveeno, for my body and face. It is a product that works great for people with sensitive skin (which I have). What I love about this lotion is that it doesn't feel heavy and it seeps into your skin very quickly. Lotion (to me) is a big part in skincare, you have to find the right lotion, it's a base. If the foundation is unstable so will the rest of the construction.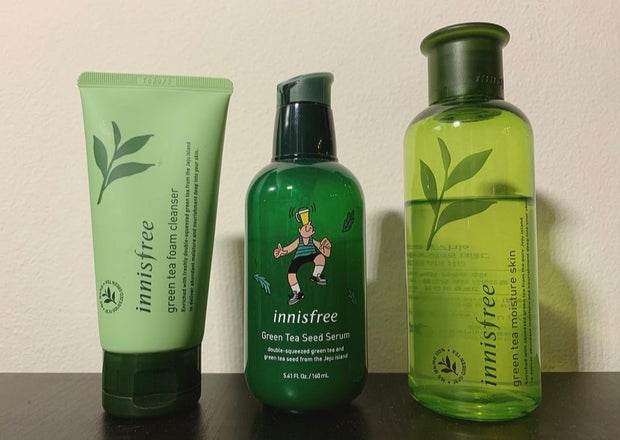 Original photo by Shannon Kang 4. Innisfree Green Tea products
Innisfree is a go to Korean brand for skincare, I love it. I grew up using it, every time family visits from Korea Innisfree products are ALWAYS in the gift pile. So, when the green tea line came out I had to try it. And I am so glad I did because it is AMAZING!! I currently use the foam cleanser, moisturizer, and seed serum. You might think why another cleanser, I use the good morning cleanser by COSRX in the morning, so at night I need another one and I use my trusty green tea foam cleanser. It is another light cleanser that cleans off the dirt from the day and is a refresher. Next is the moisturizer, I personally like how this moisturizer sits on my skin, it blends in very well and is super light. Finally, the center of the Innisfree Green Tea product line is the seed serum. This serum actually helped with my dark spots. I apply this serum all over my face but really try to target my dark spot areas. After a few weeks, my skin definitely got lighter.
BONUS! I did not take a picture of it but another product from this line is the Intensive Hydrating Roll-On Eye Serum. I'll just say it, eye creams are expensive and it sucks. Talking to someone who has bags on bags, circles on circles, I have been looking for eye creams and serums for a long time. I love this eye serum because it doesn't only wake you up but it is convenient. You don't have to go digging with your finger, you pump a little bit of the serum out and roll it directly under your eyes. The roller gives a nice massage effect as well.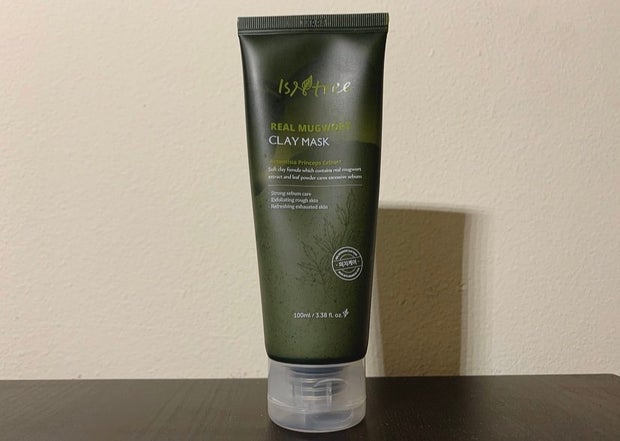 Original photo by Shannon Kang 5. Real Mugwort Clay Mask
The final product is a clay mask. I use masks regularly, at least once a week. From sheets masks (which are amazing and there are A LOT of great ones out there) to clay masks. I will say this mugwort clay mask from Isntree is my favorite! This product has mugwort in it which is known to have antibacterial, antifungal, and anti-inflammatory properties. It also soothes, heals, and nourishes your skin. Known to treat redness and other sensitivities. Mugwort is also known to be packed with antioxidants and vitamin E that helps protect and nourish the skin barrier. I will say masks are something that can be changed, I personally use different masks all the time. But, if you are on the hunt for a clay mask try this one out!
Side note: you should not do masks every day! That is known in the "Korean skincare routine"
These are just a few of the products that I use, there are other great products and brands out there. Most of the products I get are from a VERY TRUSTED website called Soko Glam, on this site you can find many skincare and makeup products from other brands. The founder of this website did a lot of research on skincare and found brands that are trusted. They are all Korean and Asian based products. So, if you want to get your "Korean" skincare routine head over there, it is AMAZING!!
Again another disclaimer, these are the products that work for ME. I am not coming here and saying these products will change your life. I have used SO MANY different products from trusted and expensive brands that did not work for me. But that is okay! We all have different skin, we are all different. Some things that work for one person may not work for others. You need to find what works best for you. Just like finding a cute pair of jeans or trying out the new health craze, it is different for everyone.
So, I encourage you, go do your research, try different products, try everything! Once you find the products that work best for you, stick with it. Don't change products every few months because honestly that confuses your skin. Find the ones that work and go with it!
Being confident in your own skin is very difficult, but I hope that all you will find that confidence and rock it! Because everyone is beautiful in SO MANY ways!