Being in college is an exciting time because it gives us the chance to discover a new city and all that it has to offer. However, it can be tricky to save money when it seems like the only places to go nearby are expensive restaurants and stores (not to mention that taking Ubers to get everywhere can add up quickly). Luckily, I've compiled a list of the best free activities on campus and in the La Jolla area, so you can still have fun and explore without breaking the bank! All of these places are accessible by walking or taking city buses, which are free to UCSD students.
1. Take a free workout class
Having access to free gyms and workout classes should not be taken for granted! Gym memberships in La Jolla can be super expensive, so it's amazing that we have access to a variety of free fitness options on campus. The Recreation Activity Pass (RAP) is easy to sign up for and gives students access to all of the classes offered here, which range from kickboxing and barre fit to yoga, cycling, and zumba. There are lots of classes offered throughout the day, so you can definitely find something that works with your schedule. Trying out a fitness class is the perfect way to have fun with friends, destress, or even find your new favorite workout!
How to Get There: Walk or take campus shuttles to RIMAC, the Main Gym, the Rec Gym, or the Natatorium.
2. Go rock climbing
Did you know that UCSD has a rock climbing gym on campus? The Outback Climbing Center, located in the Canyonview Aquatic Center near Warren College, is free for students and a super cool place to spend a few hours of free time. Rock climbing is a great workout and is proven to increase flexibility, boost confidence, and improve problem solving skills. It's also a fun way to challenge yourself in a safe and supportive environment and meet new people!
How to Get There: Walk or take campus shuttles.
3. Have a beach day at La Jolla Shores
La Jolla Shores is an ideal spot to go if you want to enjoy the beach but avoid the strenuous hike (and nudity) at Black's Beach. With easy bus access from campus, getting here for a quick beach trip is no problem. La Jolla Shores offers beautiful views of the coastline and La Jolla Cove and is a great place to swim, surf, read, picnic, or just relax in the sand! There's a grassy area adjacent to the beach that's perfect for throwing around a frisbee, and there's even a Little Free Library near the bus stop where you can grab a free book to read while you're there.
How to Get There: Bus 101 to Bus 30.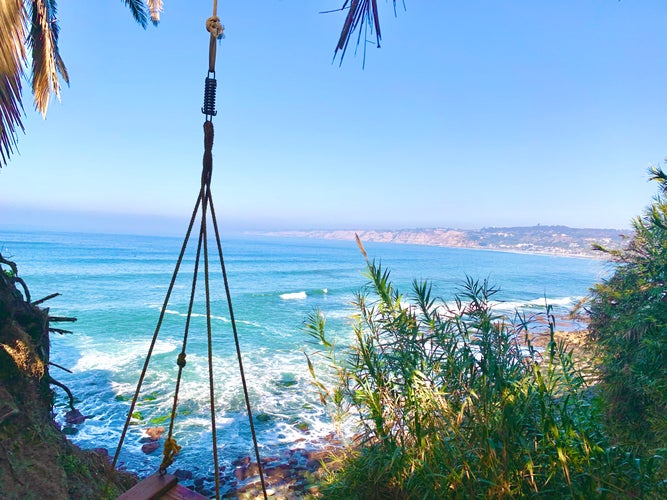 4. Find the Secret Swings
The secret swings are an iconic part of what makes La Jolla such a cool place to live. I've only visited one so far, but I can already tell that they're worth the trip. The swings are decorated with cool designs and inspirational quotes, which makes them the perfect place to take photos with your friends! They also all have amazing views of the ocean. I definitely recommend spending a day finding all of them during your time at UCSD. I'll give you a hint- one is near Birch Aquarium!
How to Get There: depends which one, for Birch Aquarium take SIO shuttle from campus.
5. Check out the La Jolla Open Aire Market
Every Sunday from 9-1 at the La Jolla Elementary School, you can find an amazing farmer's market called the La Jolla Open Aire Market. They have everything from fresh produce and unique baked goods to flowers, jewelry, art, candles, and more. Although shopping there is super fun, chatting with local business owners and trying out free samples is a great way to still enjoy the market without having to spend any money. While you're there, stop by D G Wills Books, where you can find a driveway full of books for $1 each!
How to Get There: Bus 101 to Bus 30.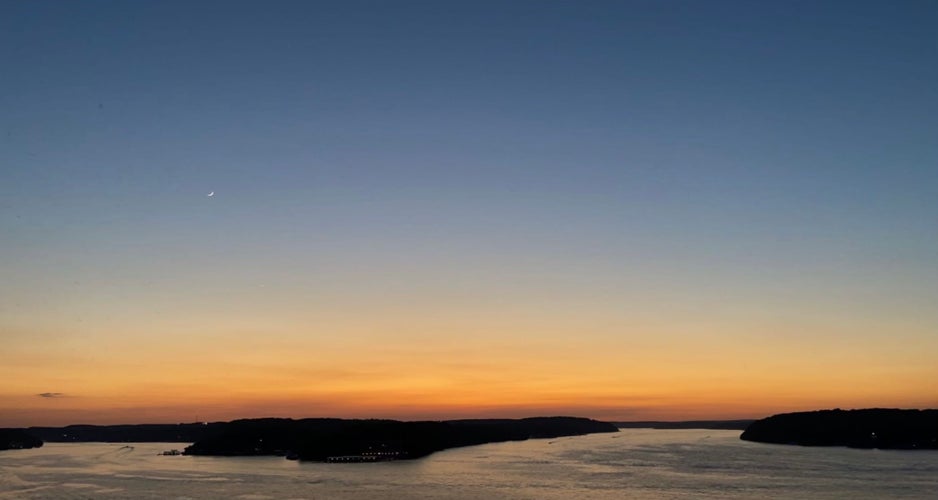 6. Watch the sunset at Torrey Pines Gliderport
Last but certainly not least, going to Torrey Pines Gliderport at sunset is a must if you're a UCSD student. Located right across the street from Seventh College, Gliderport is my favorite destination on this list. Although there are many great sunset spots in San Diego, Gliderport is popular for a reason. The sun seems to be setting directly into the ocean, and the view is truly breathtaking. The sky turns amazing colors, and you can see the cliffs guiding the coastline, little houses in the distance near La Jolla Cove, and hang gliders doing cool tricks above you. I love coming here to relax after a long day, and I highly encourage you to do the same!
How to Get There: Walk from campus stairs at Seventh College West.
Hopefully this list gave you some new ideas of things to do in the La Jolla area. I've had so much fun at all of these places and know that you will too. Remember to take a break from schoolwork sometimes and explore this amazing place that we call home!