Catalina is one of my favorite places in the world! Just an hour boat ride from California's West Coast lies this gem of an island with so many big and small things to explore. You will never run out of things to do in the sea or on land (I even played a soccer game there once)! The island is filled with super nice locals, breathtaking views, and many animals like deer and bison on land as well as dolphins and fish in the sea. It is the perfect place for a day trip or getaway!
1: Parasailing
One of the coolest things I have done so far in life is definitely parasailing. It combines a little bit of a thrill, great views, and being up in the air and out at sea simultaneously! On my 16th birthday, a Parasail Catalina boat docked at the pier on Crescent Beach brought my group out toward the middle of the ocean. There, they harness you up to the parachute that will suspend you in the air. When it's time to lift off, they slowly crank the rope as the parachute catches the wind and you go higher and higher up. Once in air, you can see all of the islands down below, the open ocean, and the boat that you are tethered to–thank goodness! The initial lift-off is exhilarating, but once you reach the highest point, it is super relaxing and peaceful up there. I loved feeling the breeze in my hair and seeing the world below me slowly shrink as I got higher in the sky. I was fortunate to go with my sister and my cousin and had a great time hanging out… literally hanging! Parasailing was one of the top things on my bucket list, and I would recommend it to anyone looking for a new experience or adventure!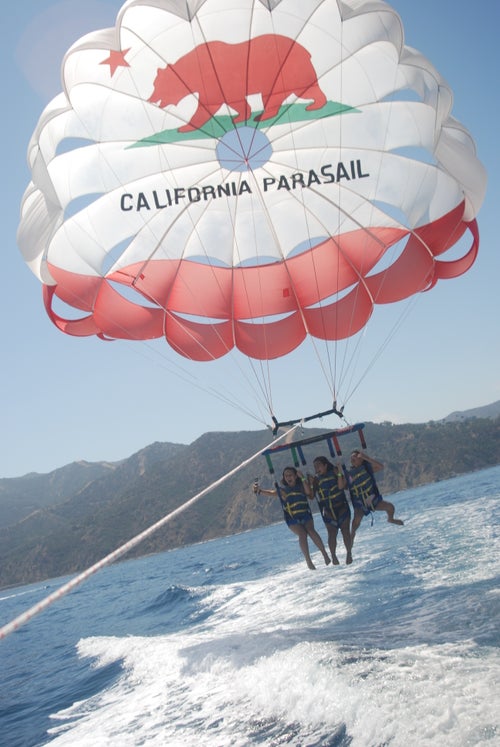 2: Jet Skiing
Once I turned 18, I knew I wanted to drive my own jet ski because I really wanted to test my limits and see how fast I could go! A small boat from Catalina Jet Ski rentals transported us to the middle of the ocean where a giant dock of jet skis was afloat. We had a whole portion of the ocean just for people on jet skis to drive around, race, explore, and see the sights! I was a little hesitant to be given complete control and freedom to drive, but bouncing over the waves and being in the air because of the speed fed my adrenaline junkie.
*** A note from me: doing donuts and almost sliding off is not recommended but seriously exciting! I, unfortunately, did not see any aquatic animals, my racing might have deterred them, but my sister was able to ride alongside a pod of dolphins! Even just riding or if your driving jet skiing, especially on Catalina island is an experience everyone definitely needs and is a great way to have a thrill or use as transportation to see the sights!!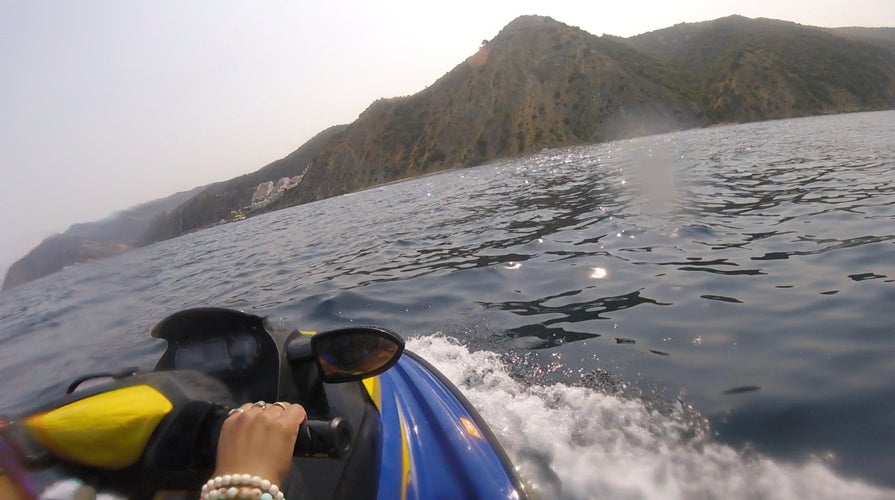 3: Snorkeling
Snorkeling is a must for me anywhere there is clear water! Something about seeing the beauty of the island above the water: the hills, the sparkling seas, the colorful buildings, juxtaposed with the lovely underwater world of our oceans is a sight I will never get over. Catalina's waters are filled with the vivid Garibaldi fish, also known as the Catalina goldfish. The second I stepped off the Catalina Express (the ship that takes people from the mainland to the island), I could immediately see the bright pops of orange in the water. When snorkeling they stand out, and are seen in big schools or just floating along on their own. The kelp forests are also something magical to snorkel in. They appear to go so deep and they sway with the current so peacefully. When I have snorkeled in Catalina, I like swimming around Descanso Bay and the old Casino. I love being able to submerge myself into nature. My next adventure in the future (hopefully): getting my scuba diving license to explore even more of the ocean- hold me to it!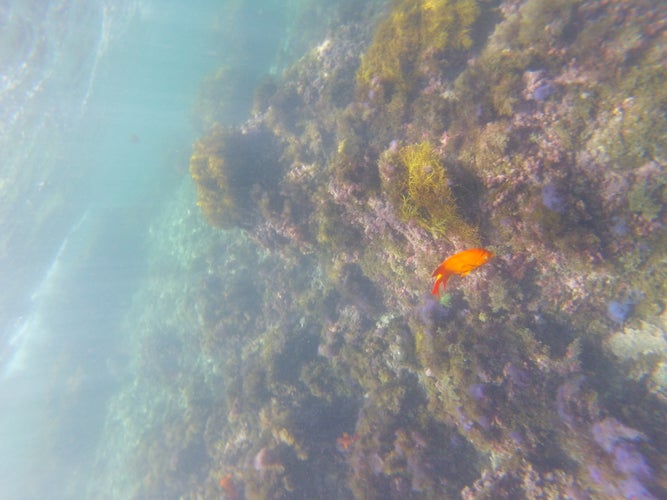 4: Paddle Boarding or Kayaking
Another fun activity that only takes a couple of hours is paddle boarding or kayaking! There are rental places all over the island, and these activities are a great way to get a tour of a little stretch of the island, as well as get a little bit of a workout in while splashing and talking with family and friends. I have done stand-up paddleboarding, which is nice because you can start standing, and I usually end up sitting down for a little bit as well. For kayaking, I enjoy going tandem because you can have someone with you to help paddle. In both cases, however, I always end up going for a swim in the ocean when it starts to get hot to cool off! I think going with a group of paddle boarders and kayakers is super fun so that you have people to share the experience with!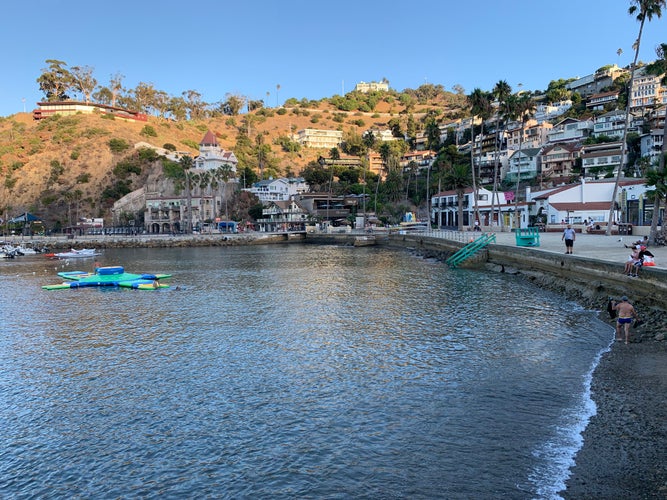 5: Zip Line/ Ropes Course
The most recent time I went to Catalina Island, my friends and I went on a new adventure on the island- a ropes course! I have done ropes courses before, but this one was extra fun, and I pushed myself to do all of the most advanced courses. While biking around, we stumbled upon a place called Catalina Aerial Adventure with ropes courses and ziplining! The guide we got was super funny, interactive, and helpful, which made our whole group feel comfortable while harnessed up in the trees while walking across different obstacles. My favorite courses were ones with ziplining incorporated into them. This activity is a full-body workout with a lot of rope pulling, balance, upper body strength, control, and timing. After completing the course, I definitely would recommend treating yourself to a big meal or a nice nap on the beach in the sun!
I hope if you ever get the chance to journey to Catalina that you enjoy every moment you spend on this beautiful island! This place truly holds a special place in my heart, and it deserves all the hype!