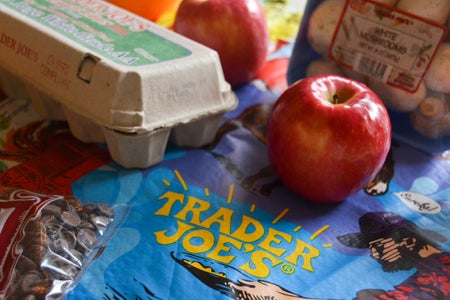 When you picture the ideal grocery shopping experience, what comes to mind? Probably rows of self checkout stations, sales galore, and infinite product options. So, how has Trader Joe's, a chain with none of these perks, developed a cult-like following and risen to the top of American market options?
1.

The Importance of Atmosphere.

When I was a child, TJ's trips were my favorite errand. Each time was filled with excitement as I searched earnestly for the "special item"(usually a stuffed animal) and, consequently, earned a lollipop. Obviously, with candy being on the table, I took this task very seriously since I knew what was at stake. At such a young age, how could I have known that involving the children in grocery shopping, therefore making life easier for parents, was a marketing tactic? 

 

Trader Joe's has perfected the shopper's experience. With smaller square footage and less aesthetically pleasing product displays, you'd assume that consumers would be driven away; it turns out that these "drawbacks" are actually part of the concept that pulls in customers. Think back to your last interaction with a TJ's employee. It seems like they were actually interested in your life, right? Due to the smaller building size, branches are able to remain purposefully overstaffed with naturally extroverted employees who interact with customers constantly, discussing everything from new products to pop culture. The employees for each branch also include a team of artists who hand paint every sign, adding a personal and rustic feeling to the inventory, further enhancing the welcoming atmosphere. 

 

Many of the layout choices have huge subliminal impacts on our comfort levels as well. By leaving items in their shipping boxes, Trader Joe's saves money while contributing to its warehouse vibe, subconsciously convincing customers that the products are healthier and fresher than alternatives. In addition, the doorless freezer section holds copious amounts of food variations with sections bleeding into each other, encouraging customers to explore and interact with products outside of their normal diet. These atmospheric choices paired with games for children, free samples, and fun contests create an experience that is so much more than just buying food for the week. When you shop at Trader Joe's, you join a new community.

Arguably its most appealing aspect, Trader Joe's has an array of affordable, interesting, and unique products. Items like the "Two Buck Chuck" and 19 cent bananas have gained a reputation of their own, driving customers to their nearest TJ's to partake in the deals themselves. 

 

Unlike other grocery giants, TJ's offers fewer variations of the same commodity which ensures cheaper prices and a shopping experience that minimizes stress. Because almost all of the inventory is their own private label, they can source directly from suppliers and buy in bulk, cutting out the middleman and keeping prices low. The lack of brand variation minimizes the overwhelming nature of choice, dubbed "shopper paralysis," and keeps customers from price checking against other brands, which makes us feel like we are getting the best prices possible. And, we often are. While TJ's insists upon keeping most of their sources secret, fans have speculated that certain items are actually made by largely well-known companies (hint: the juice smoothies taste strangely similar to Naked Juice), at a lower price. What really keeps us shoppers on our toes is the constant introduction and discontinuation of products, always encouraging us to stock up on our favorites before they're gone while spending even more on the "New Item" section. That being said, there is a reason why people who shop at TJ's don't miss the variation of branded products. 

 

Trader Joe's prides itself upon its sense of adventure, a value that is supposedly even present on their job applications. This is reflected in their company culture, employee's demeanors, and product content, as they offer the Trader Joe's version of foods from cultures all over the world. The mochi cake mix, tikka masala, and tzatziki are some of the many products inspired by other countries, bringing a global perspective to an American grocery chain and exposing customers to overseas dishes. In addition, TJ's invents many products itself. Playing with fun flavors (like the birthday cake popcorn), a plethora of adjectives (such as the "Ruggedly Adventuresome Cowboy Bark"), and colorful packaging, there is always something new to try.

As companies like Amazon continue pushing for increased accessibility, Trader Joe's opts to lean into its lack of convenience and make shopping there an experience. Instead of speeding up the process with self-checkout and easy delivery, TJ's encourages customers to take their time and treat their stores like destinations instead of chores. They encourage customers to browse the aisles, chat with some employees, grab a sample, and relax while spending money there. This casual approach has created a mass of loyal customers, allowing TJ's to refrain from formal advertising and rely simply on word of mouth. Shoppers feel more involved in the process, creating huge customer satisfaction levels and a high retention rate. I guess people do still enjoy some good ole' leisure shopping.
On paper, Trader Joe's lacks the variety, speed, and convenience that Americans tend to crave. But, their unique approach to consumerism has proven Trader Joe's a force to be reckoned with in the grocery industry. Customers of Trader Joe's receive the shopping experience that they didn't know they wanted, as they leave with products that they didn't know they needed (Hello, ghost pepper chips!).