Why I'm Okay with Graduation Being Postponed
Most of us (and by 'us' I mean graduating seniors) know by now that our graduation ceremonies are either postponed or canceled due to the pandemic. This is just one out of many unfortunate cancellations or changes we've had to come to terms with the past couple of months. To put it plainly, it sucks. This was supposed to be our year, the year we finally graduate, the year we experience the most out of college and move on to find careers or whatever else the future holds. So to have that taken away from us is something we couldn't have ever imagined— it was shocking to say the least. Disappointing. Heartbreaking. Discouraging. I don't think the calamity of it all has really set in yet. 
For a lot of schools, their graduation was canceled completely rather than postponed which seems harsh and unfair. To think that so many students won't be getting the once-in-a-lifetime experience of walking with their friends and receiving their diploma is disheartening, and I feel for them. I'm incredibly grateful that my university, UCSB, has decided to postpone our graduation. This means we still have that in person ceremony to look forward to with our friends and family. Even though we have no idea when it's postponed until, it feels much better to know that it's still happening, somewhere out there in the near future. This is part of the reason why I'm actually okay with the fact that it's postponed.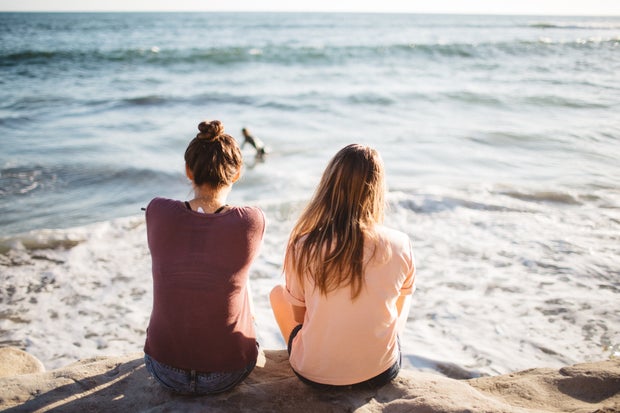 Joshua Sazon | Unsplash I think the most heartbreaking loss during this pandemic has been my last quarter of college. There are so many events, experiences, and memories that aren't going to be had. My friends and I had many plans to make the most out of our last few months in Santa Barbara, and I was actually looking forward to my last classes because they were going to be my last in-person classes of college; something I may never experience again, as stressful as they could be. I personally don't have plans for grad-school at the moment, so for me this last quarter is a huge loss. COVID-19 had the worst timing possible, and I will hold that against it for the rest of my life. It cut my senior year of college short so abruptly that I'm still reeling from the aftermath and slightly in denial. I don't want to accept that all of those days are taken away from me, that I may not see my friends for a long time. The fact that we were all forced to self-isolate and go our separate ways makes me afraid that I didn't spend enough time trying to create tighter, longer-lasting bonds with the friends I've made in college that can last beyond our college years. Part of me feels like I needed that extra quarter to salvage every moment we spend together and take advantage of all the things we could do and important moments we could share. Thankfully, we are still going to be experiencing the most important moment of all together.
Knowing that sometime, maybe next spring, all of my friends and fellow students will be able to come together again with our families and walk in our graduation ceremony gives me something to look forward to. It might even feel more powerful than it would've this spring, knowing that we all went through these rough times together and still made it out the other side, diploma in hand and stronger than ever. We'll be more resilient and able to take on what life throws at us because we overcame the ultimate challenge: having a pandemic change our entire lives for months on end, giving us obstacles we never thought we'd have to hurtle. Getting that degree will feel like the heaviest weight being lifted off of our shoulders collectively. 
Another thing is… I wasn't actually graduating on time anyway, and I know I'm not alone in that. I was going to walk in the ceremony so I could walk with my friends, but I wasn't planning on receiving my degree until fall or winter of this year. The fact that graduation is postponed now means that when I walk, I'll be graduating officially and that's going to feel one thousand times more gratifying. I am losing my last quarter and that hurts, but I'm content with not having my graduation ceremony this spring.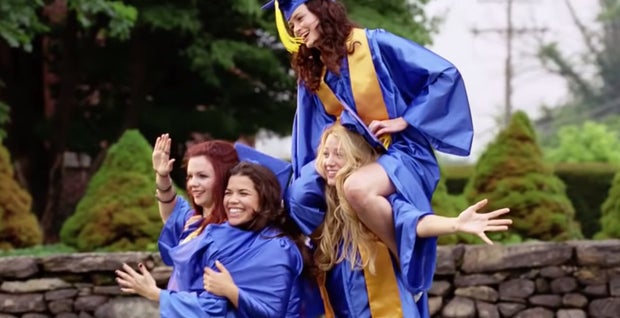 Warner Bros. Pictures I know everyone's in a different situation, some more difficult than others, and that maybe graduation being postponed isn't a happy thing for you. Maybe your graduation was canceled, and in that case I hope you're still able to celebrate your hard work and accomplishments in a way that feels right for you. We all deserve that moment, and we're all going to get it no matter when or how. If you're unsure about how to find that moment, Her Campus is holding a special virtual graduation event called "I'm Still Graduating" that will take place on May 15th and will feature a bunch of amazing celebrity guests (Liam Payne and Jesse McCartney included) and hundreds of graduates and their families will be able to join and celebrate online together. If you're interested in attending, check out this link to RSVP!