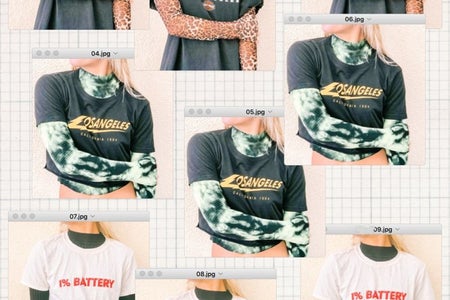 Myself, Beatriz Fiorentini
UCSB's Winter Fashion Trends
As winter passes in the beautiful sunny land of Isla Vista, I wanted to take the time to highlight some of the most popular trends of this season. 
My own photo, Beatriz Fiorentini

For this one think Claire's meets elementary school art teacher. It can be hard to tell whether they're weird or adorable but they are everywhere. Bonus points if you bought them off a friend who makes jewelry and sells it on instagram. 

Myself, Beatriz Fiorentini

Hair accessories have made a huge comeback recently; it's almost as if everyone's been binging Lizzie McGuire on DisneyPlus and taking notes. From neon butterfly clips to patterned scrunchies and of course the hair scarf, which we've seen worn in many different ways, around a pony tail or as a hairband. However the latest style to hit campus seems to be inspired by your favorite childhood camp counselor... the classic bandana! It's the perfect solution for those ran-out-of-dry-shampoo kind of days and an easy way to add some color into any outfit. 

Myself, Beatriz Fiorentini

Until recently I thought a cardigan was just what your mom reminded you not to leave home without. Yet this might be one of my favorite trends. The cropped cardigan wins in its versatility, aside from wearing it as a cardigan (duh), it can be buttoned all the way and worn as a top, OR you can skip a few of the buttons and go for a more flirty fit. 

Myself, Beatriz Fiorentini

And I mean CHUNKY boys, literally the more platform and volume the better. Although this isn't a necessarily new trend it seems to still be going strong for the people of Isla Vista. From the classic Doc. Martens to the controversial Filas — wear it with a dress for that influencer look or pair it with leggings to keep it casual and comfy. 

Myself, Beatriz Fiorentini

 Something about a belt can make any outfit instantly appear more put together. They are so fun and the ideal way to make baggy jeans more flattering by cinching in that waist. The options are literally endless... funky buckles, animal print, and even diamonds!

6.

T-shirt and Turtleneck

Myself, Beatriz Fiorentini

When she's not winning four Grammy's (still not over it), Billie Eilish is busy setting the latest fashion trends. When it gets chilly in IV but you still want to show off your favorite graphic tee, layer it with a turtle neck long sleeve.  For extra spunk, make it striped.