Every Season of Grey's Anatomy: Ranked
Grey's Anatomy is the epitome of a TV medical drama series. Its exciting and complex storylines are why the show has been on air since 2005. Grey's is currently on its 15th season, and the Shonda Rhimes classic shows no signs of resolving any of its intricate plot lines to indicate an end to the show. From all the heart-wrenching moments to the classic quotable monologues, here's a list of the past 14 seasons of Grey's ranked.
14) Season 13: Two words: Eliza Minnick. Dr. Bailey ruined her character by essentially betraying Richard and deciding to hire Eliza Minnick. Minnick was possibly the most dry and uncharismatic character to ever be introduced to the show, not to mention her relationship with Arizona had no chemistry. The only redeemable part of this entire season was Stephanie's amazing speech to Dr. Webber after deciding to quit.
13) Season 12: How do you even recover after killing off Derek Shepherd? To make matters worse, Callie left at the end of the season with Penny after a nasty custody battle with Arizona. Don't even get me started on Penny.
12) Season 14: Though the incorporation of political commentary was something I appreciated, this season was incredibly slow in terms of plot development. Also, the inclusion of Amelia's tumor to subsequently explain all the terrible and rash decisions she had made over the years was a lazy write-in. Where's the drama?
11) Season 10: The complaint filed to HR about the relationships between the doctors made no sense; how did it take a decade for the hospital staff to realize the surgeons were engaging in inappropriate relationships? April's decision to not tell Jackson she was pregnant was also extremely frustrating. And worst of all, the infamous Cristina Yang left Grey-Sloan Memorial to go take Burke's position, but not without dancing it out one last time with Meredith.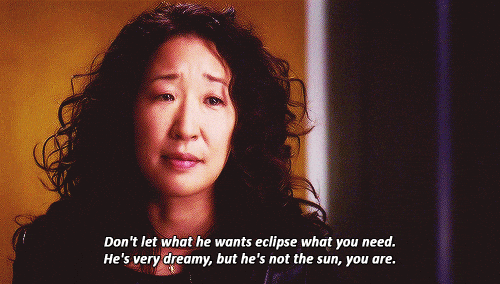 Image via Odyssey
10) Season 4: Nothing really happened except for the introduction of Lexie Grey. Unfortunately, the writers of the series were on strike, so the number of episodes had to be cut down.
9) Season 11: Derek made some questionable decisions throughout the season, but ultimately redeemed himself when he decided to come home to Meredith and his kids from DC. This made his tragic death even more heartbreaking, especially knowing it could have been avoided if they just would have gotten his head CT.
8) Season 7: Callie's pregnancy ruined Mark and Lexie's relationship and put a strain on Callie and Arizona's. But seeing the trio navigate through the expectancy of their child was one of the more uplifting parts of the series. Also, what was up with that random musical episode after the car crash?
7) Season 9: Watching the characters attempt to find any sense of normalcy after the catastrophic plane crash was emotionally distressing. But it proved that the Grey's storyline could still successfully continue even after the loss of two of the show's best characters.
6) Season 3: Derek heroically jumping off the harbor to save Mer in the water is one of the show's most iconic moments. This was also when he realized Meredith was much more "dark and twisty" than he had imagined, as he knew she stopped trying to swim and save herself after a while. We also got the iconic Cristina Yang with no eyebrows being cut out of her wedding dress after Burke left her on their wedding day.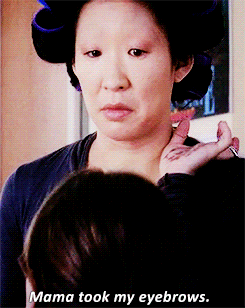 Image Via E!
5) Season 1: Grey's knew how to deliver the drama from the very beginning. Though this was the shortest season, the introduction of all the characters and them beginning to form relationships with one another showed just how well the original cast worked together.
4) Season 8: Right before the season finale, we witnessed perhaps the most well-delivered speech in Grey's history: Lexie's declaration of love to Mark. As if that wasn't enough to completely rip your heart out of your chest, the season finale was probably the saddest episode in the entire series. Mark finally confessed his love back to Lexie right before she tragically died, stuck under the plane engine. I still sob whenever I see that episode.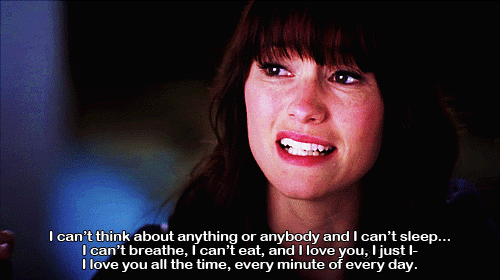 Image via Tumblr
3) Season 6: This season both started and ended with dramatic cliffhangers. Izzie finally woke up, but learned that George had died. At the end of the season, Gary Clark sought revenge for his wife by shooting staff at the hospital, including Derek. Meredith miscarried while in the operating room with Derek and Cristina. Cristina also showed what an amazing surgeon and friend she was by performing surgery on Derek while being held at gunpoint. 
2) Season 5: Izzie's battle with her tumor took up most of the season's storyline, and just when viewers thought they were prepared for her to die, George died instead for jumping in front of a bus to save a stranger. 
1) Season 2: So much happened in season two; the storylines interwove so well with one another. The episode where Meredith stuck her hand in a patient with live ammunition was enough to have ended the season there. Instead, viewers were introduced to Denny Duquette, a patient awaiting a heart transplant who is in love with Izzie Stevens. In time, Izzie falls in love with him too and devises an insane plot to get him a heart by cutting his LVAD wire. Denny still ended up dying and Izzie was too late to see him go.