Work Smarter Not Harder: Networking During a Global Pandemic
Getting your name out there in the world of research, business and everything in between can be a daunting task to try and achieve, to say the least. In addition to the busy academic and extracurricular schedule of the average college student, we are also tasked with building our own trusted circle of connections; during what? You guessed it-- a global pandemic. Needless to say, this was one of my biggest sources of stress during the early pandemic days. Back then, I was a freshman who only had 2 quarters of college experience under her belt when campus started to shut down and classes all began transitioning online. Flash forward to a year later, it seems as though the pandemic's end may still not be in clear sight, yet universities and businesses everywhere have started to embrace a new way of networking-- virtually. Here are 3 tips to hopefully not only get you through, but further along, on your journey of virtual networking.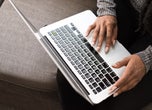 1.

Polish up your resume/CV.

Pay closer attention to the contents of your resume or CV, and keep it as up-to-date as possible. Due to the trajectory of the virtual networking world, it's more than likely that businesses and institutions will continue to raise their standards to attract the most ambitious and detail-oriented applicants. Since they might not be able to immediately meet you in person and get a sense of who you are outside of a computer screen, it will benefit you now more than ever to put your best foot forward through a strong resume.

2.

Revive your dead socials.

If you have an inactive Instagram account or an old LinkedIn profile, consider catching those networks up to speed. Many organizations have responded to the pandemic by getting adapted to a remote-centric model for involvement. The world is your oyster when all agencies are now a few taps and scrolls away, in some form or another. I landed my first internship by reaching out to an advertisement for community advocates through an Instagram direct message. 

3.

Join interest groups online.

Similar to the last point, online platforms are now the most prominent player in the world of marketing and networking. Interest groups are only beginning to rise in number and diversity across different platforms such as Slack, Facebook and Twitter. If you can think of a certain interest, topic or niche, chances are that there is already a community built for it. Broaden your network by connecting with different people all over the world who are just as passionate about your goals as you are! You never know where those connections will lead you.
If we can count on one good thing that has happened due to the pandemic, it would be the way it unified us all under the same constraints of this shared experience. Having no other choice but to continue normal life completely remotely, many of us have broadened our relationship with technology while also polishing up the skills we use to communicate. At the end of the day, the tools of remote networking are here to stay, so remember to use them to your advantage!