It's Wednesday morning and I'm at YRL panicking over my homework. This time last week, I was in office hours seeking expert advice from my favorite TA. Today, office hours are canceled because my teaching assistants are all on strike. As I glance back and forth between my dwindling deadline and the chanting picket line outside the library, I can't decide which line is more distressing.
This is not an "us versus them" situation with undergraduates and striking TAs.
As an undergraduate student at UCLA, I have the unique opportunity to support the frontlines of a historic strike for higher education. At the same time, I'm one of many UC students facing an unprecedented lack of educational support less than three weeks from final exams. Undergraduates are in a uniquely frustrating position, but it is counterproductive for us to villainize teaching assistants, researchers and other employees for withholding their labor. It's Thanksgiving season, so it's the perfect time to express our gratitude by supporting educators in their fight for dignified working conditions.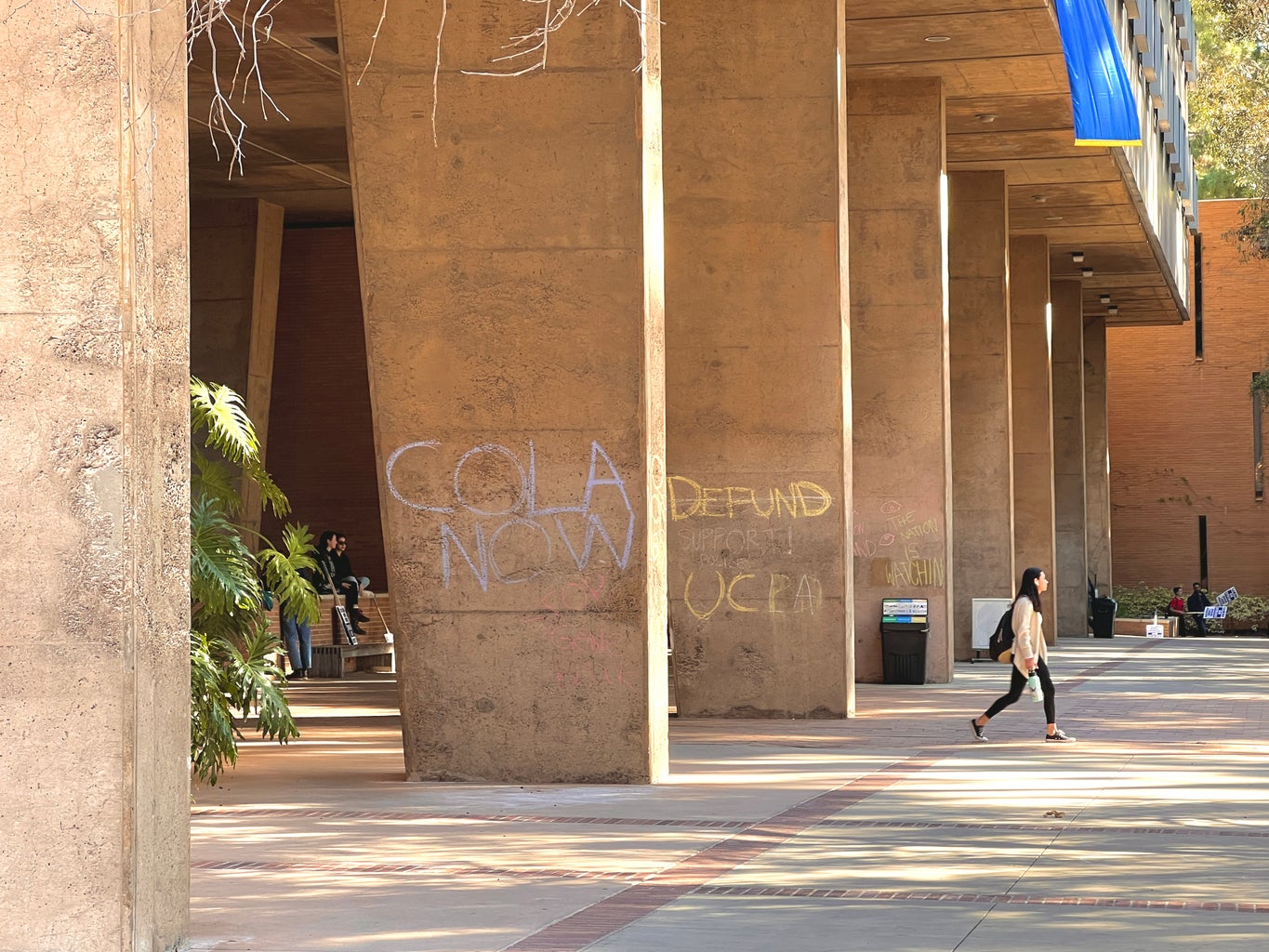 It's easy to side with the strikers once you hear their motivations. On Wednesday morning, I was drawn into a drum circle on my way out of Young Research Library. Standing beside the busy union-operated kitchen, I spoke to Michael Dean, a 7th-year Ph.D. candidate in the history department and campus reporting secretary for UAW 2865, the union representing over 19,000 academic student workers across the UC system. As a member of the bargaining committee with the university, Dean has been frustrated with the university's negotiation tactics. "We feel we've made reasonable proposals," Dean said, referring to UAW demands for higher wages, paid leave, child-care stipends and transit passes. "(But their) offers are frankly insulting."
TA's working conditions are our learning conditions.
These demands weren't coming out of nowhere. The cost of living in California has skyrocketed in recent years, to the point where almost 92 percent of unionized UC workers are rent-burdened, and the majority of TAs are paying more than half of their income on rent. As a UCLA student, I sympathize with their search for affordable rent. While I live in a two-bedroom apartment with four other students, over 14,000 grad students are also searching for housing within ten miles of UCLA — where there are less than 960 units that would cost less than 30 percent of the average grad-student salary.
To make up for low wages, many TAs must split their time between multiple jobs or live in substandard housing conditions. Dean knows multiple colleagues who have couch-surfed or lived in their cars for periods of time. "It's very difficult to make a living on our salary," he said. "We felt we had no choice but to withhold our labor in order to pressure [the UC system] to come to the table and bargain in good faith."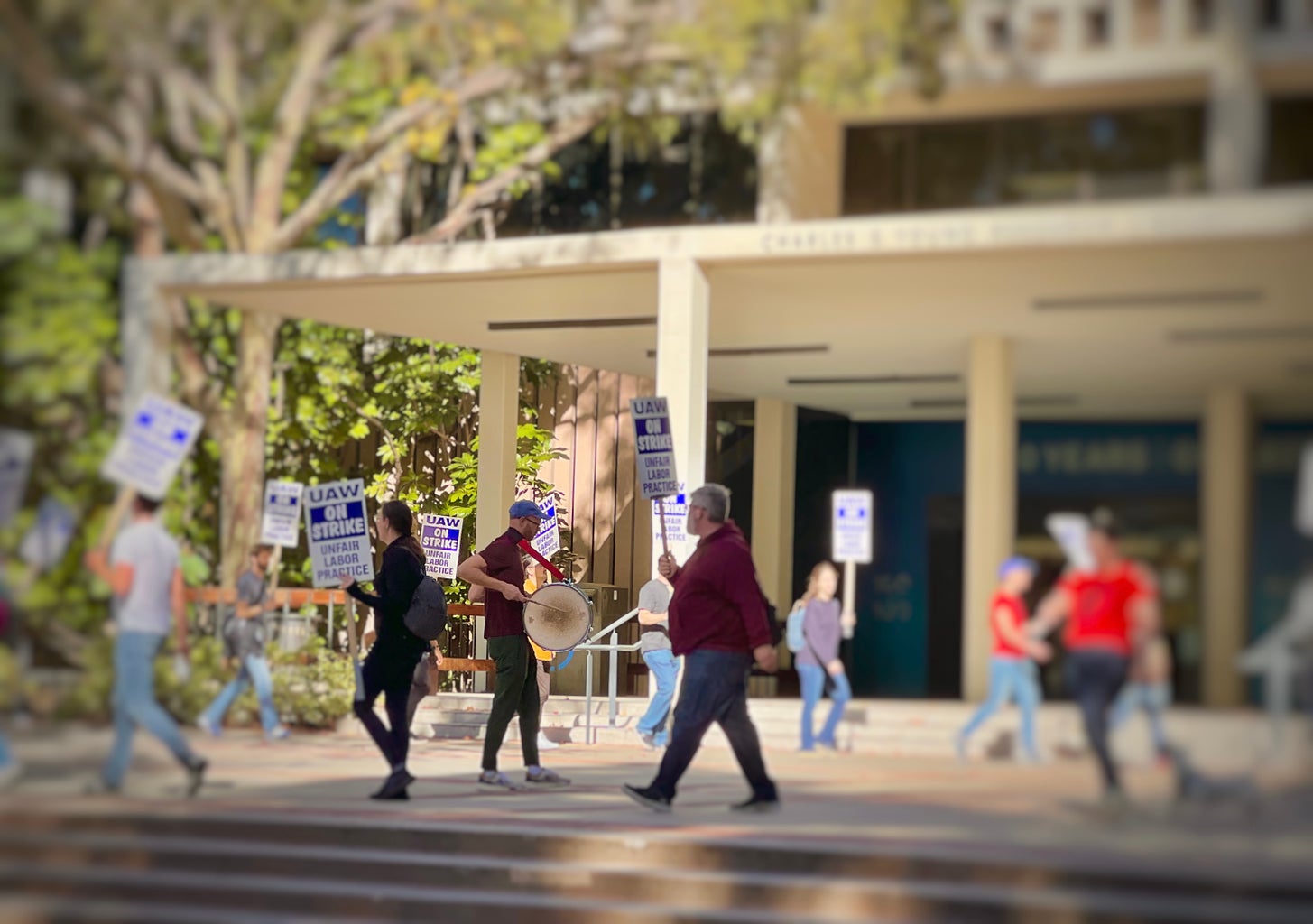 Ideally, Dean would like to see students strike in solidarity with UAW. However, he understands that many students can't afford to miss classes at this time in the quarter without risking grades or scholarships. If this is the case, Dean encourages undergraduates to show their support by joining picket lines on campus or sending TAs messages of solidarity. "It makes a huge difference to have this kind of open support," Dean said. "We appreciate any way you can communicate to the administration that the current situation is exploiting the passion and love that TAs have for teaching and research."
Dean wanted to emphasize that is not an "us versus them" situation with undergraduates and striking TAs.Those of us who stand in solidarity with our teaching assistants are supporting ourselves, too. After all, as Dean points out, the TAs' working conditions are our learning conditions. "If your teaching assistants are out working two or three different jobs in order to make ends meet, that's going to cut into the quality of the education they are able to provide," he said. He emphasized that the structural conditions leading to their strike also impact undergraduate students, through routes such as rising tuition. "We're in the same boat of being exploited by the university, just in different ways given our different positions," Dean said.
As the strike continues and campus closes for the Thanksgiving holiday, we all have an opportunity to reevaluate how we show our appreciation for our educators. It's time that we come together to support UC academic workers in their fight for dignified working conditions.