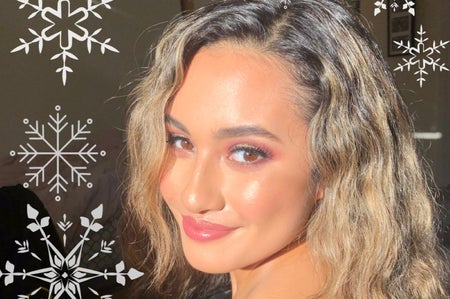 A Step-by-Step Makeup Look That Will Have You Sleigh Your Holiday Party
Camina Balmores is a UCLA student and self-taught makeup artist who showcases her best looks on her friends and fellow students at UCLA. As one who loves bare beauty and a natural look, her specialty is creating full glam looks fitting for any occasion. Her Campus at UCLA chats with Camina to discuss her love for makeup and her step-by-step guide on how to receive the perfect, holiday party look.
Makeup Artist: Camina Balmores
Year: 3rd year
Major: Physiology
Home state: New Jersey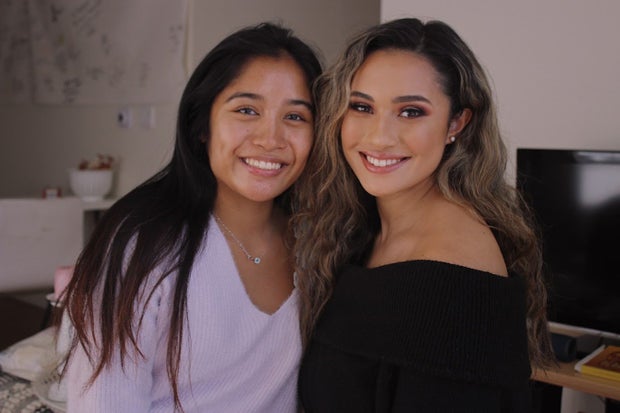 Her Campus: What inspired your love for makeup?
Camina Balmores: In terms of beauty, it started with doing my nails when I was in 5th or 6th grade because I was not allowed to wear makeup yet. I was super into colors and designs at the time, and then when I was finally allowed to start wearing makeup, that's when my love for makeup really started. I was always watching YouTube videos and makeup tutorials, and that's how I pretty much learned how to do it on my own.
HC: Who are your favorite makeup artists that you get your inspiration from?
CB: A big name that people know is NikkieTutorials. I watch her YouTube videos all the time. She does her own thing and it's so different from what other people are doing. I also like this artist named Casey Holmes. And there is a smaller artist from the U.K. who is the queen of cut creases. Her handle is @lsgmakeup on Instagram. I got all my inspo from cut creases from her.
HC: What's your goal with makeup?
CB: I do not know if I have a set goal. My goal last year was to post more on my page, possibly get noticed and end up on a PR list. But then school got so busy, so I have not been too active on my page. But I would say in the future, I want it to be my side hustle. Because I think that makeup is my only form of creativity and art that I'm actually good at. Plus, it's just so fun for me!
HC: Describe your favorite makeup look you have done.
CB: Okay, I am tied between two. If you ever see me on a regular day, I am never wearing makeup. I love to be natural most of the time. But if there is a special occasion, I most likely will do a full glam...especially for the holidays. So last year I went full glam for the holidays: eyebrows done, with a halo eye. It was a trend going around at the time. I used greens and golds and was wearing a green bodysuit. There is this other one last year where I did something really different and went natural on my brows and carved it out with concealer, and finished with a red wing liner. Kind of like a soft glam, with a bold lip. It turned out really good and was definitely not expecting how well it was going to turn out.
HC: What is the best way for girls to contact you for bookings?
CB: My makeup page @makeupbycamina on Instagram. There is where I have my email linked to contact me. You can DM me too.
Holiday Makeup Look:
Step 1: Begin with a moisturized face. 
Step 2: Start with filling in the eyebrows. Carve eyebrows out with concealer from underneath the brow arch.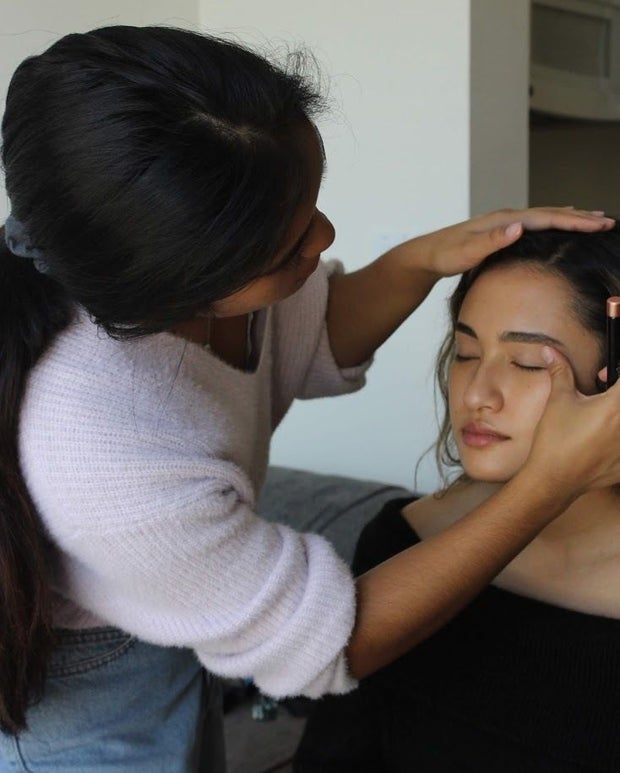 Step 3: Pack on a brown shade on the lid, following with a maroon toned pink to blend out the crease.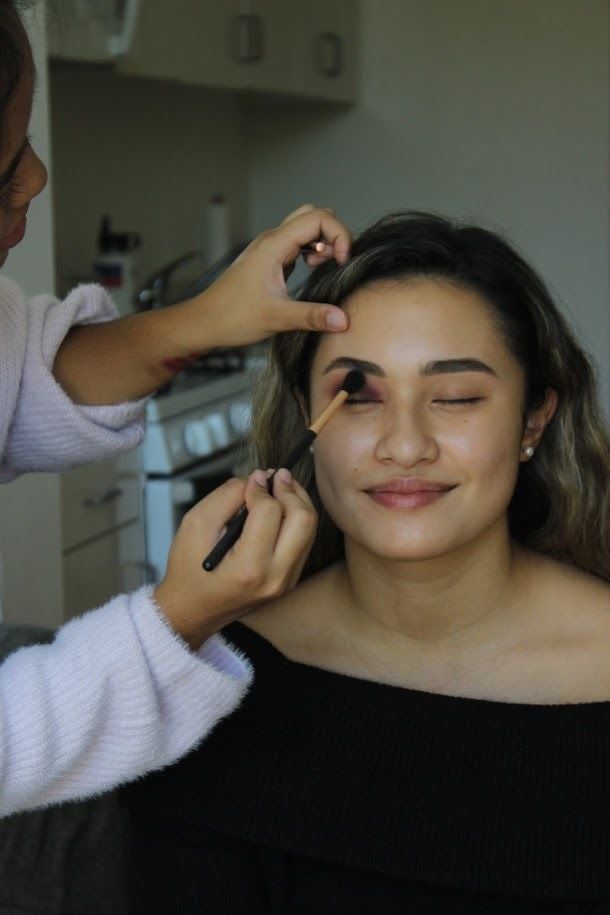 Step 4: Carve out the center of the lid with concealer so the next shadow color is more prominent.
Step 5: Pack on a bronze/gold. Follow up with blending strokes with a blending brush.
Step 6: Top off with gold glitter.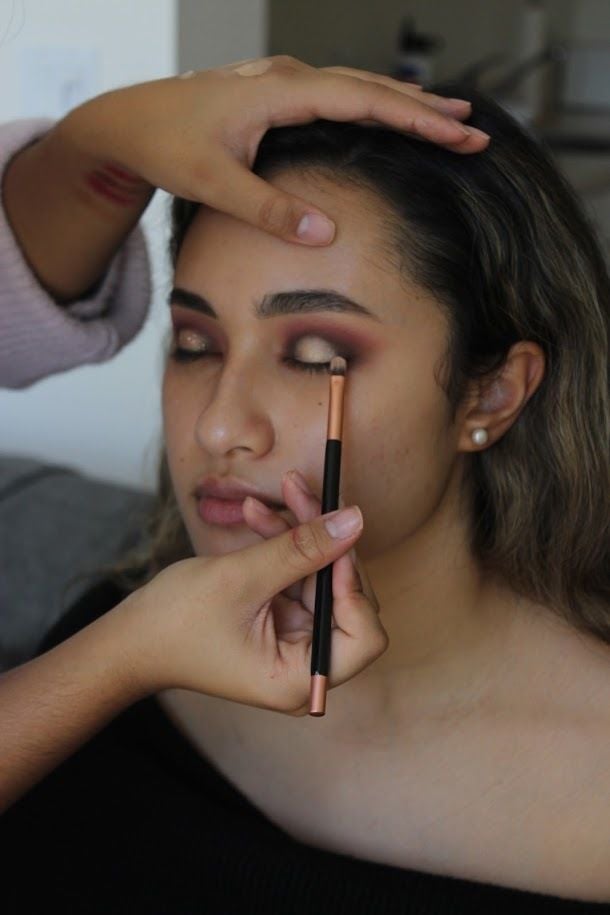 Step 7: Line the top lash with black eyeshadow to mimic a "liner" effect.
Step 8: Spray the base of the face with primer water to prepare the face for foundation.
Step 9: Use the desired foundation with a blending brush. Follow with concealer to touch up any needed discoloration or problem areas.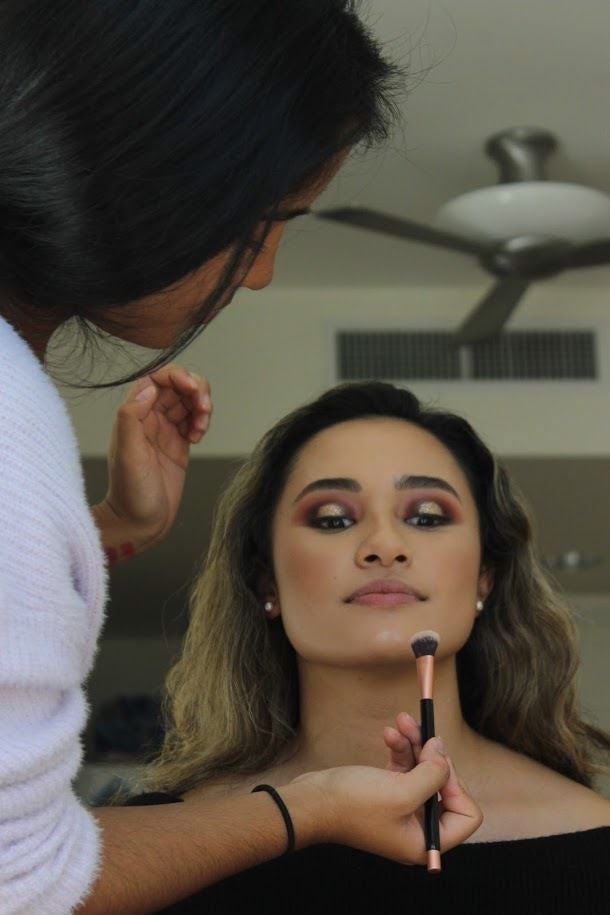 Step 10: Use a translucent powder underneath the eyes, then later sweep away the excess powder.
Step 11: Highlight the point of the face: forehead, bridge of the nose, and chin to highlight the face with concealer.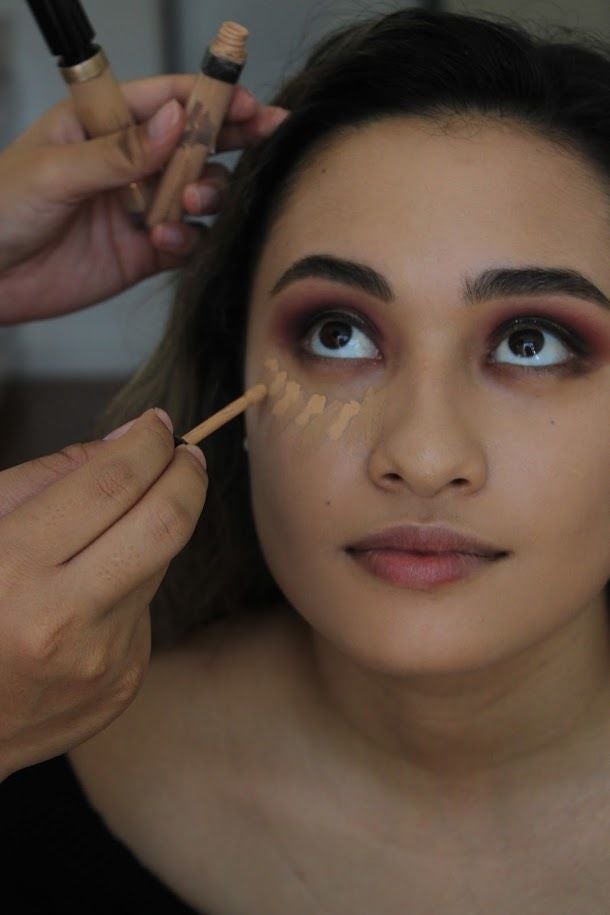 Step 12: Finish with a setting powder all over the face.
Step 13: Use a gold highlighter to highlight the high points of the face: cupid's bow, cheekbones, and bridge of the nose.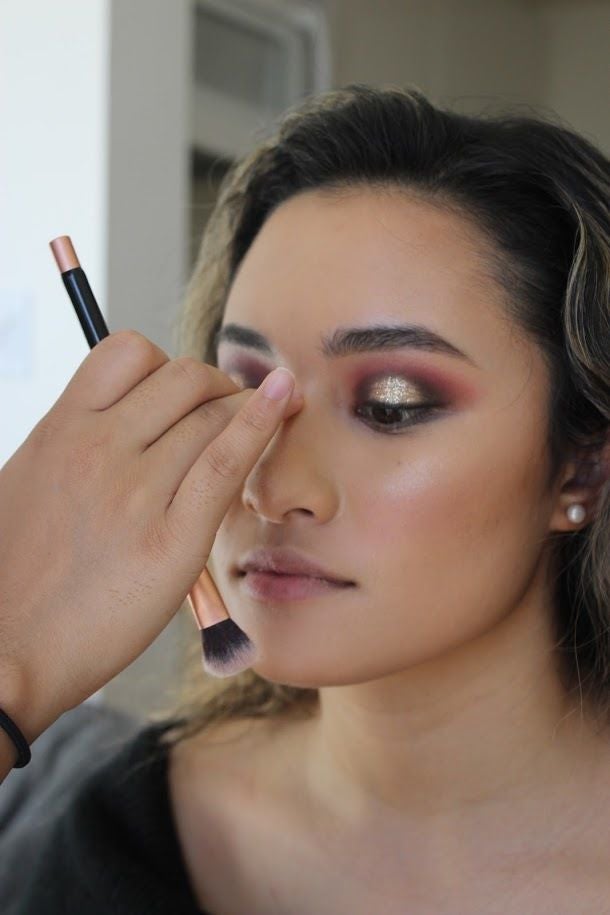 Step 14: Use bronzer to contour the face in 3-dimensional shape.
Step 15: Use a warm-toned blush to put on the cheeks.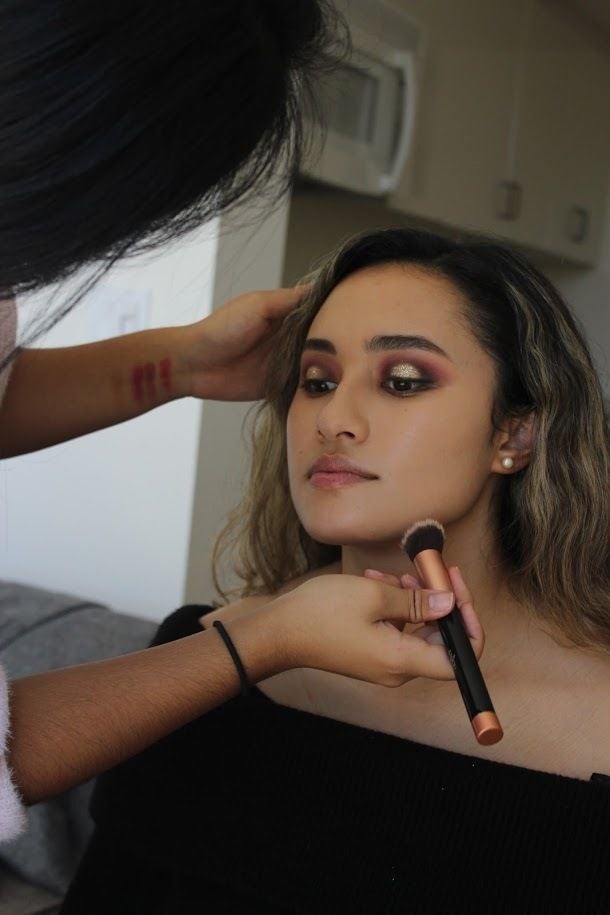 Step 16: Moisturize lips with lip balm or lip oil. Use a precise brush to line and fill the lips with a cranberry toned lip liner.
Step 17: Curl lashes. Put on desired mascara and/or eyelash extensions.
Step 18: Set face makeup with setting spray.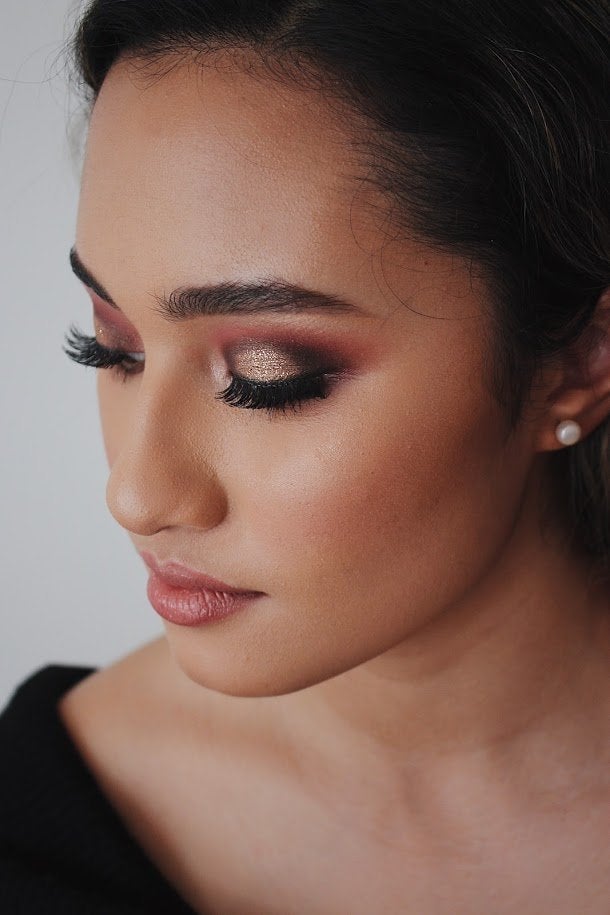 Thank you to Camina Balmores for showing us how to achieve the perfect party look for the holidays! Follow her IG: @makeupbycamina for bookings.