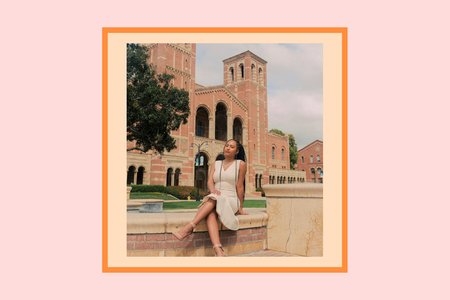 Profile: UCLA's Newly Elected Student Body President Naomi Riley
Naomi Riley was recently sworn in as UCLA's new Undergraduate Students Association Council (USAC) President for the 2020-2021 school year. We checked in to talk about her USAC experience so far, the ups and downs of campaigning and her plans for the future.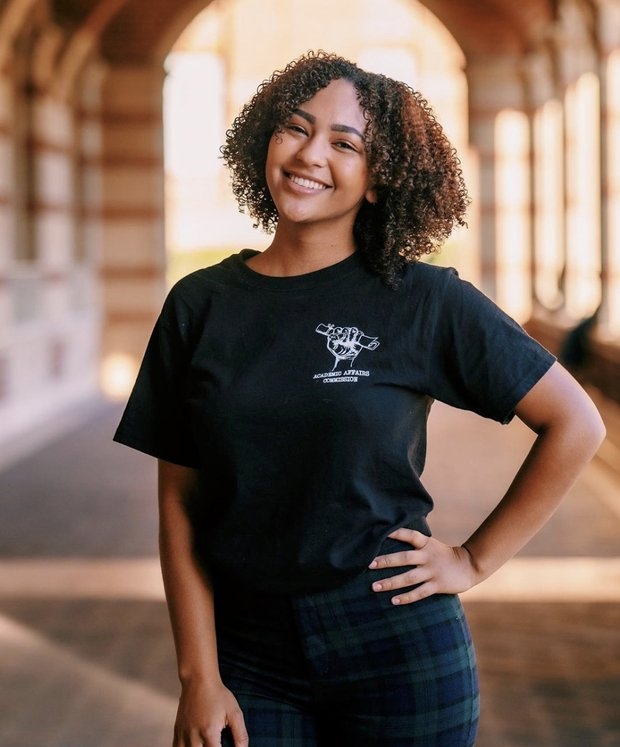 Rachel Feng Her Campus: What would you say was your proudest accomplishment as Academic Affairs Commissioner (AAC)?
Naomi Riley: It's hard to boil down to one, because I was very passionate about my platforms and was able to accomplish a lot of them and make a lot of progress. But I would say my proudest accomplishment this year was really taking on the issue of accountability within the larger infrastructure of the university. When it came to the Getty Fires or the COVID-19 situation, we didn't see an administration that was as responsive and as transparent as we wished they would have been. Leading a lot of those charges were some of my proudest moments because that's when I saw the true strength of students and student leadership and the impact that it has. In working with the Internal Vice President (IVP), we were able to establish the Public Safety Advisory Committee under Vice Chancellor Michael Beck. That is now going to be a working group that exists permanently. It has four student representatives, so whenever a crisis like this happens, those are the people that are relied on to be the student voice. 
HC: How has being in USAC impacted you? What are some important things you've learned?
NR: I definitely learned how to work with very diverse backgrounds. USAC has challenged me in a way where I've had to listen to people who don't always know what's going on. I have had to value their opinion just as much as someone who's completely within the know, and learn how to take more of an educator approach to a lot of these situations. 
This place is really inaccessible. It was inaccessible before I got here and I hope to have an impact on how accessible it is to students, but it's really taught me not to judge people for not understanding, because it's hard!
HC: Why did you decide to run for USAC President?
NR: My predecessors always believed that I was going to run. I always told them, "I don't know, I really like the Academic Affairs Commission (AAC)." I was in AAC for three years. I loved what we did. I loved all of the strides that we made toward academic equity on campus, whether it was making study spaces or encouraging more faculty to use BruinCast. My passion really lies within these issues of equity and parity.
There wasn't a specific moment when I knew. But, within these larger things that were happening, like the Getty Fires and advocating for textbook affordability, I realized how easily I'm able to make connections with people, whether it's student leaders or administrators or faculty. I am able to uphold myself in a genuine manner that was still effective in communicating for needs. When I was going into the Academic Senate to advocate for textbook affordability, I was able to command a lot of respect. In that instance, I gained the confidence to lead the school, of course with the support of my council and my staff. I realized that I have a lot of knowledge and it would be a shame if I didn't use it. The COVID-19 situation, too, especially showed me a lot about the kind of leader that I am and the future that I want for myself and for the school.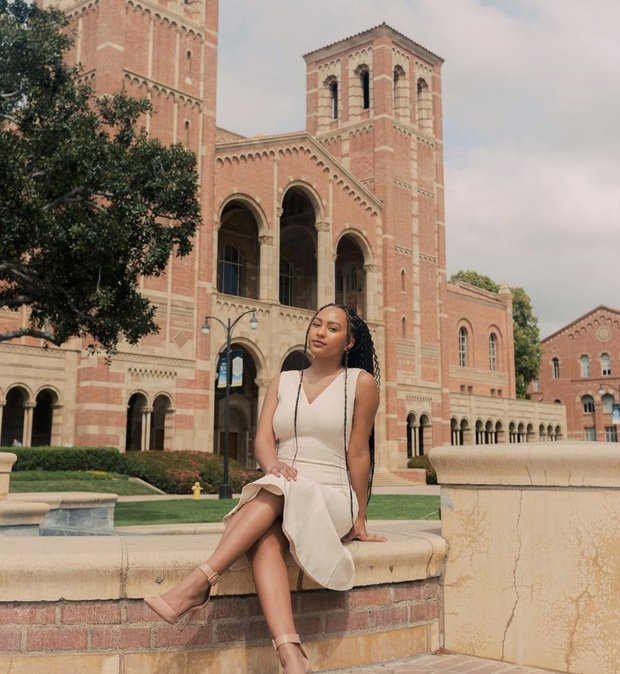 Rachel Feng HC: Was it difficult being the only female presidential candidate, especially as a black woman?
NR: I'm so glad that you asked me that. I didn't understand how difficult it would be. What made it really difficult were certain candidates that I feel didn't do their job in being an ally. They could watch things happen to me and not say anything about it. 
I was a very vocal supporter of the CUB referendum, which unfortunately failed. In the council meeting to approve it to put on the ballot, we had the Afrikan Student Union (ASU) chair come in to talk. A random user entered that Zoom meeting and called us the n-word eight times. That instance was the first time we had seen racism directed at us for a cause that we were arguing for.
I was talked about on Reddit, too. Luckily, we were able to have moderators remove a lot of the racist comments. But, there were men saying, "Naomi's hot. I'm not going to vote for her, but do you think I can still ask her out?" They were saying crazy things that you wouldn't say about a man if he was running! 
As much as I tried not to point out that I'm the only black woman, it was very present. I'm a proud black woman. I'm unapologetically black and Latina and everybody who knows me knows that about me. It was difficult having to uphold myself with the composure that I did. At times, I did go on Twitter to talk about how frustrated and exhausted I was, and I still had to use the hashtags to avoid getting sanctioned, because that's all people seem to care about. I even got some hate for that, too. I'm expressing my frustration and all people focused on was the election. 
At the end of the day, though, I had a lot of people supporting me. I had people in my corner reminding me of my worth, reminding me that anonymity shouldn't affect me that it was affecting me. I've always been one to embrace constructive criticism, because I want to improve! But, there is a line between constructive criticism and overt discrimination and people really teetered on that line. 
HC: What was the best part of campaigning?
NR: The best part of campaigning was seeing how many people actually believed in me and valued the work that I did in AAC and valued who I was as a person. I was the candidate with the most endorsements, and I was proud to see those endorsements coming from so many different people. My best friend and my boyfriend compiled a book of letters that people had written me throughout the campaign. The day of voting, I opened it and got to read all of the letters. In that moment, I knew that win or lose, these people believed in me. No amount of voters could have told me differently about my worth. 
HC: When the results were announced, how did you feel?
NR: I couldn't believe it. I thought I was going to lose up until the results were revealed. Since President is revealed last, you get to see every person called. I was looking at some races, and I though, "That's really close, this is getting intense." Then, I saw my IVP blow her competitor out of the water and I thought I could win. When I saw it, I was just in disbelief. I was really happy, but two seconds later, they announced that CUB failed, which really hurt. It was a mix of me being really, really happy that this happened, but also me understanding that this is going to be a long year. The USAC President's role is a really daunting one, especially right now. 
HC: So, let's talk about the CUB referendum a little bit. How are you planning to continue advocating for those causes during your presidency?
NR: The CUB referendum wasn't just focused on a Black Resource Center. It was also focused on a Transfer Resource Center and establishing prayer and meditation spaces for Muslim students and students of different religions. There's a whole list of marginalized communities that would have been supported. I've worked very closely with the ASU for my past three years here. I was fortunate enough to be at the table to help draft and edit the referendum before it was sent to be approved. As USAC President, I have the unique ability to be able to really tackle this issue of student fees and showing students where their fees are going and how they're managed. I think that when students see where this is going, there will be a lot more willingness to understand that they, too, will benefit from these causes. 
Primarily, it's going to be a year of teaching. I always come back to teaching because I don't blame anyone who didn't understand where that money was going. I don't blame anyone for not knowing the benefits of what a referendum like this could offer. The way USAC currently functions doesn't allow you to know that. All CUB needed was 300 more votes. If we were in person, I'm confident that we would have succeeded in gaining that and more because we could have allowed for those face-to-face, meaningful conversations to happen, which can't on a virtual platform. Timing sucked, but we're in a good position to keep teaching and to keep uniting and building coalitions between different communities. 
HC: Do you have any specific project you're really excited to start working on?
NR: I'm really excited to be working on the first Future Student Leaders of Color Conference, which aims to let students of color know that they belong within student government. I never would have imagined myself being president. If you would have told me, I would have said, "hell no". 
I'm also really passionate about the USAC Congressional Advisory Board, because I'm all about building coalitions and solidarity. That's something that I've been rather successful in in my campaign, but I really want that to come to fruition for things that matter even more. I want to see it when administration is talking about CARES Act funding and undocumented students are not at that table discussing how that impacts their communities, or when QTPOC (Queer Transgender People of Color) students are not able to discuss what it's like being at home in an unsafe environment. In my opinion, one of the greatest things is finding ways to build coalitions and having those voices permanently represented at the table.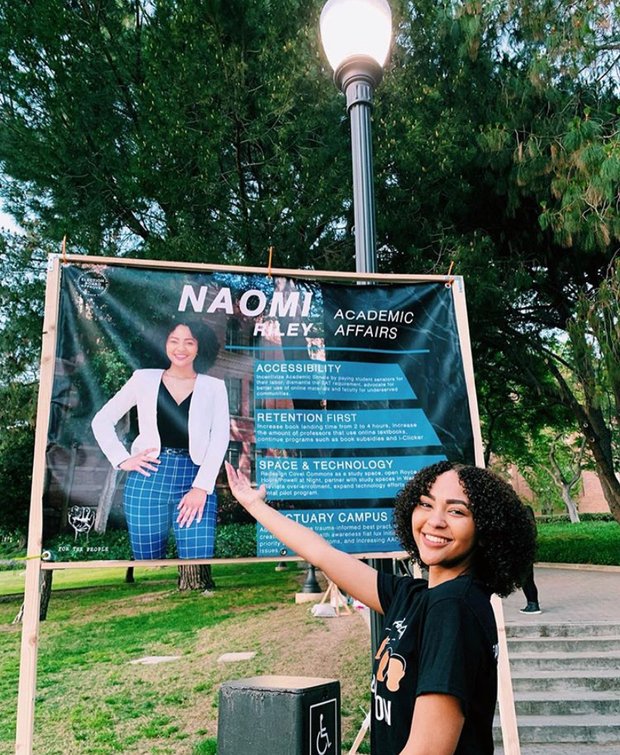 Rachel Feng HC: Lastly, do you have any advice for women, and women of color in particular, who want to get more involved in campus advocacy?
NR: Know that you're going to have to work five times harder than the people around you. You're going to undergo scrutiny and it's going to feel a lot more charged when it comes at you. Be strong and be firm in what you believe in. I'm a person that will call out inequities, but it's difficult when people are saying, "Prove it". When my community that I'm advocating for is asking for a Black Resource Center, and I'm being told, "Don't you already have a space?" or "Why is that necessary?" or "Why don't we have a resource center for another community instead?", it's difficult. It's in those moments when you need to be steadfast in what you believe in. 
Stay grounded in your communities. Your communities are what uplift you in these really tough times. But also be open to the other friendships that you can make in these spaces. I never would have imagined having such a diverse friend group and having such a diverse group of supporters that really see themselves in me. I see myself in them, too. Be genuine, too. That's something that you need to carry out in every role, but especially in student government. I'm not a politician; I'm not good at politicking. I'm good at being vulnerable and making friends, and I think that's what has gotten me so far. 
Thank you, Naomi, for taking the time to answer our questions! We are looking forward to seeing you accomplish great things in office.