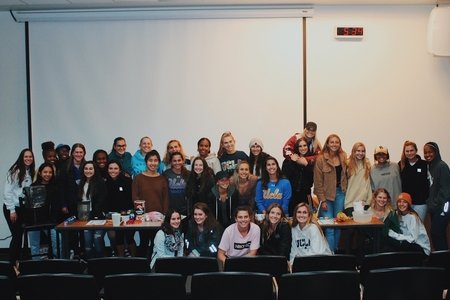 Profile: "FASTgiving" With Taylor Johnson From UCLA FAST & Women's Tennis
Name: Taylor Johnson
Year: Sophomore
Major: Pre-Comm
Hometown: Scottsdale, Arizona
Whether it's playing on the tennis court or holding network meetings, Taylor Johnson is setting the bar high for college women in sports. In founding the FAST chapter at UCLA, Taylor has created a space to empower female athletes both in and out of the sports arena. Her Campus UCLA sits down with Taylor to talk about her goals and visions in establishing UCLA FAST.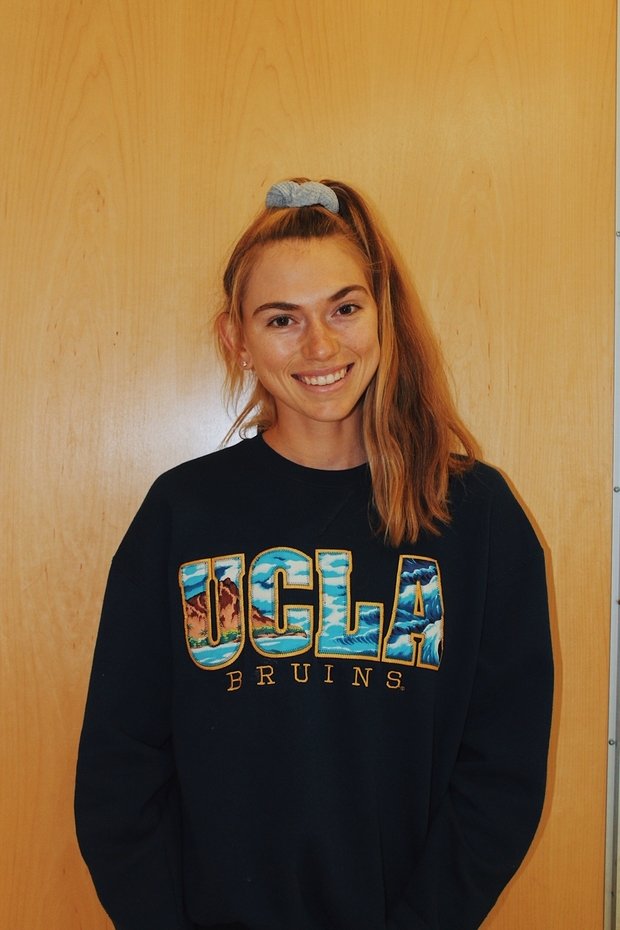 Her Campus: What is UCLA FAST?
Taylor Johnson: FAST is an organization created to empower, connect and support student female-athletes on college campuses.
HC: What made you decide to start the organization at a school like UCLA?
TJ: A friend of mine originally started FAST as an organization at Columbia University, and I thought it would be a great idea to spread it out to several campuses. Together, we have founded a non-profit organization and plan to get FAST at as many college campuses as possible.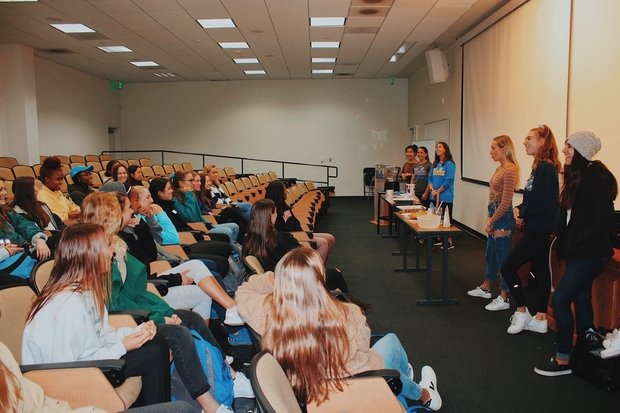 HC: Can anyone join?
TJ: UCLA FAST is for all female student-athletes.
HC: Why should people be a part of UCLA FAST?
TJ: FAST is a great opportunity for young women to create friendships, give back to the community and have access to resources to help transition into life after college.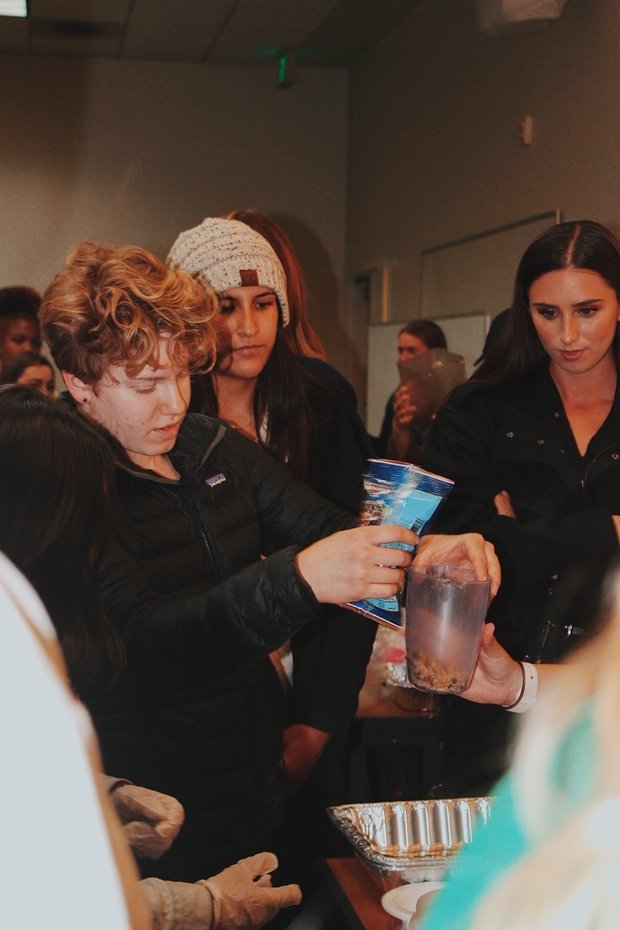 Sophomore UCLA gymnast, Sara Taubman, helping out with a healthy holiday snack.
HC: You guys just had an event called "FASTgiving." Can you tell us more about what it was held for?
TJ: Yes, we did! "FASTgiving" was the second official meeting we have had, and we wanted to have a fun "social" aspect. So, we teamed up with the nutritionists from the athletic fueling station to make healthy holiday treats like peanut butter no-bake cookies and banana walnut muffins. We also did a clothing drive to collect clothes to donate to the Women's Center and talked about what to expect for the upcoming events of FAST.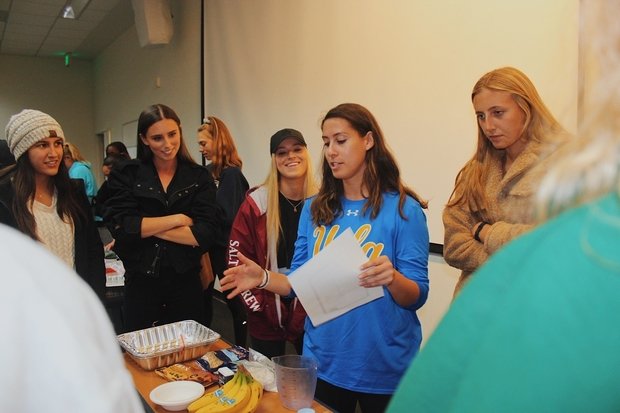 HC: What do you hope to achieve with the club? What is your end goal?
TJ: Our goal of this organization is to unite female athletes on campus, provide more support at their games/events, encourage young girls to continue playing sports and help female student-athletes powerfully transition into life after college.
HC: What future events can we expect from UCLA FAST in the near future?
TJ: As for the future events of FAST, we plan to hold various workshops and panels with former student-athletes, influential entrepreneurs and companies that encourage gender equality. We also plan to collaborate with our Women Sports Foundation charities to encourage and inspire young girls to play sports!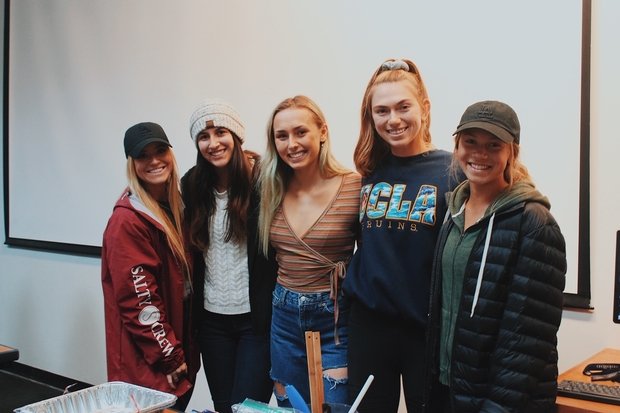 Board Members: (left to right) Gracie Kramer (gymnastics), Marisa Villegas (XC and track), Emma Joy Schaetz (swim), Taylor Johnson (tennis) and Paige Carter (XC and track). Not pictured: Juliette Frank (rowing) and Dakota Stanly (track and field)
HC: Who's a female athlete that has left a lasting impact on you?
TJ: Billie Jean King has left a lasting impact on me. I was fortunate enough to meet her when I was about ten years old, and she has been my mentor ever since. She has been the most inspiring person in my life, and I am fortunate to have such an empowering influence! 
HC: Besides being President of UCLA FAST, what are other things you are involved in? Both on and off-campus.
TJ: Besides being the President of UCLA FAST, I am on the UCLA Women's Tennis Team! I am so blessed to be surrounded by such a fantastic team and coaches that inspire and push me every day to be the best version of myself. And off the court, I love to cook, go to the beach and photography.
HC: ​Leave us with one message you'd like for current/former female athletes to know.
TJ: I think it is essential for all women and girls to support each other, and "One woman can make a difference, but together, we can rock the world."
Thank you to Taylor Johnson for giving Her Campus a first look at what UCLA FAST is all about! Be sure to follow their IG social @uclafast