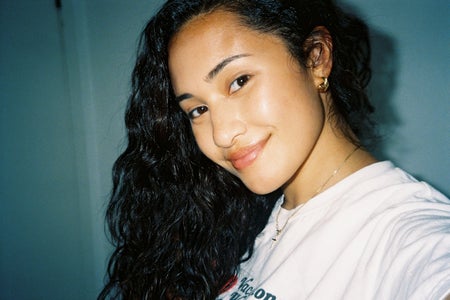 Original photo by Rebecca Karlous
Pre-Holiday Skin Prep: Get Your Holiday Glow With These 7 Skincare Hacks
As Mariah Carey sings, "All I want for Christmas... is youuuuuu!"
And by "you" I think she meant clear skin, right?
As we pull out our holiday advent calendars and anticipate days of holiday cheer, we can use this time to prep our skin ahead of the festivities. If you're someone who finds yourself with breakouts after loads of sugar, dairy and incredible meals, you've come to the right place. Below I've listed skincare tips, products and techniques that have helped me create and maintain a "holiday, clear-skin glow" before, during and after the holidays.
Original photo by Rebecca Karlous

This specific cleanser is by far one of my absolute favorites, and not just for the winter, but all year round. The label promises that it's compatible with dry, winter skin, giving you a deep clean without the "stripping effect" of your skin's natural moisture. The ingredients are simple and clean, making it a must-have cleanser.

2.

Don't be Shy, Exfoliate!

Exfoliating is definitely a step I tend to forget, yet is essential for the winter season. This technique is effective in removing unwanted dead and dry skin cells. I suggest using a chemical exfoliant for the winter rather than a scrubbing, bead exfoliator. A chemical exfoliant is going to be a lot kinder and more gentle to your face than a physical exfoliant. Your skin is already going through so much with the cold weather! It doesn't need any extra harsh scrubbing. I find exfoliating around twice a week works well for me.

3.

Power Combo: Heavy Night-Time Cream + Serum

Original photo by Rebecca Karlous

Now this is my favorite part of my nighttime skin routine because 1) It means that I'm at the end of my skin routine and 2) It feels amazing. This time especially is your moment to feed your skin as much moisture as possible through the combination of a serum and moisturizing cream. I love using a Vitamin C serum to ensure that my skin remains vibrant and fresh throughout the cold, dry season. Shortly after, I use the same brand's moisturizing cream that works wonders for my dehydrated skin. After using the cream, my skin feels fully moisturized both while I sleep and the morning after.

Original photo by Rebecca Karlous

UV rays will get ya. Whether you're outdoors, staying inside, rain or shine, your skin is at risk of harmful sun exposure. Decrease your risk of skin cancer, tired skin, unwanted brown spots and sunburn by treating every day as a beach day when it comes to your skin!

If you take away one thing from this article, I pray it's this: don't touch your face. Don't. Touch. Your. Face. 

Picture this: You get creamy, buttery mashed potatoes on your hands because your brother knocked the serving spoon onto you. Your hair gets in your face, and because of that, you wipe your fingers on a napkin, then go forth with touching your forehead to remove the hair in your face.

Now you have mashed potato grease on your skin!

This could seem very ~extra~. Yet in reality, it helps a tremendous amount to avoid touching your face as much as you can! So for the sake of your skin please, try not to. :)

6.

Water, Water and More Water

This is my moment. I thrive when I have unlimited amounts of whipped cream, hot chocolate and hot apple cider. Ah *chef's kiss*. However, let this be a reminder to be mindful of the amounts of sugary drinks you're intaking as it can result in breakouts.

Yes, this includes alcohol too. Believe it or not, alcohol can extremely affect the appearance of your skin. 

Both sugar and alcohol can lead to increased oil production, leading to clogged pores and dull skin. That's a no from me.

As much as we want to pull an all-nighter Christmas marathon, we need sleep. Lack of sleep can lead to skin puffiness, unenergized skin and falling asleep during giving and unwrapping presents. Get those Z's, please!
It is possible to enjoy your holiday season without the stress of acne breakouts. Just because you're filled with holly jolly cheer, doesn't mean that your skin can't join in on the fun! I hope that these tips help and inspire you to nourish and properly prep your skin for the stay-at-home holiday festivities ahead. Happy Holidays!