Driving across the West, exploring new territories, topography and landscapes that I had never experienced before and being able to delve into the rich and beautiful areas in which I traveled this past spring break will be something I will always hold close to my heart. I am so grateful to have embarked on this adventure this past spring break with one of my close friends, Ali, as we scaled mountains in both Zion and Bryce National Park, paddled across hot springs in Idaho, and frolicked in the snow in both Montana and Tahoe. It truly was nine days chalk full of hiking, laughs, the most gorgeous views I have ever seen and lots and lots of driving!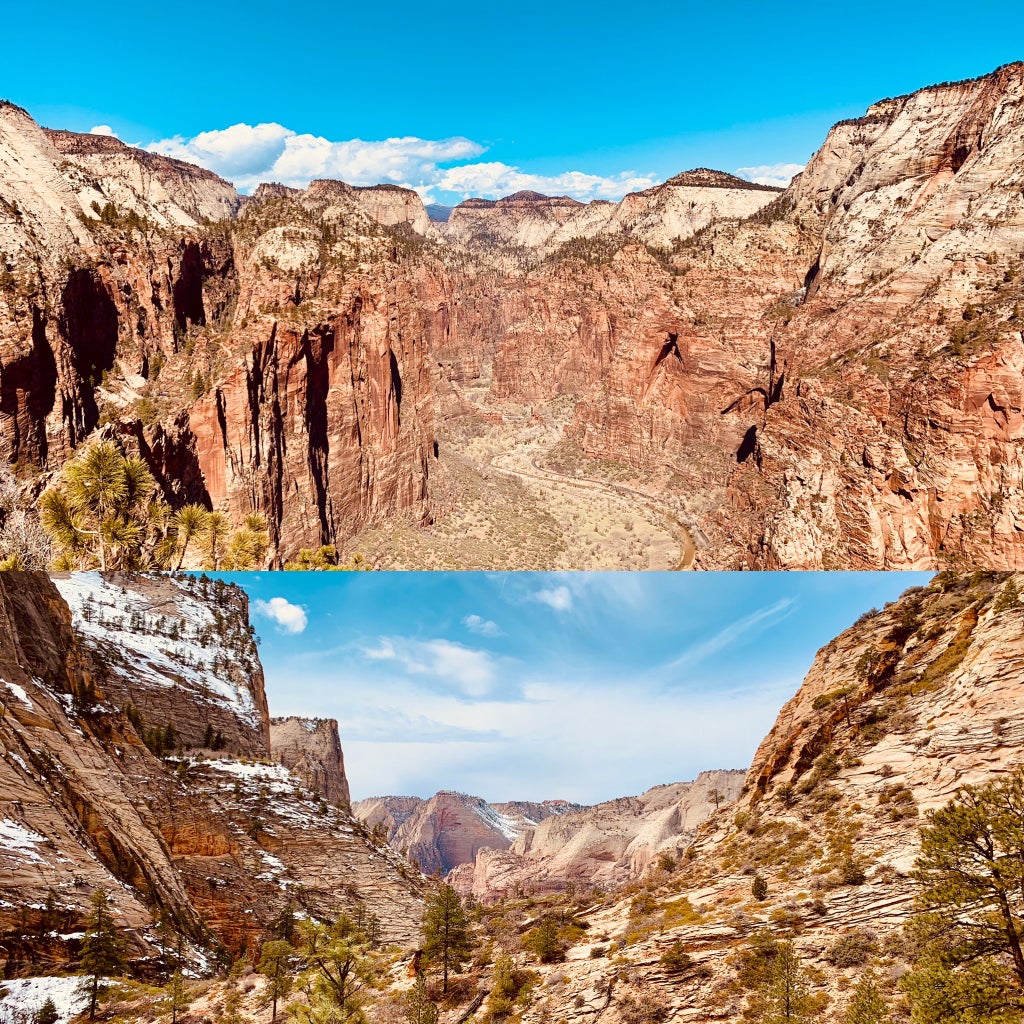 Our adventure began packing up and heading out on the Tuesday night of finals week after finishing up each of our finals exams early (it was a grueling four days of intense writing and studying, but it was worth it!). Our first night we spent in Vegas in order to cut our hours of driving to Zion in half. After a quick five hours of sleep, we hopped back on the road again to head from Vegas to Zion National Park and begin our first hiking adventure of the trip! I will say the driving, alone, throughout the trip was truly an experience in itself, that of which I was awake for of course! But really, the views of the multi-layered mountains in Utah with reds and browns, greens and yellows were absolutely breathtaking – something you may think to find on a postcard or in a picture hung up in a gallery, but that which we got to see from the comfort of Ali's car!     
Two hikes that I highly recommend in Zion would be Angel's Landing and Observation Point. Ali and I truly had the times of our lives scaling the breathtaking mountains, crossing the serene canyons filled with all sorts of wildlife and climbing to new heights to meet some of the most amazing views of our twenty one years. Granted, I will not say that these hikes are for the faint of heart – it will take some strength, some effort and a well stocked backpack of snacks and water to reach the tops of these hikes! Having said that, do not let this scare you off in the slightest because the experience of these hikes and the vista points that you reach are well worth the sweat and hard work. For Angel's Landing, the hike is about six miles and takes a few hours to do as most of it is on an incline and you get about a little over a 1,500 foot elevation gain. On this hike, we were able to be in the middle of the canyon in Zion National Park and get a 360 degree view of the Park – truly breathtaking. Though I highly recommend Angel's Landing, Observation Point was, hands down, my favorite hike of the trip.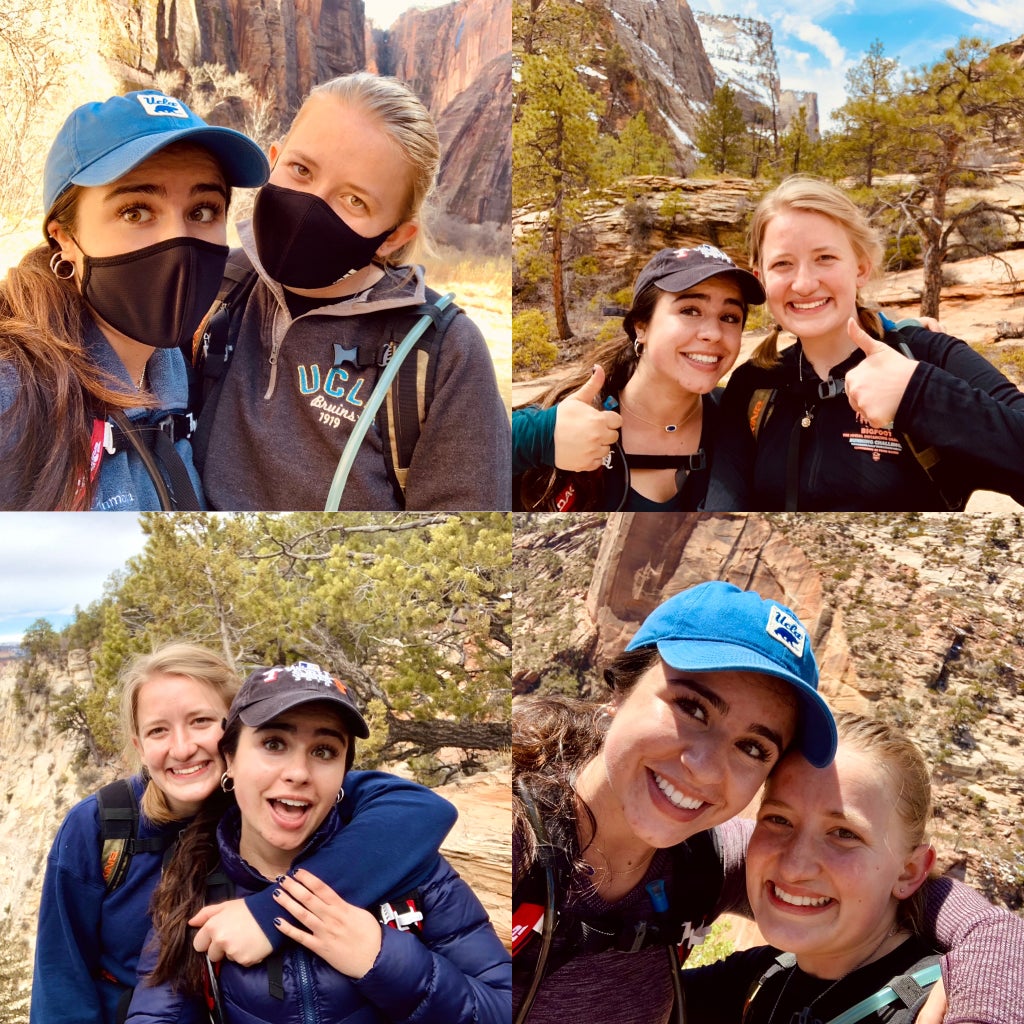 The hike to Observation Point, and the entirety of the day, was the absolute quintessential movie scene moment of a scenic hiking road trip with one of your closest friends. Ali and I hiked Observation Point, which took about half of the day, and then drove to Bryce Canyon National Park, got dinner to go and went stargazing that night followed by a little wine back at our Airbnb. The hike was a good 14 miles, filled with climbing down one mountain, hiking through a canyon and scaling another mountain to make it to the top of Observation Point and experience the most surreal and scenic view I had ever encountered. I felt as though, even though I was just one person in this one spot in the world right now, there is so much beauty that I haven't yet seen, and I am so lucky to be in a position where I am healthy enough to make treks like these, blessed enough to have the means to do so and the ability to do it with such an amazing friend by my side.     
Following our night of stargazing, Ali and I hiked at Bryce National Canyon where we encountered the famous "hoodoos". Hoodoos are these rocky mountain formations that are produced from weathering and erosion in desert climates. Water from streams, runoff, and intense thunderstorms wear down the rock, especially along joints and cracks in the formation and wind is the fine sculptor that does a lot of the smoothing and finishing. They were truly a sight! The next few days of our trip were spent in Idaho and Montana where we went to hot springs, visited Ali's sister and hiked in the snow to a hidden waterfall. This was both of our first experiences in hot springs, and they truly did not disappoint – it felt like Earth's very own hot tub! What amazed me the most was that the hike up to one of the hot springs was up a mountain and through a snow covered valley, so once we got to the hot springs we were able to get in our swimsuits and enjoy the warmth of the springs with a waterfall behind our heads while looking out at snow capped mountains and snow dusted trees just beyond the rocks in front of us.     

Ali and I concluded our trip in Tahoe, which is not far from home for me, and ended up going out and being able to listen to live music for the first time since the pandemic at an outdoor restaurant/bar scene downtown. I will say, this trip truly was a good mixture of outdoor activities (mainly hiking) and being able to explore the cities we were in as well, like going out and getting drinks in Boise and having a nice Italian dinner and quaint brunch in Salt Lake City. After walking back and gazing at the lake at night in Tahoe, we went to bed and hiked Castle Rock the following day before heading back to my hometown in the Bay Area!  This trip is one that I know I will always cherish, and I really do mean that. It was an experience unparalleled to any I had experienced before, and I feel so grateful that I was able to explore so many parts of the country that were a mystery to me a few weeks prior. The United States really does have so much land that is undiscovered, untraveled or maybe just not appreciated as much because people don't typically venture off to such places as Utah, Idaho or Montana. But, if I did learn one thing from this trip, it is that there is such an expansive world out there, beyond our knowledge and beyond our experiences, and I feel like I can make my time here on Earth so much more meaningful by exploring the lesser explored places and seeking out adventure and opportunity, even when it may seem lacking. So, although this was my first and longest road trip across the West in my life thus far, it will definitely not be my last!