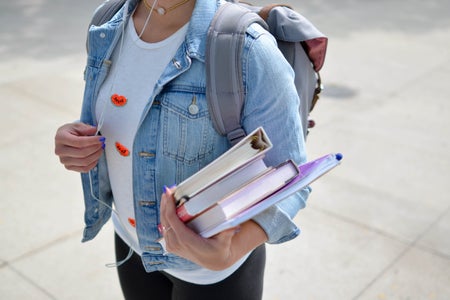 My 3 Favorite Podcasts To Listen To While Walking To Class
Over the summer when I had my car, listening to podcasts during long drives was the way to go. But ever since school has been back in session, most of my traveling time has been spent by walking to class. Without a doubt, podcasts are essential for passing the time. With a larger campus like UCLA, walking to class can definitely be a hassle. But with these 3 entertaining, relatable and hilarious podcasts, hopefully the trek will not be quite as bad. 
1.

Directionally Challenged 

If you are a hard-core Vampire Diaries or Originals fan like I am, this may be the perfect podcast for you. In Directionally Challenged, Candice King (Caroline Forbes) and Kayla Ewell (Vicki Donovan) talk about the life-long journey of self-knowledge. They are both in their 30's, and a main focus of their episodes is to remind everyone that it is okay to not have life completely figured out, even as an adult. They have weekly guests that have ranged from self-help experts to fellow actors such as Nina Dobrev, Michael Trevino and Claire Holt. And since I am a huge fan of The Vampire Diaries and The Originals, I am obsessed with these types of episodes. There are many behind-the-scenes stories that I had never heard of before, so it is super interesting to get the inside scoop on the cast and filming process. Candice and Kayla have also hosted Shannon Boodram, a certified intimacy educator who is the author of The Game of Desire, one of my favorite books! 

Who doesn't love a YouTuber podcast? Dating Straight was created by YouTubers Amy Ordman and Jack Dodge, where they discuss their dating lives as members of the LGBTQ+ community. I loved their YouTube videos back in 2017, and I actually got to meet them at a FLETCHER concert! While they are extremely hilarious as a duo, they also chat with guests from several different backgrounds like Nick Viall, Rebecca Black and Alexis G. Zall. Amy and Jack have also hosted my queen, Shannon Boodram, on one of their episodes, which was definitely the most interesting one to me. Both of them have told some of the craziest dating stories that have made me laugh out loud in public multiple times. Yes, it is a little embarrassing, but at least I was not bored walking to class. 

I started listening to LadyGang four years ago as a sophomore in high school. This was during my Glee phase, which makes sense because this podcast stars Keltie Knight, Jac Vanek and Becca Tobin, who plays the love-or-hate character Kitty Wilde. This is actually the very first podcast I started listening to, and it did not disappoint. In LadyGang, the three hosts are not afraid to talk about taboo topics in a relatable and comedic way. They discuss the reality of Hollywood and have invited guests such as Kristin Chenoweth, Julia Michaels and Darren Criss - which was one of my favorite episodes because, you know, Glee. Even after four years, LadyGang has managed to stay relevant and relatable in my life, so I recommend giving an episode or two a try!
Without these three podcasts, walking to class would just be another tiring part of my day as a college student. But once I put in my earphones and press play, walking actually becomes enjoyable, and I get to class in no time. So if you only listen to music or are simply looking for other entertaining podcasts to try out, these could be a great fit.