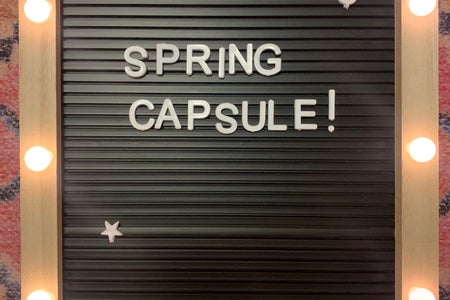 I Tried A Capsule Wardrobe So You Don't Have To
Capsule wardrobes have become the new minimalistic fashion experiments to try over the past few months. A capsule wardrobe refers to the practice of carefully choosing selected pieces in your closet that never go out of style and are essential to putting together cohesive outfits that make sense for whatever season that is to come. Ideally, your capsule wardrobe should consist of pieces you could wear to any occasion. Depending on season to season, you would add one or two items depending on the weather, but ideally keep you from buying new items of clothing.
Having a capsule wardrobe can be beneficial to you in many ways, it can save you time in your morning routine, keep your closet space tidy and most importantly, can help you keep a more sustainable wardrobe and help you manage your spending habits. Fast fashion has been a top contender in climate change with fashion conglomerates like Forever 21 and H&M pumping out new styles and trends weekly. 
After reading several articles and watching countless videos on capsule wardrobes, I decided to try my own hand at compiling a closet filled with only my most essential pieces that could be versatile and worn everyday. I figured that it would be great for my wallet and my raging online shopping addiction, as well as keep my closet space nice and organized for the upcoming spring season. I also have to note that I am terribly guilty of spending way too long each morning putting on and trying various outfit combinations to figure out what I actually want to wear for the day. On that note, here are the pieces I chose to be a part of my capsule wardrobe this spring:
1.

A white halter bodysuit

It can be worn with any type of bottom!

2.

A flirty pink front tie blouse

A little top of color to add to your wardrobe!

3.

A cropped white long sleeve with extra long sleeves

Probably one of the most versatile pieces of clothing I own.

Maxi skirts will always be in!

5.

A white long sleeve front tie blouse

One of my favorite shirts I have ever owned.

Who doesn't love a good pair of shorts?

A little white dress is effortless and fun!

A little black dress that can be dressed up or down.

9.

Two pairs of black and blue ripped jeans

A girl's got to have a solid pair of jeans!

10.

A pair of gingham pants

Any pair of patterned pants will do, but gingham is timeless!

11.

A white cap sleeved lace front blouse

A romantic piece is necessary in any girl's wardrobe!

I love mini skirts, they put a flirty twist on any outfit!

13.

A low cut black long sleeve

A very versatile piece to wear by itself with a skirt or under a dress!

A light floral dress is essential!

15.

An oversized red hoodie

For the cold nights and brisk mornings!
Now that I have aired out all of the skeletons in my closet *wink* go ahead and try creating your own capsule wardrobe!