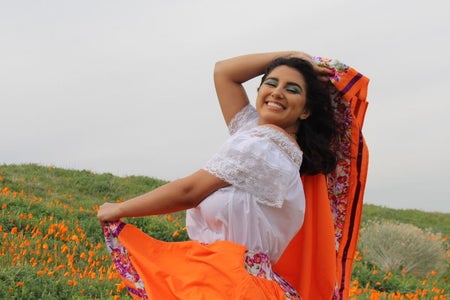 How I Grew From A Whitewashed, Imposter-Syndrome-Riddled Latina To An Unapologetically Proud One
While most BIPOC students experience their first taste of imposter syndrome when they go to college, I had my own struggles with imposter syndrome starting in middle school and extending well into high school. I can vividly recall standing in my drama/geometry teacher's advisory class gazing down looking at a problem that stumped most of us. My simple declaration of, "I don't understand this" was met with a "Well yeah, it's because you're Mexican," followed by the laughs of Asian American and white students who dominated my classes well through high school.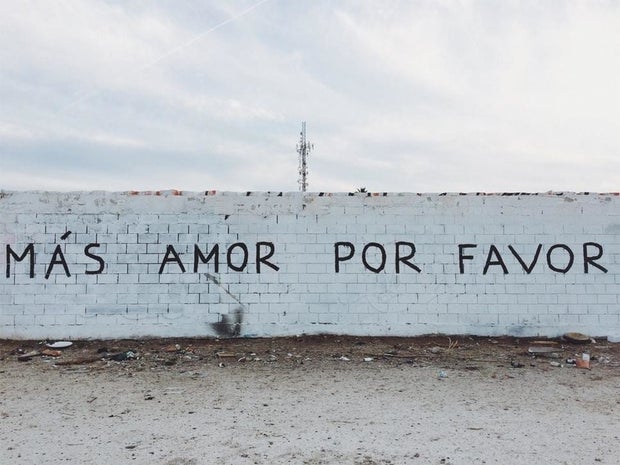 It didn't stop there though; I was constantly receiving comments about how it was going to be "so easy" for me to get into college being Latinx, as if all of my achievements I had worked tirelessly to earn were reduced to my ethnicity. It also didn't help that at about the same time, Trump had started his racist rants about how Mexican immigrants steal jobs and are lazy, so all the microaggressions I was receiving cut deeper into my self esteem and image. I doubt any of the students who had made those comments realized the impact that their words had on me as I tried to brush it off as friendly banter. Honestly, they probably have forgotten having made those comments and have hopefully developed a less xenophobic attitude towards their classmates who come from different backgrounds. Nonetheless, my pain, my insecurities and my imposter syndrome as one of the only Latinx students in school was at the expense of their ignorance, which couldn't be as simply brushed off internally. 
Even though I was putting in just as much effort, if not more being that I didn't have college graduates for parents who dished out thousands of dollars to send me to SAT prep school or who could coach me on the types of extracurricular activities to pick up, I never felt I was doing enough academically. While they hit the ground running, I was stuck looking around to see where to even start the work to get into college and understand the ideal applicant for colleges. Even when I did earn my acceptances into the schools I got into, like UCLA, some still tried to boil it down to the fact that I applied as a comparative literature major. 
Another byproduct of these hits at my intelligence level due to my culture was that I started rejecting my culture as a whole. With my appearance, I dyed my hair blonde and wore silver jewelry, neither of which complemented my warmer skin tones, but made me feel like I fit in more. I loathed going to parties with deafening Mexican music and ethnic food in our community, not even attempting to enjoy it. The list goes on, and looking back in retrospect, it's hard to even recall the ways in which I was suppressing my roots because of who I am now; while I know I can't blame myself for doing so, it still brings me shame and is something that is difficult for me to reflect on.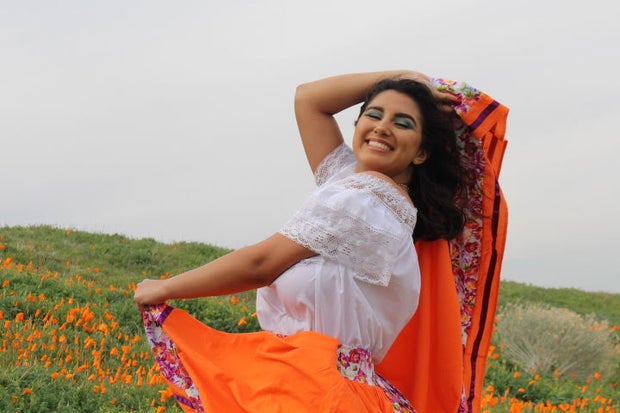 Photo by Eileen McGregor
Weirdly, what catapulted me into finally embracing my culture was a taco, which sounds underwhelming and a little stereotypical, but is 100% true. One day at a party my parents dragged me to, the taco hit different that day. It was not my first taco or anything, by any means, but I just had this sudden appreciation for it. The cilantro and white onion perfectly meshed well with the soft, greasy carne asada, being held together by the small tortilla, dancing on my taste buds in a way it never had before. The thought of "I'm lucky to be Mexican" crossed my mind, and from then on, I truly started internalizing that statement more and more each day as I opened myself up to the culture.
This led to one of my favorite experiences of high school, doing baile folklorico for our school's Spanish and Multicultural Assemblies. Despite having 2 left feet and not having a friend to start out with, I loved having a place in school where I didn't have to fit in with non-Latinx students. It was the first time I heard my peers casually saying Spanish phrases that were said at home. I was surrounded by people who looked like me outside of my family and family friend gatherings. Even when it was time to perform in front of the crowds, I was proud to be able to show my non-Latinx peers the beauty of Mexican culture, dancing to songs I grew up with in a giant, handmade, bright orange skirt that made me stand out like the sun. There was no need to adapt to the white-washed version of myself that had been produced by having to be in spaces that weren't accommodating or welcoming to me; I could be an unapologetic Mexicana.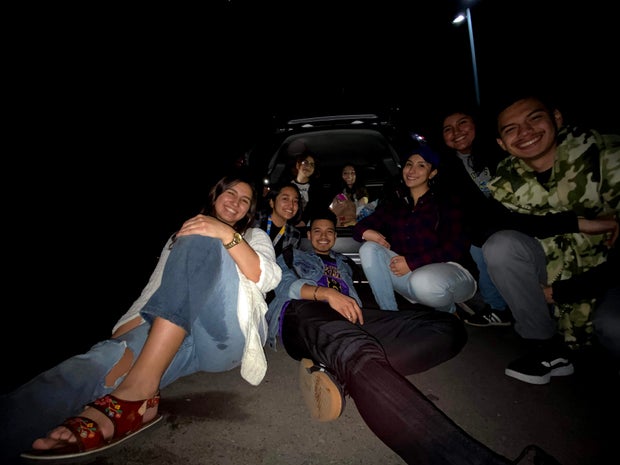 Original photo by Mariah Hernandez
While activities like folklorico and multicultural food festivals allowed me to get the chance to embrace my culture in a school environment, I took it to the next level once I got to college. Of course, UCLA is a predominantly white institution, but I have had more Latinx classmates than I ever had in high school. It's reassuring to see other students like me in high places that were never intended for us; despite our circumstances and background, we made it to the #1 public university, and I have faith that we can use our knowledge to help our gente break into these same spaces. Even if it's on a small scale, like inspiring our younger cousins, siblings and children by showing them they too can reach their goals for higher education. I now recognize that I deserve to celebrate my accomplishments because I earned them, and those who sought to discount them were probably intimidated that someone with less resources could earn a spot in the same, or an even better, place than they had given their advantages.
Besides that, at UCLA there are more opportunities for me to integrate myself into Latinx groups than were ever available for me, whether that be official clubs like the Latinx Film and Theatre Association where I get to make the most hilarious memories with friends who are my familia on campus, or other social circles. I have never had as many Latinx friends as I do now, and I can't express how fortunate I feel to have found these friendships on campus with people that understand me in ways that I have never been understood by people outside of my family.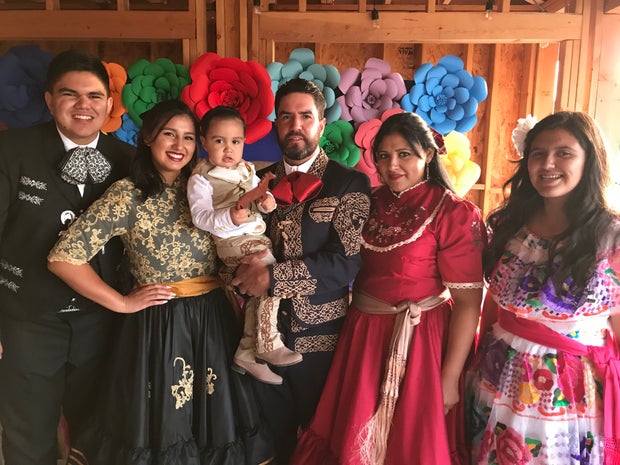 Original photo by Mariah Hernandez
The social environments you find yourself in have a tremendous impact on how you feel you can act, look or exist. I am grateful to have broken away from those that seek to reduce such a rich part of who I am and found ones where I can be authentically me. While I have had my fair share of disadvantages, they've shaped me into the hardworking and resilient person I am today, who no longer pays mind to those who underestimate me. I now look to those who know where I come from and share the same values as I do, and we push and reassure each other that we are capable of everything we set our minds to despite the lack of resources. I am a proud Chicana who adores the body, family and culture I was born into, and I will never let anyone strip me of that pride ever again.