Tired of studying for hours upon hours for finals? Come take a quick break at this year's Break-sesh at UCLA! On Tuesday, March 12th, Her Campus teamed up with Apple Pay to promote the ultimate study break for UCLA students. Break-sesh is the perfect way to unwind, play games, eat some good food and best of all, win free stuff!
Today was the first day of Break-sesh, and it was a huge success! Right in the heart of Wilson Plaza, there were four fun booths and several Her Campus members waiting excitedly for people's arrival. People started to check in at 10am, taking cute photos at the blue photo booth and signing up for Apple Pay to get free $5 for the event. In addition to getting $5 dollars and a brand new pair of sunglasses, every student that signed up for Apple Pay got a free Swell water bottle!
After checking in, students used their Apple Pay credit to "tap in" to the other booths. The first activity booth was sponsored by Grubhub. As college students, most without cars, food delivery is an absolute must for survival. Grubhub came to our rescue today with coupons for $5 off your next $15 order! Students even got to choose between a game of Jenga or a claw machine game, where they were able to win a mini stuffed taco, pizza or something equally as delicious.
As people sweated it out while trying to work the claw machine, they started to move down the line of booths to the ClassPass station. After tapping $1 and receiving their first month at ClassPass free, students got to get a five-minute massage. After studying for finals and having fun at the event, people wanted a little time to take a break. What's more stress-relieving than a deep tissue massage from professional masseuses?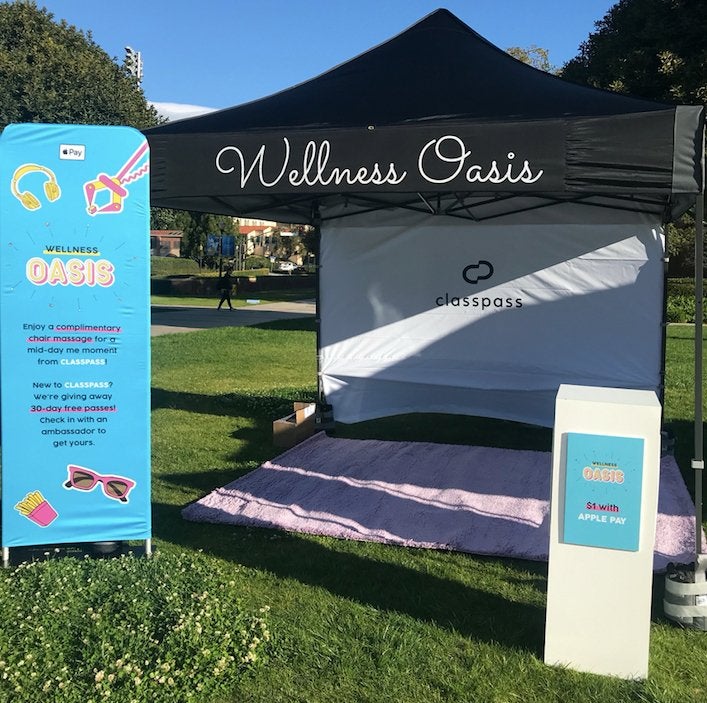 After unwinding a bit, students were ready for more games and free swag! That leads us to the last booth, hosted by Apple Music. Playing to be entered into a raffle for free Airpods and six months free of Apple Music, students fiercely compete against each other to win "Guess That Beat!" Featuring lots of buzzing, screaming voices saying, "Ooo! It's '7 Rings' by Ariana Grande!" and lots of potential Airpod winners, this booth was definitely a fun way to finish the activities.
The entire event went off without a hitch, and the good vibes and promotion of self-care during this finals season were off the charts! The interactive games and delicious food are perfect for catching a break in between all those last minute cram sessions. We had such a blast hanging out with our fellow UCLA students during Break-sesh day 1! But the fun doesn't stop here! Swing by Wilson Plaza tomorrow, Wednesday, March 13th from 10am-2pm for day 2! We can't wait to see you there!