Once you go Italian for brunch, you never want to go back. At least that's how we felt after trying the new brunch menu at Terra on the rooftop of Eataly L.A. As longtime fans of Eataly, we have been patiently waiting to try the new brunch menu since Nicola Farinetti, CEO of Eataly, teased the special brunch offering at the grand opening last year. With Terra's amazing location, menu, and ambiance, we knew that Terra would become LA's hottest brunch spot.
Terra means "earth" or "land" in Italian and that has influenced many aspects of the restaurant, such as the aroma, decor, drinks and food. The food and drinks are simple, light and incredibly flavorful. 
First, we need to discuss the Terra aesthetic. Wood burning stove. Wooden and marble tables. Stone dining ware. Hanging lights. Trees. Rustic earthy vibe. Did we mention it's located on a rooftop in Century City where you can see the Hollywood hills?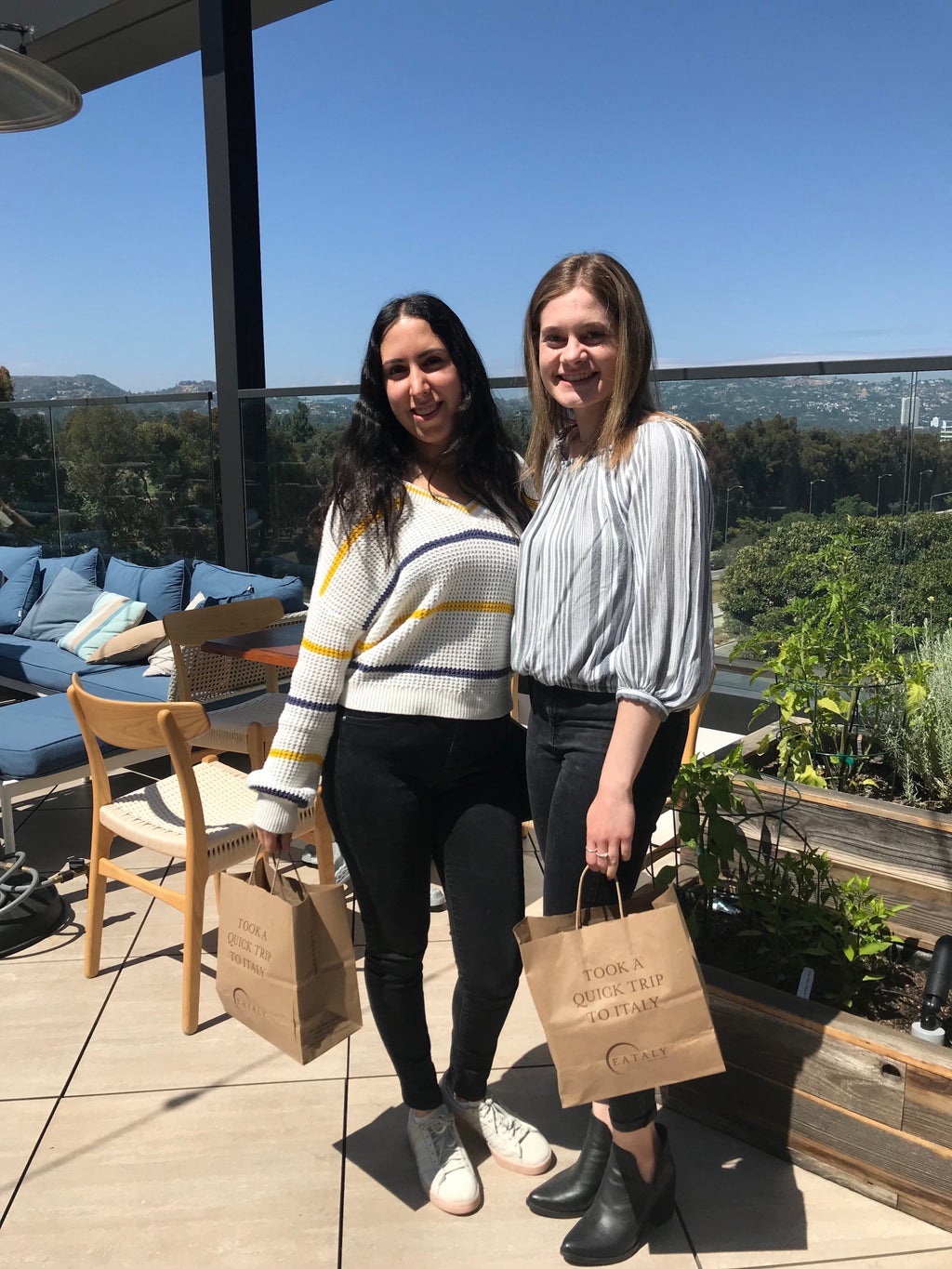 After admiring the views, we started off brunch the way you always should – with drinks! We ordered a Mimosa made with Ferrari Brut and freshly squeezed orange juice and a Bloody Mary. The Bloody Marys at Terra are special because you get to choose your own spirit, salt, skewer and garnish! We went with vodka, lemon infused salt, the smoked mozzarella and cherry tomato skewer, and olives for the garnish. While Bloody Marys can sometimes be thick and heavy, this drink was light and perfect for brunch, bursting with fresh tomato flavor and spices.
Our server Giuseppe divided up our meal into three courses so that our food didn't get cold. The first course consisted of Patate, Carote, and Frittata Classica. The Patate consisted of perfectly crisp fried fingerling potatoes covered in a generous amount of Parmigiano Reggiano. The roasted carrots paired with the crunchy almond pesto and white balsamic vinaigrette made for a slightly spicy and sweet combination, making the Carote a memorable dish.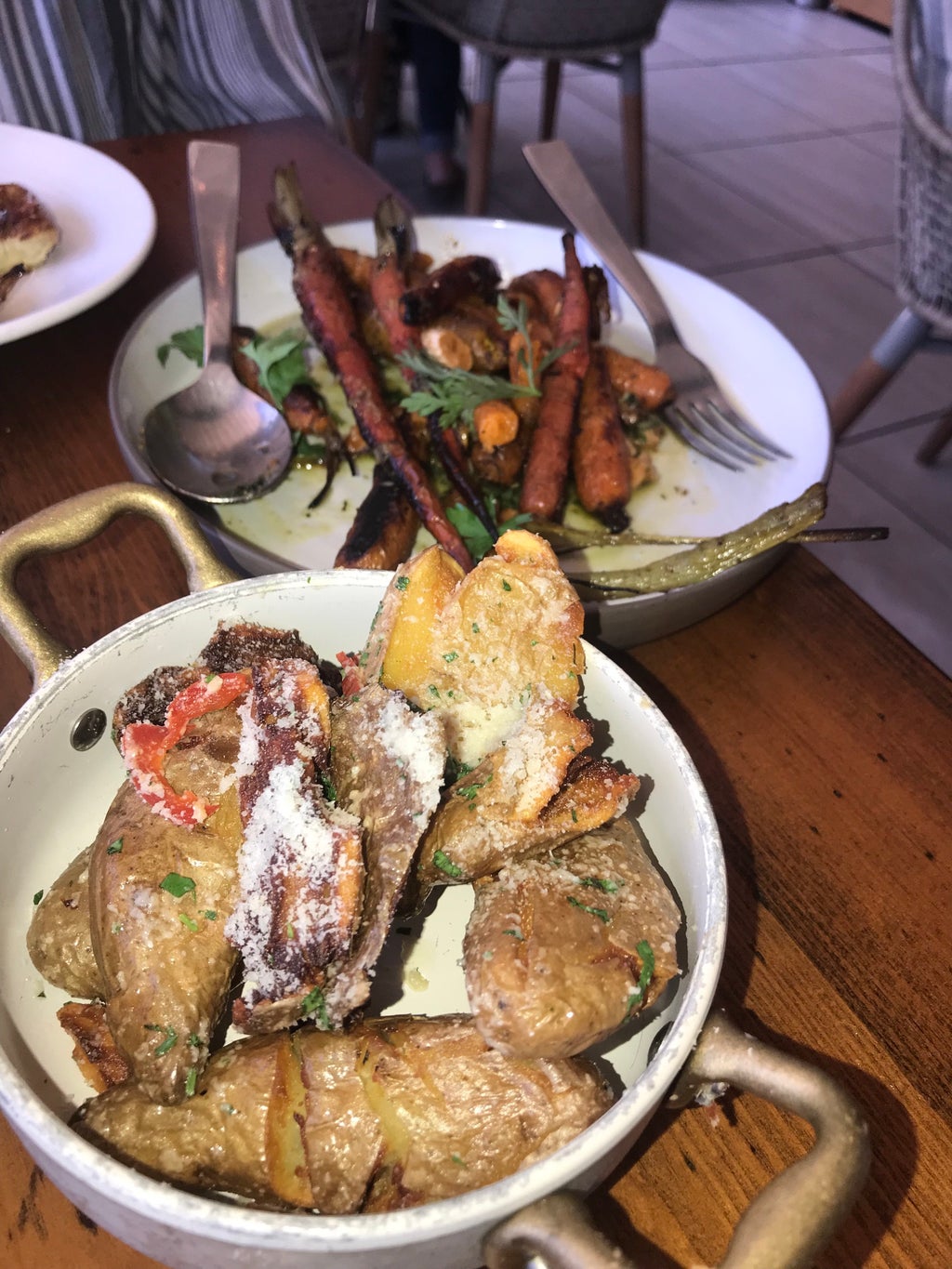 The Frittata Classica was an incredibly creamy mix of robiola cheese, peperonata (sweet bell peppers) and kale, and the custardy texture reminded us of flan. We recommend pairing each bit of the creamy frittata with a bite of the crunchy Patate.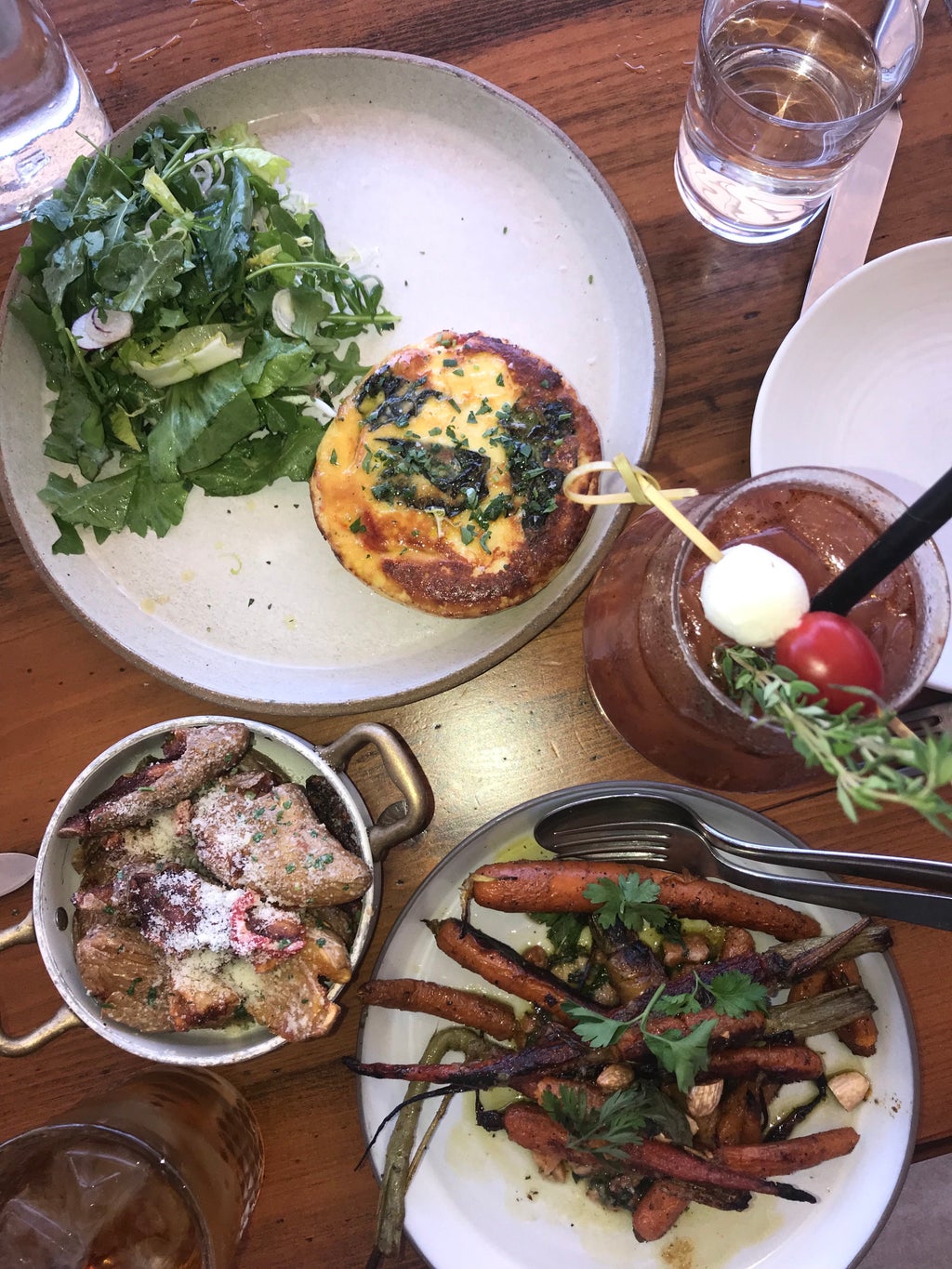 The next course was comprised of the Cornetto Benedict and the Garganelli con Funghi. We've never had eggs benedict served on a toasted croissant or with prosciutto, but the dish tasted like absolute bliss. We couldn't stop soaking up every bite in the lemony Hollandaise and perfectly poached runny egg yolk. The Garganelli con Funghi was cooked al dente and you could really taste the handmade pasta's spinach flavor. The dish tasted like a creamy Alfredo with soft wild mushrooms, and the grated parmesan was the perfect touch.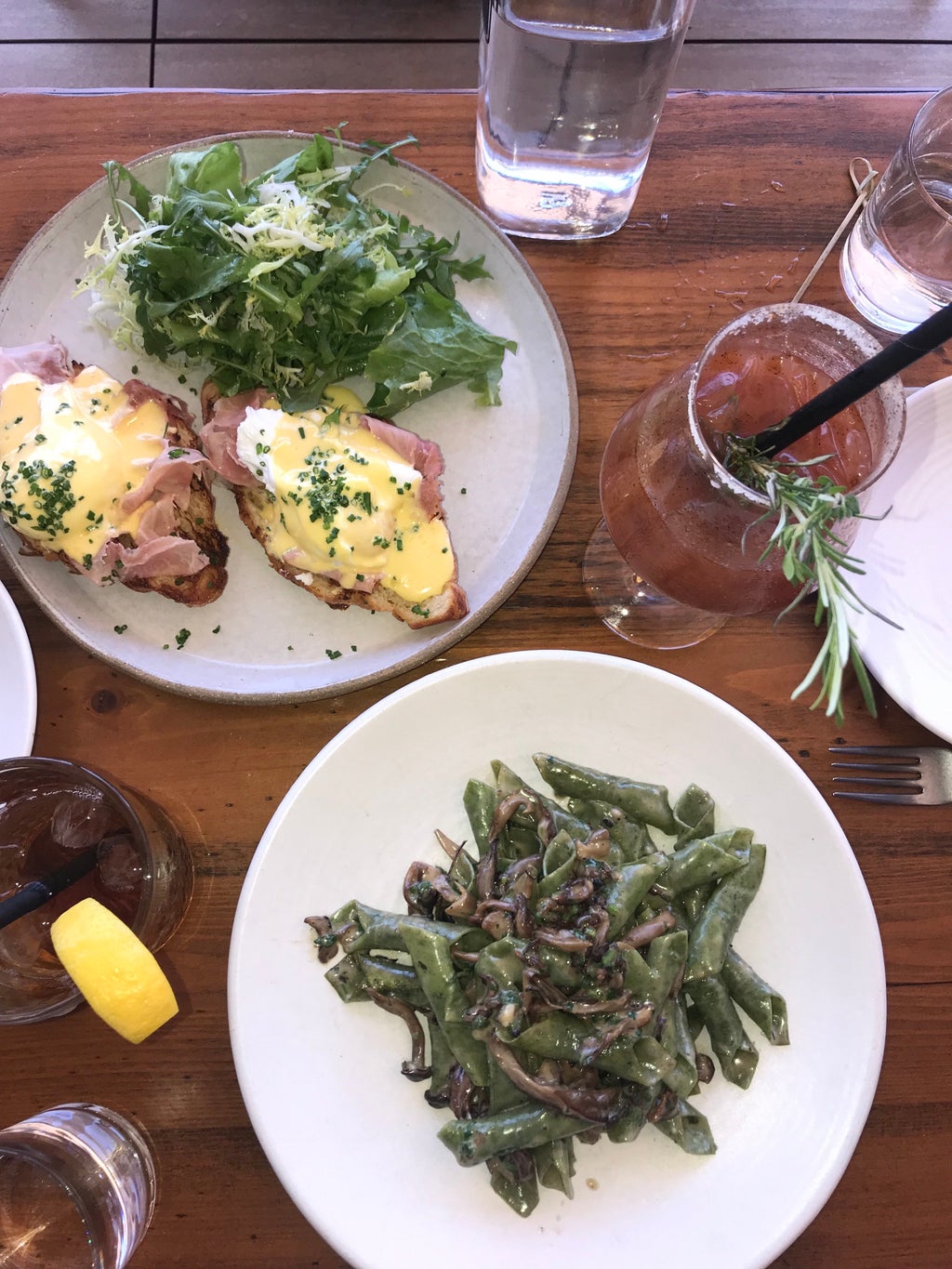 Is it even brunch if you don't have a sweet treat? The Terra Toast is one of the most decadent, but not overly sweet, meals on the brunch menu. The star of this dish was definitely the bread with its thick, crunchy crust on the outside and chewy texture on the inside. This thick slice of bread immediately remind us of brioche so we asked Giuseppe what type of bread it was. He informed us that this bread is called pan en caseta aka our new favorite type of bread. The blueberry compote had nice lemon flavor and the whipped cream was a refreshing addition that helped tie all the flavors together.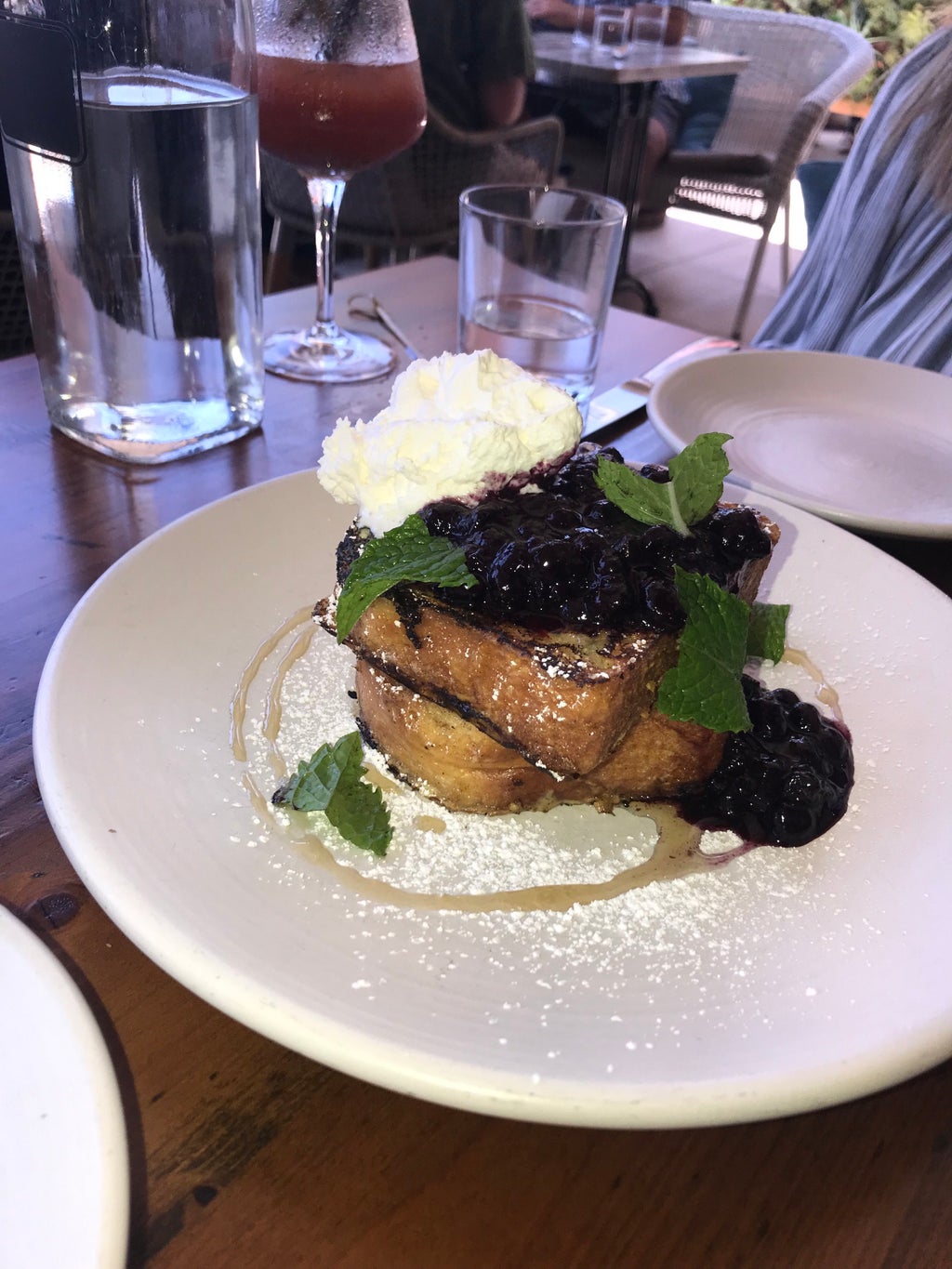 Last but not least, dessert. Terra has an incredible gelato cart that comes directly to your table with a mountain of vanilla gelato and customizable toppings which include hazelnuts, crushed cannoli shells, chocolate sauce, chocolate black cherries and whipped cream. This classic sundae with the delicious chocolate, crunchy cannoli shells and hazelnuts really hit the spot at the end of our meal.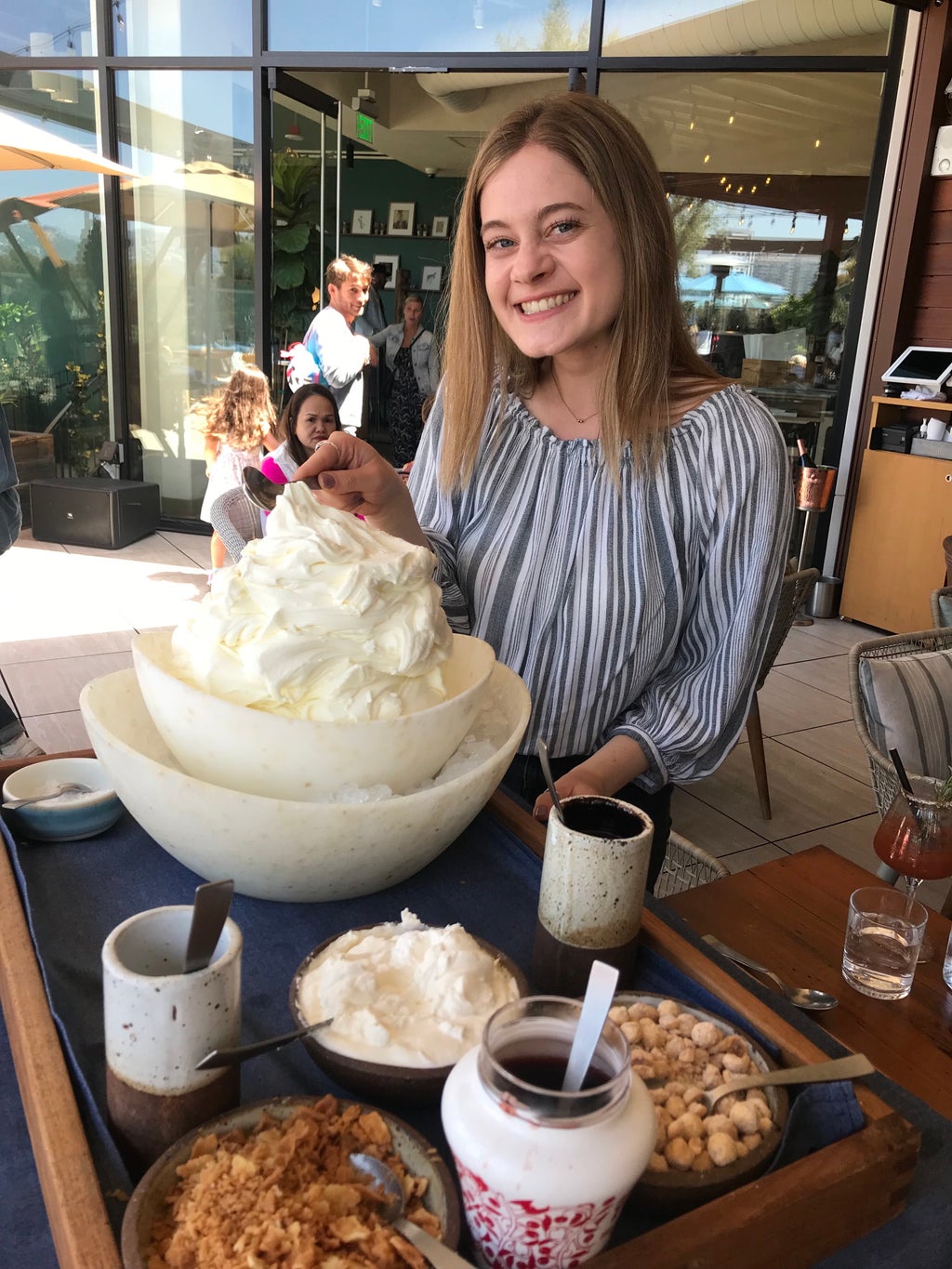 If you're in the mood for a savory dessert, top your gelato with balsamic vinegar, olive oil and salt. The olive oil is top notch (you can tell simply by the way it tastes) and the salt pairs perfectly with the sweet balsamic flavor and vanilla gelato. It's definitely a flavor combination that you don't want to miss out on. We really enjoyed going back and forth between the sweet and savory gelatos!
If you love Italian food, brunch, a great ambience and a good time, Terra is the place to go. It's the perfect place for a morning out with your girls or even to celebrate your graduation!