While it feels like just yesterday I was stepping onto campus for the first time since attending this school for a year and a half, it is somehow week 5 already, meaning that we are halfway through the quarter. It has been a turbulent time for everyone on campus with so many changes from last year in such a short amount of time.
As a sophomore, taking classes from home last year was bittersweet. While I got to take just a bit more time to spend with my family and friends before moving across the state into this big and crazy city, I felt the constant FOMO from not getting that college experience I had dreamed about since I was a little girl.
Though I was itching to be on campus and thrilled as I moved into the dorms, it came with a plethora of changes. From having my own room and space, my car and driving anywhere when I pleased, and eating usually at 10-11 PM, everything was flipped upside down when I moved. I am now constantly surrounded by people, constrained to what I can walk to (or ride a Bird scooter if I'm feeling adventurous) and living for the dining halls. It is a whole new world living on campus and such an amazing shift from the dullness that came with living at home.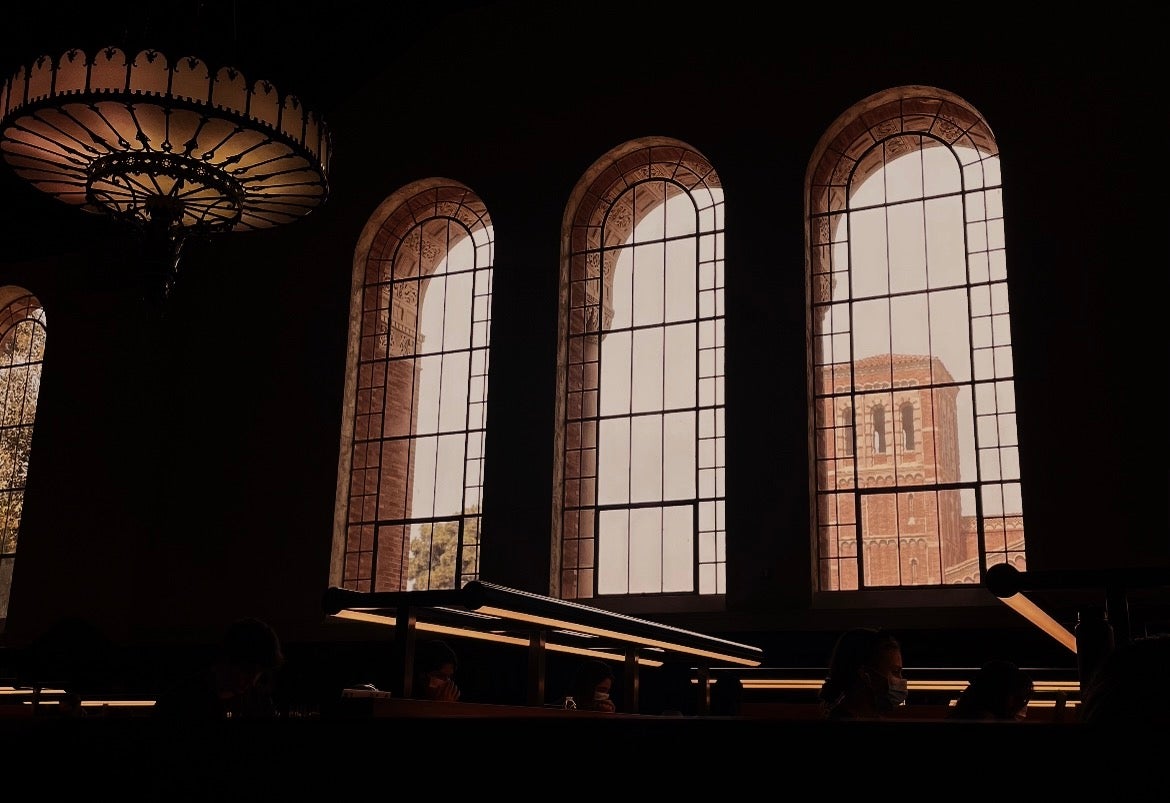 As I am here, I couldn't be happier. As I said, I am surrounded by people, but many of these strangers have become my new best friends. I have been able to soak up all the amazing experiences from college game days to the amazing eats in Westwood and trips to explore the rest of LA. It has been a constant rollercoaster. For lack of better terms, I am absolutely thriving.
The problem comes when all the noise dies down. I seldom think of home in these moments as I am laughing with my friends, on the way to get pasta at Epicuria or when I am getting ready for a night out with my roommates. It comes in the moments where we have had our fun and it is time to get back to work. On those days where you spend the whole day in your dorm working on a paper and barely see the sunlight. The thing that no one tells you about college is while it can have the highest peaks, it also can hold some of the loneliest moments you can experience.
In these moments, I think about the stillness of my hometown and the comfort it brings when I am there. I think about my mom and what new movies she may be watching or if she's taken the dogs on their daily walks yet. I think about my friends who are still back at home or I think of the memories I shared with them before we all went our separate ways. I think of my hometown coffee shop and how even though I love Kerckhoff Coffeehouse, nothing will bring me the same experience of getting a nitro cold brew and a breakfast sandwich from home. It is the good times and best memories I miss. The little nuances of my life before everything changed.
It is easy to get caught up in these feelings in the moment and although it is hard, there are ways to cheer yourself up in these moments. The easiest way to deal with this feeling of homesickness? Call home! Whether it be your friends, your mom, your sister, your great aunt, reaching out with a FaceTime or phone call can easily put you back in touch. Most often you will see that although there is a distance between you and your loved ones, the bonds you hold are still there. It can act as a friendly reminder that even though things may feel intense, you are not alone and there are people who care for you even if they aren't in your direct contact. Talk about your classes and what's going on! Staying in touch is key to feeling connected.
If a phone call is not an option, I always like to ground myself in gratitude. It is easy to fall into missing home and wanting to go back but sometimes we simply can't, whether it be because it is just too far or classes are too time-consuming. While you can't change the fact you are away, it always helps to remind yourself of where you are. Yes, you are far from home, but look at where you are! Living in the heart of Los Angeles and living the life so many people dream of. It is hard to escape the feelings of missing home, but where you are right now isn't too shabby. Revel in the experience and remind yourself that it's not every day you will be in college.
And while it is easier said than done, I understand it is hard to keep a positive outlook in these moments, but my last piece of advice is it is okay to soak in the nostalgia. It is important to live in the present, but there is no need to negate your own experiences. Look through your Snapchat memories and old pictures and videos with your hometown friends. Remind yourself that these moments existed and while you may not be able to experience them right now, they will come again one day! College isn't a goodbye to your past, but an experience to grow and develop your experiences more.
So with 5 weeks down and 5 weeks left, keep soaking in all that UCLA has to offer. Feelings of homesickness will come and go, but it is completely normal! Many of us are in a new environment and it is our first time away from home, it is not easy to navigate for anyone. Lean on those around you and just know that home will always be a call away. Fall quarter is long, but I promise you will make it through it.