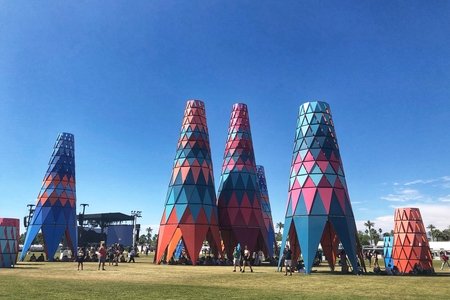 9 Things That Happen at Coachella That Don't Make It to Instagram
This year was my first time at Coachella, and I had an absolute blast. While I was prepared for the crowds, the dust and lines, there were still a lot of things that I wasn't ready for. A lot of the craziest moments that happen at Coachella aren't exactly picture-perfect and you won't find them anywhere on Instagram. So I'm going to show you a real behind-the-scenes look at what happens at Coachella. Remember, everything is not quite the way it seems.
It's hot outside. Incredibly hot. And dry. I mean it makes sense, you're literally in the desert. If you're not constantly drinking water or electrolytes, your body won't realize that you're dehydrated until it's too late. So don't do that to yourself.

Coachella hack: Please hydrate and drink water before you arrive at the festival, otherwise you'll learn this the hard way and almost pass out after you get through security (like me). They also have a few misters hanging overhead in one specific area, but it would be smart to bring a spray bottle or USB fan for your phone.

 

2.

The Wind and Dust Is No Joke

People warned me about the dirt and dust before I left for Coachella, so I packed a few bananas, eyedrops and sunglasses. While I didn't feel as dirty or dry as I had anticipated, when I woke up in the morning, my eyes were crusted shut from all the dirt in my eyes that was released over the night. Since you absolutely need bandanas and sunglasses, bring a few styles and colors for every day (and every outfit).

Coachella hack: Be sure to bring baby wipes, bandanas, sunglasses, eye drops, contact solution and one extra pair of contacts. Also, be sure to thoroughly clean your nose and eyes at the end of the night by rinsing them.

Before I went to Coachella, I never thought that I'd be fighting with people over shade. But alas, there I was, finding any shady patch I could find, whether it be from the shade of a palm tree's shadow or behind a tiny planter box. Sometimes you'd be able to find shade, but other times you'd just have to lather up your sunscreen and soak in that Vitamin D.

Coachella hack: Bring a hat with you just in case. I didn't really need it until the 6 pm golden hour sun was burning my face while watching Kacey Musgraves. Also, take advantage of the fun art installations that have AC, including The Antarctic or Spectra.

4.

The Bathroom Situation

I mean, why would you post the bathrooms on social media? Most of the bathrooms are porta potties and the lines get longer later on in the evening. Trying to use the bathroom after Khalid and before Ariana Grande? Forget about it. I don't think I need to go into great detail on the porta potty's lack of glamour by the end of the night, but you gotta do what you gotta do. On the last night, we found some regular bathroom stalls by the smaller stages but the line for that was longer than for the porta potties.

Coachella hack: In the porta potty section to the left of the Outdoor Stage, there's a trailer with male/female bathrooms at the very end. Use those (if they're still there next year). You won't regret it.

You need a 21+ wristband to enter the Beer Garden and various other food/drink locations at the festival. This is unfortunate for attendees under 21 because you don't have access to a lot of really great food options: 800 Degrees, Trejo's Tacos and more. Sorry y'all, I bet no one on Instagram prepared you for that one, eh? ID checks are booths that are set up outside the gates and throughout the festival grounds so you can provide your ID, get a wristband and just walk into the drinking section. It's also important to note that you can't bring alcohol out of the designated drinking section to the outdoor stages.

Coachella hack: Get your wristband earlier in the day when the lines are shorter versus at night when more people arrive and are ready to par-tay. Also, quiz yourself for the test by ensuring you know your address, birthdate, expiration date and middle name.

6.

The Instagram Photo Struggle

Taking a good photo is hard when you have a couple thousand people in your background. Lucky for us, the first day we arrived too early (apparently gates open at 12 pm?) so we were some of the first few people at the festival and got to take a great photo in front of the ferris wheel. 

Coachella hack: If you want the perfect photo op, get to the festival super early at least once so you have a lot of space to take unique and near-empty-festival photos. Otherwise, it's insanely crowded and you're constantly moving so that you get the perfect shot without a ton of people in the background. 

7.

You Will Never Escape The Lines 

Food lines, bathrooms lines, water refill lines, oh my! No matter what time of day it is, there will be a line for everything you want to do or see, including the art installations.

Coachella hack: Ideally, you would use the bathroom and grab food when the lines are short aka when all the good artists are performing. And we all know that's not going to happen. My best advice would be to plan in advance. If you know that you have an hour in-between the sets you want to see, head immediately to the bathrooms and then buy food afterwards so if the wait is long, you can grab your food and run to the stage.

Since we got there early the first day, we didn't really notice the crowds until it hit around 6 pm. If you have a favorite artist, you need to get there super early in order to make it to the front of the stage by the barricades. 

Coachella hack: You can still head to the show ten minutes beforehand and get a great spot by the artist entrance if you go to the far right or left side of the stage to the front. You get a great side view of the stage and can even see people like Khalid walk right past you (true story).

9.

Everyone Is So Friendly

A lot of the people I encountered at Coachella were very friendly and engaging. From the people who would randomly approach you and ask where you got your food to the girls you bond with during the sets after you both get sprayed with water and end up with ice cubes in your shoes, the conversations I had with people at Coachella are some of my favorite memories. 

Coachella hack: Be social and actually talk to people. You never know who you might meet!
Even with all these challenges that you don't see on Instagram, there are still plenty of ways to conquer them. Remember to plan and pack accordingly, accept that lines/crowds are inevitable and have the time of your life!