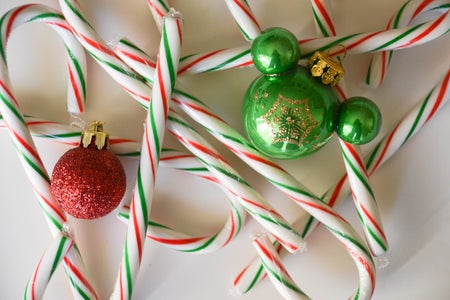 8 Best Investments To Spread Christmas Cheer Year After Year
With the twinkling lights, cheerful music and cozy sweater weather, it's hard not to be moved by the sparkle and magic of Christmas. Decorating for Christmas and getting into that holiday spirit is one of the best ways to absorb every bit of that holiday magic and we should enjoy the seasonal spirit for as long as we can. And luckily, some of the best Christmas investments are reusable and can resurface from your storage each year, so get a head start on getting those decorations!
1. Cookie Cutters
Whether you plan on making gingerbread cookies or leaving out chocolate chip cookies for Santa, cookie cutters are always a cute way to make the treats a little more Christmas-y. Get ones that will put your cookies in the shape of gingerbread men, evergreen trees or snowmen!
2. Stockings
Unfortunately, you might not be able to fit an entire 6-foot-tall Christmas tree in your dorm or apartment, but stockings can still provide a nice little place for you to keep your gifts. You can even find stockings with your name embroidered on it so that your gift-givers will be sure to put your presents in the right place.
3. Blankets
While we don't get to see a White Christmas here in LA, the temperature can still drop relatively low (it's cold to me, okay). When you're not braving the cold weather walking to-and-from class, you probably wish you could bundle up next to a fireplace and a mug of hot chocolate. Fireplaces may not be the most practical thing for college students living in Los Angeles, but we do have blankets! Christmas themed blankets are starting to pop up in so many stores now, so make your purchase and cuddle up with the fluffiest set of blankets to help you survive this freezing weather.
4. Mugs
Although we college students lack fireplaces, we are in no shortage of hot chocolate. Does anything say December like a steaming mug of hot chocolate topped with marshmallows and whipped cream? You can also invest in cute Christmas mugs for your hot chocolate too, making the scene picture-perfect and Instagram-worthy. 
5. Lights
Many of us probably won't go scaling the roofs to pin up our Christmas lights, but lights indoors can look just as beautiful as they do outside. You can buy and string up lights in your room, just in time for you to admire and take pictures with for the gram.
6. Ugly Sweaters
It's inevitable that a holiday party might be themed "Ugly Sweaters." Put yourself in the running for best ugly sweater at every holiday party you attend by being on the lookout for the most obnoxious Christmas sweater known to mankind. I'm thinking flashing lights, a pop-up snowman and a bright red background. You?
7. Christmas Wreath
Spruce up your room with a classy but festive wreath! Wreaths just have this silent charm about them that speak to the magic of Christmas.
8. Christmas Music Playlist
If you're a true Christmas fanatic, a couple of your favorite holiday songs probably already popped into your head as soon as you saw the words "Christmas music playlist." It's time to develop and curate a true playlist to blast as soon as December comes around. So what if your roommates get sick of hearing "All I Want for Christmas" by Mariah Carey at least 8 times a day? This occasion comes only once a year. Take advantage of it!
Bring the magic of Christmas to life right in your own room with these purchases. Plus, since these items are reusable, you can bring them out each year in celebration of the holidays. Have fun shopping for these items and happy decorating!