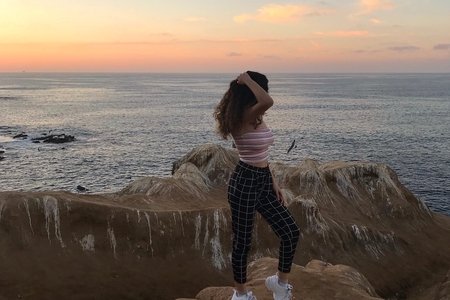 6 Creative Tips & Tricks On How To Stay Sane During Quarantine
One benefit of quarantine is that many of us have had more free time on our hands. But without our tight and constricting schedules making all of us busy bees, we are sometimes left wondering what to do with ourselves. It can get frustrating and overwhelming at times trying to find new ways to stay entertained. That is why I am here to help with some suggestions on how to maintain your sanity. 
We all have passion projects that we try to squeeze in between everything else in our lives, but we sometimes fail to allot enough time to do the things we enjoy. What better time than now to respark old hobbies? If you used to edit videos, knit, sew, draw, cook, run, write, play an instrument, etc., you should start again! You could also try something new and experiment with ideas to discover things you never knew about yourself. The options are endless (as long as you're washing your hands and social distancing of course). 

2.

Keeping Up with Self-Care

With extra time on your hands, you can focus on taking care of yourself both physically and mentally. Take relaxing hot baths, talk to friends and family more, start a new skincare routine, try meditating, or even paint your nails a pretty color. Do whatever it takes to make sure that you are staying happy and healthy, and remember to treat yourself with love and care. 

3.

Reflection & Gratitude

We can get so caught up in the whirlwind of life that we forget to be thankful for everything we have been given and everything we have achieved. Take this time to reflect on your life and remember all of the amazing people and experiences in it that have shaped you into the person you are today. Reflect on both the good times and the bad ones to remind yourself that this time of uncertainty is only temporary and that things will get better. You could even try writing down your thoughts in a gratitude journal.

4.

Catch Up on Shows & Films

I know I am not the only one who gets behind on my favorite shows and movies when I am too stressed out from school, work and other things. This is the perfect time to catch up on anything and everything you want to and maybe even start a new series altogether! It is okay to take breaks and enjoy something that does not necessarily make you productive. Sometimes you need to get absorbed into another world to shift your focus from overthinking every single negative outcome of your current situation.  

5.

Cleaning & Rearranging Room

I love cleaning my room as a way to destress and keep myself occupied when I am procrastinating or feeling restless. Having everything organized and pristine makes me feel better and allows me to focus and be more productive when I need to be. You could also try rearranging your room if possible because it can feel refreshing to shift things around and feel like you are in a semi-new environment. It can help clear your thoughts and calm your mind.

Sometimes the best remedy for not losing your sanity is to do absolutely nothing. That might sound a little contradictory or absurd at first, but I have found it to be quite helpful at times, especially with how busy many of our lifestyles can be. I every so often find myself alone with my thoughts and feelings. This can seem daunting for some people but is ultimately rewarding. You have time to really sit down and check in with yourself: ask yourself how you are feeling, see what problems need to be addressed, reflect on your past experiences or just be one with your true self.
These are just a few ways on how to stay sane at home, but there are myriad more. Not everything may work for you, but that is why it is important to experiment and find what does help. Also, remember to stay safe by washing your hands and practicing social distancing!