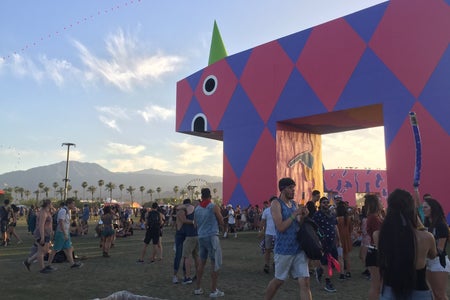 5 Tips and Tricks to Surviving Coachella 2019
Coachella, the iconic, star-studded and instagrammable music festival in Southern California, is an event that many people dream of attending. With the trendiest art installations, amazing live performances and an atmosphere that is unforgettable, the Coachella experience is one that you won't regret. But, being expensive and somewhat unorganized, Coachella-goers must prepare in advance to ensure that the weekend goes off without a hitch. Here are some tips and tricks to help make sure that your Coachella experience is an unforgettable and smooth one:
1.

Bring Comfortable Shoes

Coachella involves miles and miles of walking. To get from the camping areas and shuttles, to the lines and entrance of the festival requires a lot of walking. Avoid wearing uncomfortable shoes or high heels because after walking to and from the festival, between stages and standing throughout the day, your feet will definitely begin to hurt.

2.

Give Yourself Lots of Times

Entering the festival grounds and going through security and wristband check takes a lot more time than expected. From getting to the shuttle stops, waiting in line and having to drive in traffic to the festival, it is recommended to allot yourself approximately two-hours before the first act you want to see.

Use the Coachella app to look at set times and plan out which artists you want to see throughout the day. This will help assure that you see all the artists you love and will help keep you organized in regards to which stage you need to be at and when.

Since Coachella is in the desert during the day, it is very hot. Make sure not to wear heavy clothing. It is also suggested that you bring a fanny pack to store portable chargers and other belongings. And don't forget to bring bandanas to shield your mouth and eyes from the dust at night!

5.

Set Aside Some Extra Money

The food and drinks offered at the festival are considered to be overpriced, and some of the options do not live up to the hype. It is possible to bring in some granola bars and snacks, but make sure to set aside some food and drink money to nourish yourself throughout the long days.
Most importantly make sure to have fun and make the most of such an amazing experience. Coachella is something that you will never forget. Take lots of pictures and see as many artists as possible to take advantage of this once in a lifetime experience.