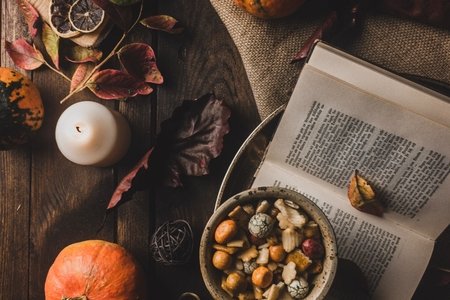 4 Ways I Am Celebrating My First Thanksgiving Away From Home
The multicolor glow of leaves whisk past your hair as aromas of pumpkin spice and cinnamon fill your nose and leave your stomach yearning for the perfect Thanksgiving feast. But how can you replicate this warm sense of family, love and giving while you are in college? Here are a few helpful tips and suggestions to implement into your holiday season to make Thanksgiving in college all the more meaningful:
1.

Surrounding Myself With My Loved Ones, Whether It Be Family Or Friends

Whether you are swamped with classes, cannot make a flight or just are unable to go home for Thanksgiving, the holiday will always feel like home if you spend it with the ones you love. The saying "home is where the heart is" really rings true in this instance. Spending the holiday surrounded by your best friends brings you a unique yet familiar sense of love and family. So grab your best girlfriends, guy friends, significant others and make a Thanksgiving feast to remember!

2.

Making Any Place Feel Like Home

The space where you celebrate your Thanksgiving feast does not need to be anywhere special. If none of your friends live in the area, pick a cute and cozy restaurant, a park, a coffee shop or even one of your apartments to share. If one of your friends does live close by, embrace the warmth and comfort of their family home. Wherever the location might be, the people you are with and the energy you all bring to the room are what will make the space feel like home.

3.

Preparing An Array Of New Dishes

What seems to be the center of the holiday are the delightful dishes that we all indulge in. Spending Thanksgiving with your friends gives you the opportunity to have an array of new dishes, since you all have a diverse and unique feast stemming from all different flavors of life. Whether it is sweet potatoes or stuffing, each person will have a special recipe or way of cooking that differs from the rest. This will make the holiday all the more meaningful as dishes from each friend represents a new, beautiful piece of the Thanksgiving masterpiece.

4.

Appreciating Diverse Traditions

The fun thing about traditions is that you are allowed to make new ones, spice up old ones or anything in between! As you are with your friends, go around the table and have each person introduce one tradition that they grew up with. Throughout the night, implement each tradition in a new light. Maybe you will go around the room saying what you are most grateful for this year, or perhaps you will dance around to your favorite songs or even see who can eat the most pumpkin pie. Integrate all of these unique traditions into your Friendsgiving to share pieces of every person with the rest; this will make the holiday a truly special blend.
The people, place, food and traditions. None of them have to be perfect, and you do not even need to be a master chef. But this Thanksgiving, no matter where or how you are spending it, make sure to take a moment and reflect on why you are there and what makes every moment so special. The gratitude and thanksgiving that should accompany every moment in our lives are so often overlooked. So, this holiday season, make it a point to acknowledge and embrace those moments. Because life is pretty great.