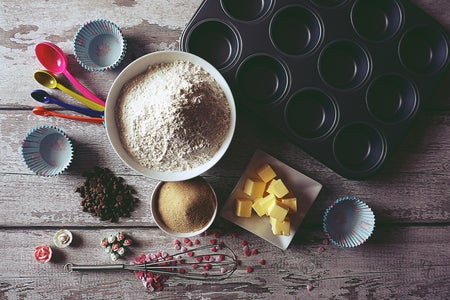 4 Healthy Thanksgiving Dessert Recipes For All Of Your Cravings
Thanksgiving is without a doubt one of my favorite holidays. I am a major sucker for all things sweet potato and pumpkin flavored. However, as someone with some common food restrictions (gluten free, dairy free and very sensitive to refined sugar), I am always saddened when there are no dessert options that I can eat. So, for every vegan, gluten-free, dairy-free or sugar intolerant person out there, this one is for you. 
1.

Fudgy Gooey Brownies (gf, df, vegan)

To all my chocolate lovers who, unfortunately, are lactose intolerant, this recipe will have you forgetting all about your milk chocolate woes. These brownies are next level ooey-gooey.

Ingredients:

1 cup of pumpkin purée

½ cup almond butter

3 tbsp of honey or maple syrup

6 tbsp of cocoa powder

3 tbsp of almond flour

½ tsp of baking soda

Pinch of salt

Hefty handful of your favorite dairy free chocolate chips (or any chocolate chips if you don't have a dairy intolerance or want to make these a little sweeter) 

1 flax meal egg (1 Tbsp of ground flaxseed and 3 tbsp of water, mix and let sit for a few minutes before combining with everything else)

Combine everything in a mixing bowl and then transfer to a greased 9X9 baking dish

Pop that in the oven at 350 degrees Fahrenheit for ~25 mins.

Let it cool (or don't if you are impatient like me) and enjoy!

2.

Blueberry Granola Crumble (gf, df, vegan)

For those of you who aren't chocolate lovers, have no fear, this berry crumble is amazing.

Ingredients for base:

4 cups of blueberries (option to mix in some raspberries if that is more your flavor)

2 tsp arrowroot starch

1 tbsp lemon Juice

1 tsp vanilla extract

Mix these 4 ingredients in your baking dish, giving the blueberries a nice little massage.

Next, prepare your topping by throwing the following in a blender/food processer, or, if you don't have one on hand, just chop the nuts and give it all a good mix.

½ cup almonds

¼ shredded coconut

½ cup walnuts

¼ cup pecans

1 tbsp cinnamon

2 tbsp melted coconut oil

1 tbsp maple syrup or honey

Sprinkle the mixture on top of your berry base and bake at 375 degrees Fahrenheit for ~25 mins.

3.

Melt In Your Mouth Pumpkin Bread (gf, df)

Oh pumpkin bread, how I wish I could eat you all year long and not get disapproving looks. But alas, here I am stuffing my face with as many pumpkin flavored goodies as I can while the season lasts. Thankfully, you can get away with eating this loaf for breakfast, a snack or desert and, honestly, I'll be having it for all three. 

Ingredients:

⅓ cup melted coconut oil

½ cup honey or maple syrup

2 eggs

1 cup pumpkin purée

¼ cup water

1 tbsp pumpkin spice

1 tsp baking soda

1 tsp vanilla extract

Pinch of salt

1 ¾ cup of almond flour (or regular/whole wheat depending on what you have on hand)

Pinch of cinnamon and chopped walnuts for the topping (always an option to make this chocolatey with some chocolate chips instead or in addition to the walnuts)

Combine all the ingredients into a bowl, adding in the flour last. Transfer to a greased loaf tin and bake at 325 degrees Farenheit for about an hour.

4.

Fluffy Snickerdoodle Cookies (gf, df, vegan)

These snickerdoodles are the ultimate holiday cookie – buttery (without the butter), chewy, soft and will pair perfectly with your post-Thanksgiving dinner coffee or tea (aka dessert 2.0 in my family).

Ingredients:

1¾ cup almond flour

¼ cup coconut flour

½ tsp baking soda

½ tsp cream of tartar

½ tsp kosher salt

½ tsp cinnamon

⅓ cup coconut oil melted

⅓ cup maple syrup

1 tbsp vanilla extract

For rolling the dough, combine:

¼ cup coconut sugar (or regular, it really is not much, this just goes on top). 

1 tsp cinnamon

Combine the dry ingredients first and then mix in the wet ingredients (your dough may be very crumbly but that's normal!!). Measure out your dough and give them a good roll in the cinnamon sugar mixture. Lastly, bake at 350 degrees Farenheit for ~9 minutes.
These recipes are so yummy that your Thanksgiving guests won't even know they are secretly, dare I say, healthy! For my vegans, gluten free peeps and everyone in between, these recipes truly are pumpkin spice and everything nice.