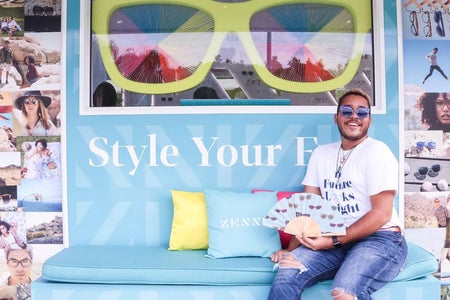 Zenni Optical Shows Her Campus at UCF the Collegiette Point of View
This is a sponsored feature. All opinions are 100% our own.
On October 23, Her Campus at UCF had the pleasure of hosting the Collegiette Point of View Tour. Zenni Optical brought their trendy (not spendy) eyewear to Memory Mall along with a face shape quiz, pop-up shop and tons of cute photo ops. And of course, there were plenty of free goodies as well—including the chance to pick out a free pair of glasses! If you didn't make it to the event, read on to find out all of the fun and fashionable details. If you did make it, here's your chance to take a walk down memory lane with us and reminisce!
1.

Colorful Activations and Plenty of Freebies

The Collegiette Point of View Tour brought plenty of fun activities for UCF students. Attendees severed looks as they took Zelfies in front of a bright and colorful backdrop, endless Polaroids included! If they posted a photo to social media rocking a pair of Zennis, they could even pick out a free pair of sunglasses or blue light glasses to take home. Now that's what you call a breath of fresh eyewear!

And would it really be a Her Campus tour if we didn't give away a ton of exciting goodies? Of course not, and the Collegiette Point of View Tour was no exception. Attendees received Zenni totes, fans, and laptop stickers. If they purchased frames, they also received a free personalized or monogrammed glasses case! We all need a closet full of frames to match every mood, so personalized cases to match are a must.

2.

A Pop-Up Shop Packed with Wow-Priced Frames

Does picking out glasses leave you feeling overwhelmed? Our tour attendees couldn't relate! With the help of the Zenni Optical Face Shape Quiz, they found out if they have an oval, round, square, diamond, pear or heart-shaped face. With that in mind, they were able to browse a pop-up shop packed with frames designed to take their eyewear wardrobe to the next level. The Collegiette Point of View wall was stacked with the latest fashion trends chosen by Her Campus, so there was no shortage of options to choose from!

3.

Fashionistas Became Zennistas

Thanks to Zenni Optical, we were able to bring frames for every single one of you to UCF. The Collegiette Perspective Tour offered the perfect chance to reframe your personal style, and we were thrilled that over 500 of our fellow Knights were able to do just that. Next time you're walking through campus, be sure to keep an eye out; chances are more than a few of your classmates will be rocking their new Zennis!
If you weren't able to make it to the Collegiette Point of View Tour, be sure to check out the Instagram hashtags #ZenniOnCampus and #JustGotMyZennis to live vicariously through all of the pics! We had an amazing time at this event, and we already can't wait for the next one. Until then, HCXO!