Why You Should Be Listening to Ava Max
It goes without saying that women have pretty much been dominating the charts recently. Ariana Grande, Cardi B, Halsey and a slew of other female artists continue to release songs that we just can't get enough of, and girl power in the music industry has never been stronger. This seems to have inspired girls around the world to stand up and take their shot as well, and none of them have shone through as brilliantly as Ava Max has.
If you haven't heard Max's breakout hit "Sweet but Psycho" yet, then you're missing out. The song contains one of the catchiest hooks of the past year, solidifying its number one spot in 17 countries. Though the music video does seem to depict Max as a "psycho," she told Idolator during an interview that the song is really about "a girl who's not afraid to show all of her sides and her dualities, and about a guy loving all those sides."
As of now "Sweet but Psycho" has been Max's only charting song, but that doesn't mean the rest of her discography doesn't deserve any loving. Each and every song Max has released has a different message behind it, but the one thing that's the same for all of them? The underlying push for women empowerment.
In fact, Max's first solo single, "My Way," stands as a perfect example of this. During the pre-chorus Max coos: 
"This is not a love song / This is not a sing-along / But ladies, are you with me? / I know that you're with me." 
After banding together with her fellow ladies, she shoves aside society's preconceived notions of them by chanting:
"Gotta be a lady, but I say / This time it's my way."
Oh, and let's not forget her iconic hairstyle. Dubbed the "Max Cut," Max has been rocking a shoulder-length bob on the right side and long straight hair on the left side to symbolize her own brand. We stan a self-made queen.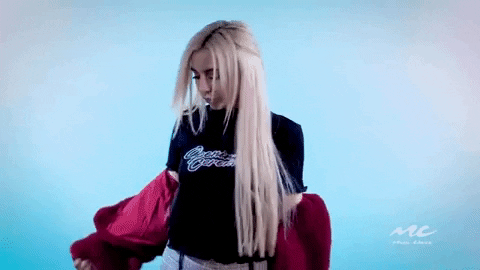 If all of that isn't enough to convince you that Max is the next big thing, you'd never guess who thinks she already is. In the past year, she's teamed up with a few artists you may or may not have heard of. I'm talking about Vice and Jason Derulo ("Make Up") and David Guetta ("Let It Be Me"). On top of collaborating with some of today's hottest artists, she's flying across the world doing televised performances (last month she made her American debut on The Late Late Show and Today) and working on her debut album. Go off, girl!
So, if you aren't listening to Ava Max yet, you definitely should be. Now, more than ever, we need to support women who are breaking through in the music industry and standing up and fighting against society's expectations of us. Max is doing all of this and more, and there's no question that she has a bright future ahead of her. See you on the charts, Ava.