If you've been on any social media platforms in the past couple of weeks, there's a high probability you've heard the news: Harry Styles is returning to the big screen.
And while that alone is enough to be excited about, there's much more to the upcoming 2021 film, Don't Worry, Darling. This will be Olivia Wilde's next film following her directorial debut with Booksmart; with what we already know about Don't Worry, Darling, it's clear this film will be nothing like the coming-of-age comedy. Don't Worry, Darling is going to be a psychological thriller, "set in an isolated utopian community in the 1950s California desert," based on what Deadline has reported.
This film's screenplay is written by Katie Silberman, who also worked alongside Wilde in Booksmart, so there's no doubt in my mind that the two are bound to make yet another blockbuster. Arianne Philips, who was nominated for her work in Once Upon a Time…In Hollywood, is the costumer designer for the film. I'll link some of her past work here and here, so we can all scream at the prospect of the cast being dressed by her.
Aside from Styles (playing Pugh's husband, and suspected of hiding something sinister), the cast has Midsommar's Florence Pugh (a discontented housewife who notices strange things in her community and doubts her sanity); Suspiria's Dakota Johnson (the couple's seemingly paranoid neighbor who attempts to warn Pugh); and Princess Diaries' Chris Pine (the leader of a mysterious and "cult-like" worksite). Styles joined the cast after scheduling conflicts arose for Shia LaBeouf, who originally booked the role.
The concept poster below was created by Marianné Luna on Twitter and it's absolutely killer, and made me even more hype for the movie!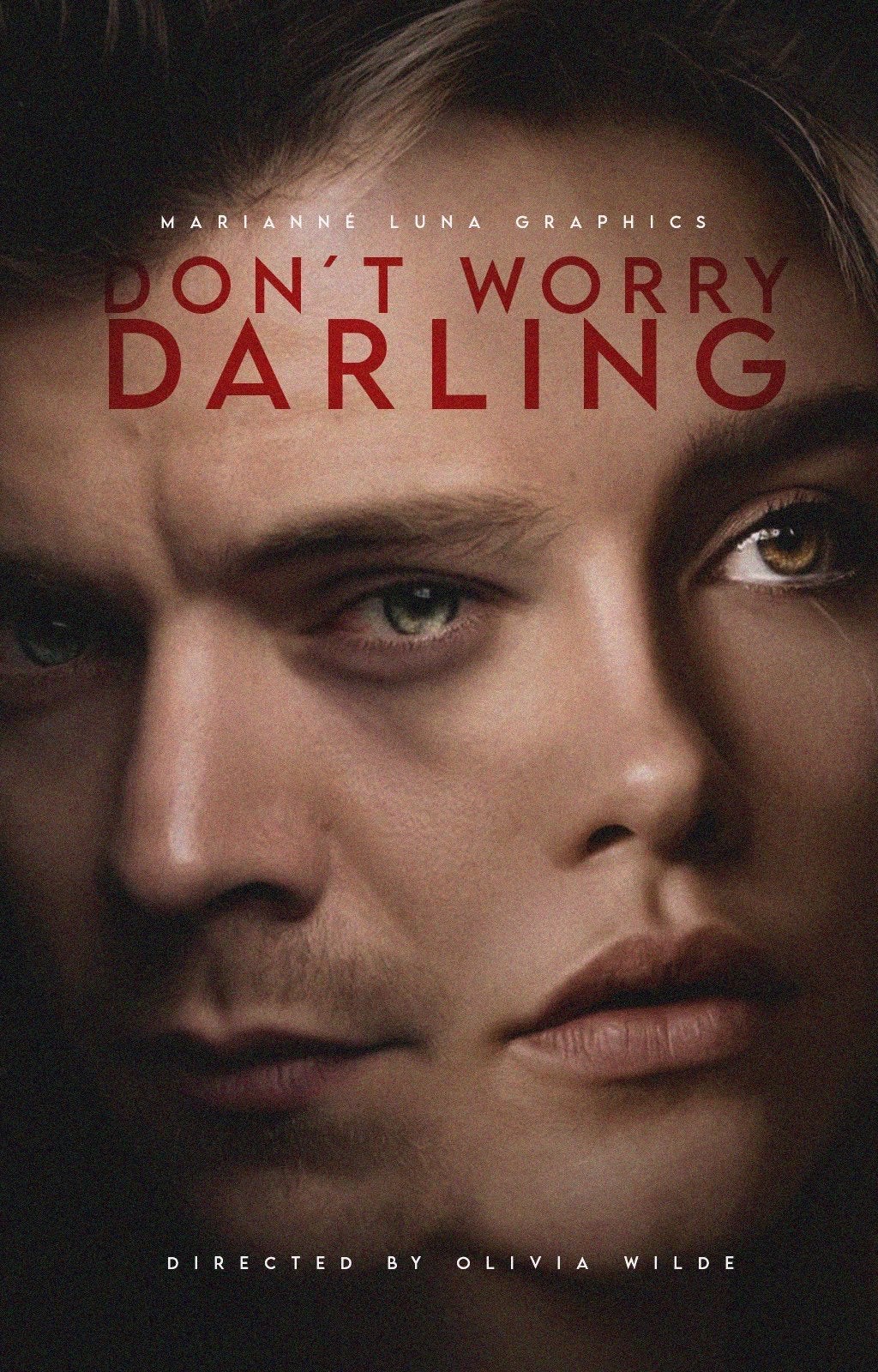 So, now that we have the basics down, let's talk about how this is the only thing that will be on my mind for the next year.
I'm (almost) at a loss for words over the mere mention of this power cast. Pugh and Johnson have played such an amazing array of characters and have especially shown promise in the thriller/horror genre, and of course, being a Pine fan myself, I can't wait to see him. But Harry! Since he hasn't been in anything since Dunkirk back in 2017, and then ruined everyone's dreams of him being a literal prince when the live-action The Little Mermaid rumors were shot down, many (myself included) were doubtful if Styles would ever return to acting. But hey, the "Watermelon Sugar" music video was enough for me.
So, as expected, the Internet blew up. Here are just a few points I've mulled over and seen in the last few days:
The idea that Florence Pugh gets to be fictiously married to Timothee Chalamet and Harry Styles is enough to make anyone jealous.
And I did not know I needed Harry Styles in '50s attire and hair — so I'd like to personally thank Olivia Wilde.
Fans are freaking out over the idea of "Dark!Harry" with his secret, since the closest thing anyone has gotten to it was After (bleh). There's a good chance that fans are right considering he's replacing LaBeouf, whose work is categorized with intense and dark characters.
There are already debates over which of the main cast members will steal the show, and which one will be the best-looking. And honestly, I couldn't even begin to guess who it'll be.
Will Harry Styles keep his British accent? Or is he going to pull off an American one? That idea alone could send one reeling.
If he records a song or cover to be featured in this movie (or in a scene where he's the perfect husband and serenades Pugh) — I will combust. If it's "Life Could Be a Dream" or "Put Your Head on My Shoulder" or "We Belong Together" (the list goes on), it will be on repeat in my house, regardless of any potential creepy context.
There's one last thing I can't help but think, though: What did Harry's resume look like for this part? "SNL: season 45, episode 6 (2019), Dunkirk (2017), Sesame Street (2014) & iCarly (2012)." God bless him. Jokes aside, he's beyond talented and Wilde clearly knows what she's doing.

I'm already prepared to lose my mind over this movie and over any press material we'll be getting, but my personal favorite concept at the moment is this thought, so I'll leave you with this.​
2021 could not come fast enough.