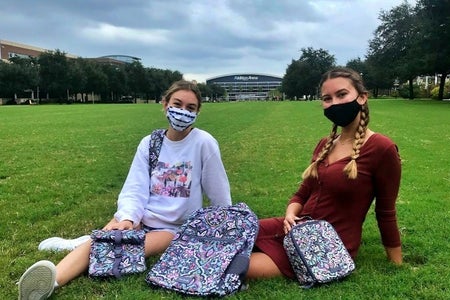 Original photo by Hannah King
Vera Bradley Back To School Must-Haves
This is a sponsored feature. All opinions are 100% our own.
It's the best time of the year: back-to-school season! There's nothing more exciting than getting ready for the new school year — buying different colored pens for your notes, fun folders, and maybe even getting a cute planner to keep everything organized. Before you shop til you drop for all your back-to-school needs, look no further for the trendiest, must-have collegiate essentials. Making busy look beautiful has truly never been more effortless, all thanks to Vera Bradley's back-to-school collection!
Original photo by Sofi Shirey

You never want to forget your lanyard when you're rushing to class! With seven adorable patterns to choose from, these Vera Bradley Wide Lanyards are the perfect way to keep your keys and hand sanitizer accessible without sacrificing style. This VB staple is a necessity when living on campus — it'll keep you organized and looking cute all semester long!

Original photo by Hannah King

Now more than ever, it's super important to have your go-to items. With the Vera Bradley Zip ID Case, you can avoid digging through your bag for things like your ID and debit card. When attached to the Vera Bradley Wide Lanyard, you'll have everything you need — when you need it — right at your fingertips. This classic Vera Bradley Zip ID Case is easily accessible and an evergreen item that you can use for years to come!

Original photo by Sofi Shirey

Save some money this semester and bring your lunch from home! Whether you're spending the day in the library or headed back to the office for your internship, Vera Bradley has a lunch bag for you. The Lunch Tote Bag and The Lunch Bunch Bag are two classic styles that will keep all of your favorite snacks safe and cool while you head to and from campus. Not only is it a great way to store your snacks, but it's also a cute accessory you can pair with a Vera Bradley Backpack!

Original photo by Hannah King

No back-to-school list is complete without a new backpack! The Vera Bradley Grand Backpack is perfect for helping you store your study essentials or for packing up for a weekend getaway with your roomies. And thanks to Vera Bradley's signature Reactive fabric, you'll be doing your part to help save the planet, because 24 recycled plastic bottles go into each backpack!
So, go ahead and indulge in these extraordinary Vera Bradley products and accomplish all your back-to-school goals with ease. No matter the paper, project, or exam, these products will always help you stay organized and look fashionable while doing so. From all of us here at Her Campus at UCF — we hope you love these products as much as we do!