On June 22 I went through the biggest break up of my life…with my hair. You see, I wore my hair according to how I "should" have worn it, and I didn't stray from that set of rules. Sure, I cut it and dyed it, but it was never "Me" and after another failed attempt at a protective style, I decided at 3 AM that enough was enough. It had to go. All of it.
I woke up the next morning as a woman with a mission, and that mission was to be bald-ish by noon. I grabbed my best friends and we set out to make me a new woman. I found an amazing barbershop and my friends along with every hairstylist in the shop cheered me on as the hair started to fly. I thought I would cry or would hate it once the hair started to fall, but everything I felt was far from that. I felt so beautiful and happier with my hair than I had been in forever. My 3 AM decision turned into my best move of 2018.
Here are my tips to survive your hopefully better-planned Big Chop:
1. Research, Research, Research.
A Big Chop is a major hair decision, and even though I decided to commit to it on a whim, I had researched style inspiration for months beforehand. Look up everything from haircut inspiration to product and styling tips. The more prepared you are, the easier the transition will be after the cut. Trust me, you don't want to deal with the shock of such a major change and realize the cut you chose isn't your favorite, or that you don't have the necessary products to take care of it.
2. Pick your stylist carefully.
Once you pick the style that you want, the next step is to find a hair stylist. You know your hair better than anyone and that means you know what it needs, so you need to make sure your stylist can meet those needs. I knew that I preferred a female barber and that she needed to know how to style thick, curly, multi-racial hair. I also wanted a very laid-back environment, so I also looked for places that students frequented and gave high ratings. Don't hesitate to be picky about this and don't settle for anything less.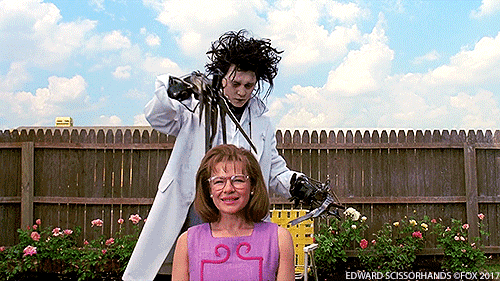 3.    Be prepared to be unprepared.
Sounds contradictory, but the hair you leave with will not be like the hair you came with. If you're a curly girl like me then your curl pattern may be different, or if you choose a shorter cut, then you may need few to no products to style it. Try to have the basics on hand, such as a moisturizer, product to hold the hair (gel or pomade if necessary), and a sturdy brush or comb. I personally kept gel, my favorite oil, a sturdy brush and comb (thick hair problems), and pretty scarves just in case I had a frustrating hair day. Keep it simple in the beginning and take it slow, so you and your hair can get reacquainted.
4.    This journey is yours and no one else's.
With any decisions, there will be supporters and there will be haters. When you're going natural there will always be someone in the background spreading their negativity trying to rain on your parade. These people can be your family, friends, or even strangers on social media, and their comments may make you doubt yourself or your decisions. The key is to remember why you decided to start this journey and keep going strong. Your body, your choice.