Halloween this year is going to look drastically different than what we are used to. Unfortunately, with COVID-19 still raging in the United States, many of our favorite spooky activities have been canceled or significantly reduced. Specifically, some of our favorite haunts have been canceled due to the typically tight nature of haunted houses. For some, it seemed like Halloween as a whole had been canceled. 
But some innovative teams dedicated to keeping the spirit of Halloween alive were not going to let that happen. A team in Central Florida, along with Boggy Creek Airboat Adventures, have dedicated their time to make the Halloween season frightening, even if socially distanced, through their premiere event Scream n' Stream. I was lucky enough to receive a media preview of the "Night at the Die-In" event and am happy to share my experiences. 
To share my overall thoughts so you can choose to read on or not: I would rate the event a 7/10 and would recommend filling your car (safely, with your family or people you know are following COVID-19 guidelines) so you can split the price. As Scream n' Stream's Twitter will remind you: the price is per car, not per person. This is a good event for those newer to haunts, as the car provides a layer of security that haunted houses usually don't have.
The event actually caught my eye a bit before the media preview from its persistence on "the price is per car, not per person." In fact, several people I have spoken to about the event have also said their first interaction with it was seeing this statement several times and clicking their page to see what exactly was "per car." 
If the notion of a drive-through haunted house didn't already make your scary side squeal, a portion of the proceeds benefits Second Harvest Food Bank, a Central Florida non-profit to address and end hunger in the area. So, even if you have no choice but to pay Friday-night prices, just know that your money is going somewhere great. 
Scream n' Stream offers three events for you to choose from. The first event is "The Drive-Boo Trick or Treat," a daytime event that is family-friendly and serves as a way for kids (and kids at heart) to get their candy fix this year. The Drive-Boo starts at $54 per car and gets more expensive as the season progresses. The second, which is actually priced per person, is a "Haunted Airboat Tour," which takes you on a 20-minute boat ride where you learn the local ghost stories and spend time with the local wildlife. The Airboat Tour starts at $27 per person and seems to remain at that price throughout the season. 
The third, and main event, "Night at the Die-In" Haunted Drive-Thru, is where the real haunting happens. A nighttime scare event with a parental advisory, the haunt is meant to suck your vehicle right into a horror film. This event starts at $57 per car and gets more expensive as the season progresses. 
I was privileged enough to get to experience the "Die-In," and definitely enjoyed myself. For a first-time event with only a few months to plan, it was definitely well-done.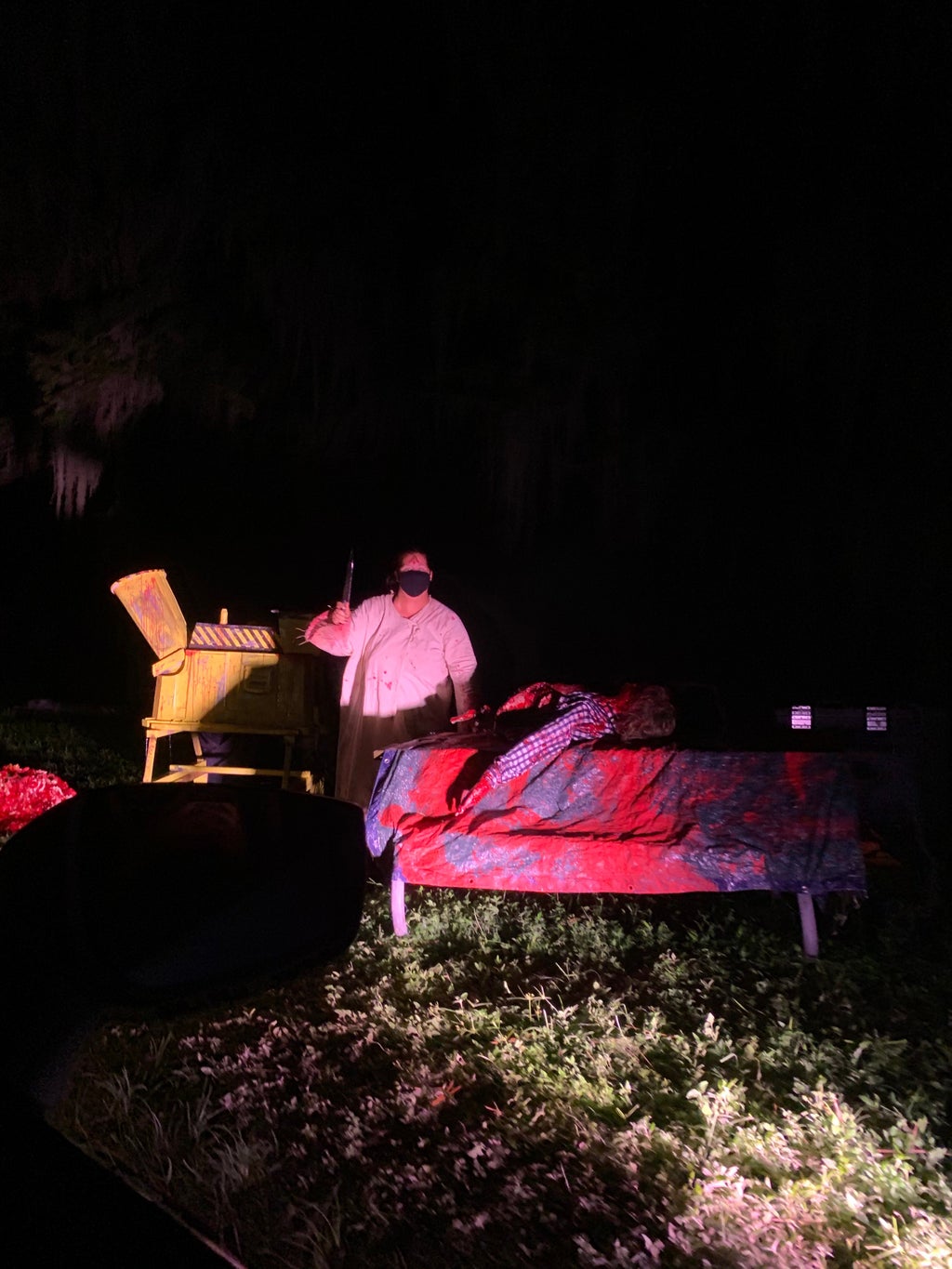 The biggest question I had going in was "How will they make sure we won't hit scare actors with the vehicle?" The thought of being scared with your foot so close to the gas pedal seems pretty dangerous. Ultimately, you don't get the chance. Each "scene" of the haunt has a stoplight on the ground, indicating when to stop and keep moving at the leisurely pace of three mph (Walt Disney World fans might be reminded of The Great Movie Ride's stop-and-go style). Either way, scare actors never cross in front of your vehicle at any time, and there are rules against revving the engine or honking (which are explained before you enter). It's a safe way to experience some creeps. 
Before I go on to the story and scares, I must first let you know that due to storms throughout the day and earlier in the evening, the haunt was forced to be toned-down. Several of their set-pieces were damaged and their mobility was limited. My opinions are based on what I did see, but may not fully reflect the haunts on nights with better weather. 
The storytelling was, admittedly, a bit weak in some areas. The premise, which I only knew from reading beforehand, involved some teens breaking into an old drive-in movie theater where people are known to go missing. The kids are unfazed by the rumors and go anyway, and chaos ensues. The story actually reminded me of the Graveyard Games house from Universal's Halloween Horror Nights 2019. If you are unfamiliar, the premise was teens disrupting a graveyard and pissing off some ghosts who just wanted to sleep, and it didn't end well for them. 
However, unlike Graveyard Games (which had a projection pre-show in the line for the event and pretty consistent characters), "Die-In" had no indication of the premise of the haunt before you were actually in it. If I hadn't read the website prior, I would have never picked up on the "teenagers broke in" thing. However, the cult element of the haunt was easily read, if a bit anticlimactic. The beliefs and intentions of the cult are made extremely clear, and they make sure you know exactly how they plan to make you fit into it. It didn't have all that much of an ending, but, then again, many haunts don't. 
There were only a few jump scares, which was disappointing, but I can understand why — even with safety measures, it's best to prevent accidents when cars are involved. I'm unsure if there were more scares that were supposed to be lined up that had to be put on hold due to weather, and more may be added as the season goes on. 
The scare actors were absolutely having fun the entire haunt, and it really rubbed off on you. Of course, most of it was cheesy screaming and threats of sacrifice. But that cheesiness felt reminiscent of '80s horror movies. My accompanying friend and I were giggling the whole time, and even joked around with the actors at times. It was an incredibly interactive experience that made you feel part of the haunt, which is something even some of the top haunted houses fail to do. 
Above all, I really have to applaud the sets. Each was spectacularly made. Ranging from simple stands to full-on effects, Scream n' Stream made a noticeable effort to create an environment that actually felt like a haunt, not just a bunch of actors on a few acres of land. They succeeded at this with flying colors! Some of their effects, as simple as they were, were absolutely stunning to see (I'll keep this spoiler-free, though, so you'll have to go drive through the haunt yourself to see).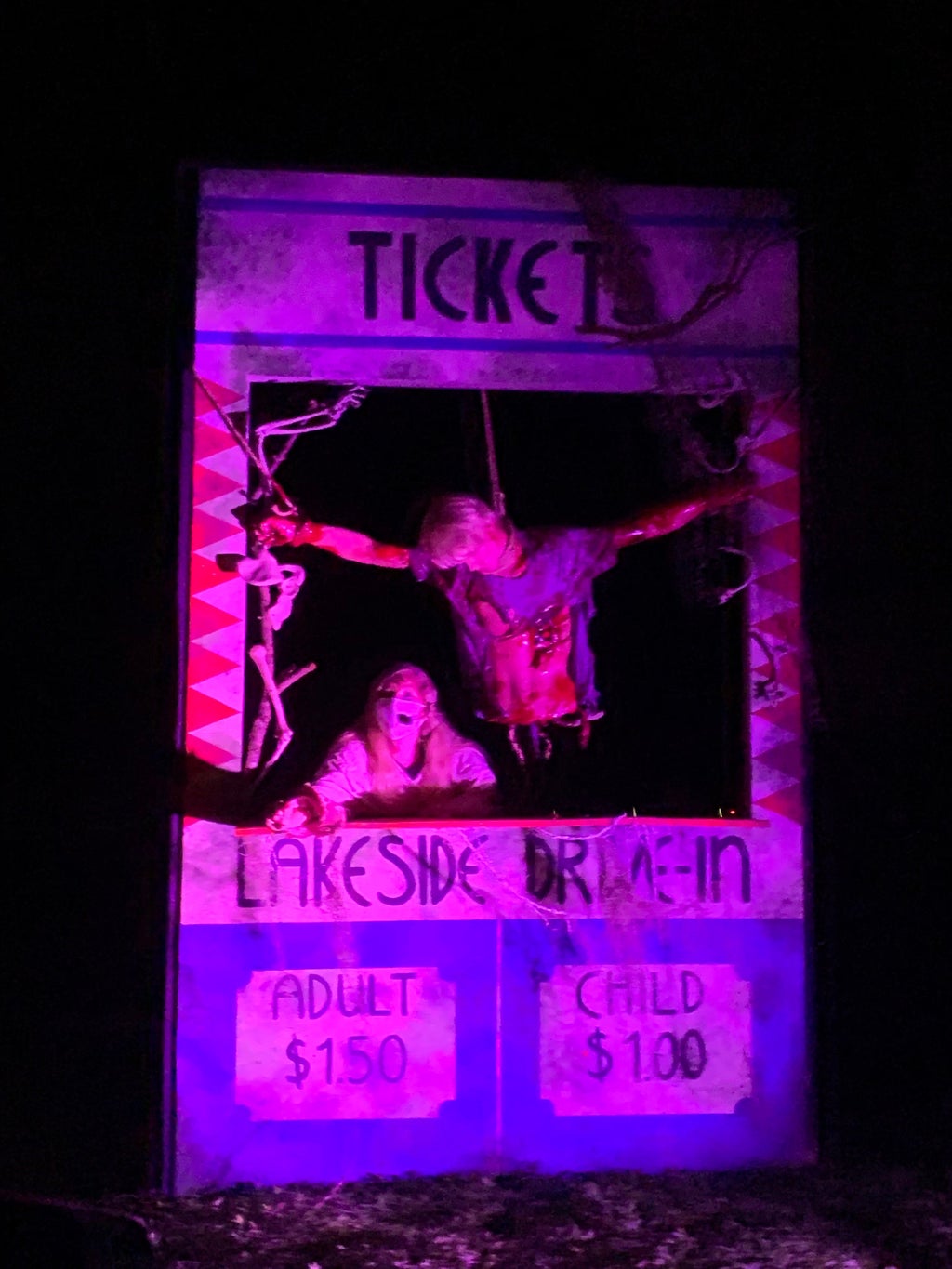 Either before you drive through or after, you have the option to visit the Boggy BBQ Restaurant and its socially distanced patio area to eat, drink and meet the "Fog Queen," Scream n' Stream's original character. The patio area was quaintly decorated with string lights and Halloween blowups, with a few photo opportunities as well. I can imagine it being a wonderful hangout if Central Florida happens to have a cool-front. Food items include the ever-loved Halloween snack pizza fries, along with pizza tots, bacon and ranch tots and fries, and select candy and ice cream. Unfortunately, due to trouble finding the event, I had missed both the "Fog Queen" and food, but I plan to visit again to see them both. 
Which brings me to my next point: leave early with your GPS on. Unless you know the Kissimmee area like the back of your hand, I promise you will need help finding this, especially in the dark. It's very out of the way, and you will not stumble upon it accidentally. 
Overall, this felt like any other early-season scare event. Every haunted house or event improves as the season goes on, and I expect nothing less of Scream n' Stream, especially on nights when rain doesn't limit their abilities. It was a very fun event that would absolutely be best shared with friends (keep in mind the $57 per car is either for eight passengers or the car's maximum seatbelts, all passengers must be belted) for both a shared experience and a lower price. 
I would absolutely recommend Scream n' Stream for anyone in the Orlando/Kissimmee area looking for a nice dose of chills — but act soon, as tickets are going fast!