Ándale People! Go Watch 'Happy Death Day 2U'
Warning: Spoilers ahead.
From its clever title to its sequence of events, "Happy Death Day 2U" went from a horror/thriller/murder mystery type of movie to a movie that divulged into something more related to science fiction. Even if you didn't watch the first one, you'll still be able to follow along—they included a quick recap montage of the first film.
In the first "Happy Death Day," Theresa, or Tree, relives the same day over and over again. Each day ends with her getting killed as she tries to figure out who is behind the babyface mask. In the end, she finds out the killer is her roommate Lori and the time loop ends. However, the end of the first film transitions straight into the beginning of the second.
It turns out the time loop is an accidental creation that was made by Ryan and his friends as part of his thesis project. They created the Sisyphus Quantum Cloning Rector, or Sissy for short, to prove that time can be slowed down on a molecular level. 
My favorite scenes from both films are the montage scenes. In the first film, Carter suggests that Tree needs to keep getting murdered in order to relive each day and figure out who the killer is. So there's an amazing montage of murders with amazing transitions like Tree being hit over the head and falling back into bed or being blown up and waking up in bed with the explosions showing in her eyes. In "Happy Death Day 2U," Carter's suggestion is that Tree should memorize the formulas that Ryan and his friends need in order to reprogram Sissy to close the time loop. There's then a hilarious montage of suicides with even more amazing transitions.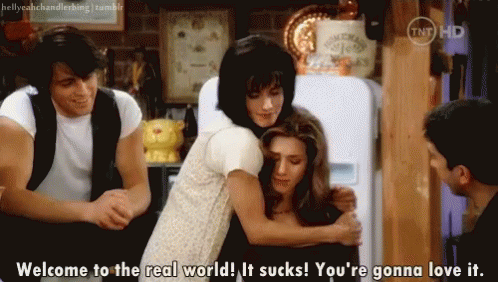 Warner Bros. Television
The first movie deals with Tree accepting her mother's death and patching things up with her father. In the sequel, she has to choose between her own dimension where she is in a relationship with Carter but her mother is dead, and the current dimension where Carter is in a relationship with someone else but her mother is alive. Carter gives Tree great advice which shifts her stance on not going back to her own dimension: "You're living someone else's life that doesn't belong to you. Your pain, that loss, that's what makes you you."
Cartner also tells her that she has an opportunity that no one else gets: she gets to say goodbye. So Tree chooses to let go of the past and move on. One of my favorite scenes is towards the end when Tree is letting go of her mother and they're blowing out the candle together on their birthday cake. That scene of Tree just staring at her mother and taking it all in was so beautiful that it made me tear up. 
As per usual, "Happy Death Day 2U" ended with a twist, just like the first one did. This is one spoiler I will not reveal because it is best left unsaid if you are reading this before watching the movie. The "Happy Death Day" films are extremely clever and hilarious and I absolutely love them. Jessica Rothe is a brilliant lead and I fall more in love with Israel Broussard every time I see him in a film. "Happy Death Day 2U" is completely worth the watch and I am very much looking forward to the third one! 
And if you haven't seen it already, then what are you waiting for?