Nail Colors for Your Zodiac Sign
Looking for a new nail color? Why not let the stars choose for you? Check out the shades that will help you get in touch with your sign and reflect your fabulous personality!
Aries (March 21–April 19)
Chrissy Portwine
With a life full of spontaneity, have you thought about pausing for a minute and getting a manicure, Aries? When you do, consider eye-catching coral as your next shade! For the more subdued Aries, try out mauve or peach. These warm colors are sure to speak to your soul and complete your look before you run off to your next adventure.
Taurus (April 20–May 20)
Chrissy Portwine
As someone who prefers stability, a Taurus is likely to be happiest in their comfort zone. That's why natural colors like warm nude and sheer pink are perfect for you — they complement your tender, earthy vibes. If you want to try something different, an olive shade is still neutral but a bit unexpected.
Gemini (May 21–June 20)
Chrissy Portwine
Gemini, your witty and fun demeanor captivates everyone around you - so why shouldn't your nails be captivating, too? Not just anyone can pull off colors like pale yellow and mint green, but you sure can! If you're slow to go for a frosty pastel, emphasize your dramatic flair with a bright magenta shade that is perfect for summer.
Cancer (June 21–July 22)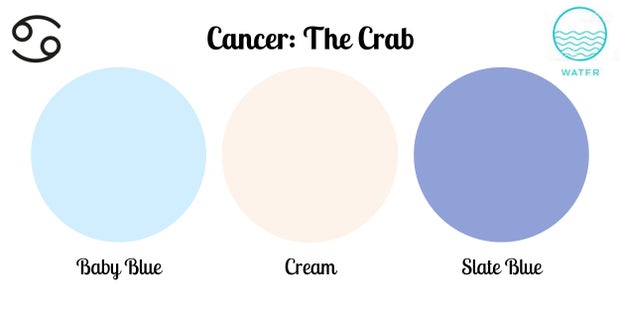 Chrissy Portwine
Life can be overwhelming for you, Cancer, but your nails don't have to be. Connect with your emotional side by going with a shade of blue. Baby blue is great if you need some comfort at your fingertips, or, if you're feeling a little moody, embrace it with a chic slate blue. Just need something simple? A soft cream will help you feel put-together and radiate that lunar energy!
Leo (July 23–August 22)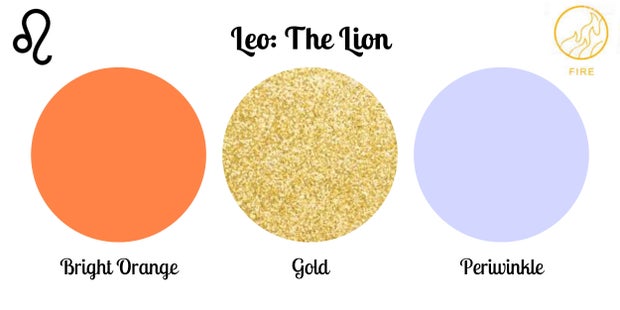 Chrissy Portwine
Yes, Leo, it's finally your turn. Most people save the glitter polishes for special occasions, but we all know any event is a special occasion if a Leo is there! So, stop waiting for New Year's and start rocking some shiny gold nails! If that's not your style, a bright orange is sure to be a head-turner, too. For the more introverted Leos out there, try a periwinkle polish. You may be quieter, but that doesn't make you any less of a trendsetter.
Virgo (August 23–September 22)
Chrissy Portwine
It's only appropriate that your nails should match your sophisticated personality, Virgo, which is why neutral colors like dark grey and cool nude are right up your alley! They make a statement, and that statement is: "I am a boss bitch." Or, if you want to give your nails a break, you can't go wrong with a coat of clear polish. Want to be the ultimate Virgo? Go bare! What's more practical than that?
Libra (September 23–October 22)
Chrissy Portwine
Libras are infamously charming no matter what color is on your nails, but there's no harm in channeling that flirty-fun energy! Hot pink instantly comes to mind, especially if you're looking to make a statement and connect with your femininity. For a Libra with a softer side and an eye for style, trendy lilac was made for you. Going for a more balanced look? Berry purple is super wearable and is great to complement your fall closet.
Scorpio (October 23–November 21)
Chrissy Portwine
How appropriate is it that Halloween falls in your season, Scorpio? Dark nails will not only get you in the spooky mood but also match your mysterious, seductive vibes. Black is the obvious choice, but don't be afraid to switch it up with a duo-chrome polish or a metallic finish. Deep purple and burgundy are also great shades if you are looking to channel that passionate energy.
Sagittarius (November 22–December 21)
Chrissy Portwine
I'll be honest, Sagittarius, no one color can totally encompass your philosophical, idealistic spirit. But you take a little pride in that, don't you? If you want to connect with your blunt and feisty side, try a shade like maroon or burnt orange (not to mention they're perfect for Thanksgiving!). If you identify more with Sag's humor and generosity, a more neutral color like army green will allow your personality to shine. 
Capricorn (December 22–January 19)
Chrissy Portwine
Capricorn, we respect your hustle and your drive, but you are long overdue for a break. Treat yourself to a manicure, already! Neutral shades like dark brown and cool grey will make you look put-together without distracting others from all the hard work you do. Looking for more of a statement color? Go for emerald green, especially if you're manifesting in your success.
Aquarius (January 20–February 18)
Chrissy Portwine
Your creativity and quirkiness make you anything but boring, Aquarius! That's why you are the ideal sign to rock silver nails, and you can even try it on top of other colors for a totally unique look. If you're going for something a little less dramatic, navy blue will speak to your expressive and independent spirit, or a frosty ballet pink will complement your friendly and likable personality.
Pisces (February 19–March 20)
Chrissy Portwine
You are easily the most spiritual and compassionate of the signs, Pisces, so why not have the nails to match? For someone who wants to connect with their spirituality, muted purple will channel calm and healing energy. If you'd rather reflect your thoughtful and artistic qualities, try blue-green colors like teal and seafoam green.
From the fiery ram to the gentle fish, every sign in the zodiac has unique qualities worth showing off. And what better way to project your celestial energy, or treat yourself, than with the perfect manicure? Whether you want to reflect your sun sign, moon sign, rising sign, or even your Venus sign to prepare for Valentine's Day, there is a color to help you channel your best self!