My Experience at Glossier Miami
I'm never spontaneous, not even for a second. I think that the most "spontaneous" I've ever been was thinking about driving two hours to help my friend get a black cat that she wanted. The thought of not planning out a situation is scary and makes me second guess any crazy plans my friends may come up with. Although I may lack this characteristic, my sister and I randomly decided to drive to Miami to see Glossier's pop-up shop in Wynwood.  
When I mean randomly, I mean that I brought up the idea to my sister and she said yes—a week before we drove the two and a half hours. I feel like in today's world, being spontaneous means being responsible enough to ask off from work two weeks before. Or it means packing up your car and moving to another city. Either way, my sister and I woke up at 6 a.m., blasted the Jonas Brothers' new song in the car and dreamed about all the things we wanted to buy.  
Since my sister and I like to be prepared, we got to the pop-up shop an hour before it opened. The small building stood out from the other murals and shops beside it. Bright colors, including pink and yellow, seemed to scream out, which made me think of a lyric in Taylor Swift's song, "Out of the Woods": "The rest of the world was black and white / but we were in screaming color."  
The pop-up shop may be small inside, but there are so many places to lose yourself in. Tiny sections for the Generation G lipstick, Glossier Play or the Perfecting Skin Tint were taken over by people trying to get their hands on it. As soon as I saw this, I immediately grabbed my sister and began to swatch some products.  
By the end of the first hour, my hand looked like an artist's palette of colors. Glitter was off to one side, while different lip colors took over most of my skin. After I wiped it all off, I began to ask for the products that I wanted from the people that worked there. Note to anyone who's reading this: there aren't checkout counters at Glossier Miami. You simply go to anyone who is working there, ask for what you want and a wonderful person calls out your name when your bag is ready. That person who calls out your name has a loud voice, so be ready!  
Besides the popular products that have developed a cult following, Glossier Miami has amazing opportunities for a photo. Want to have a selfie session with a backdrop of leaves and fake fruits? Want to stand beside a cart full of mangoes with the Glossier logo on it and have someone take a full body photo for you? Glossier has got that covered.  
Usually, my Saturdays consist of waking up, getting dressed and going to work. But that Saturday was different. I was spontaneous for the first time this year, spent quality time with my sister and got makeup that I've been wanting for a while now. I guess we all need that one day where we go out of our norm and do something completely cool or try something new.  
I hope that you carve out some time to drive over to Glossier Miami and experience the shop before it closes. It's only there for a few more weeks, so head over there and buy some glitter gelée. You'll look fabulous, and I need someone to twin with whenever I wear it.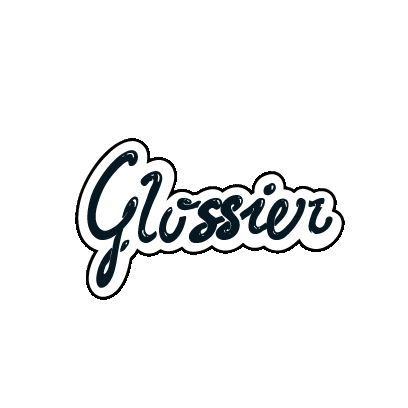 Images provided by the author, Karla Grimes.
Gif: 1