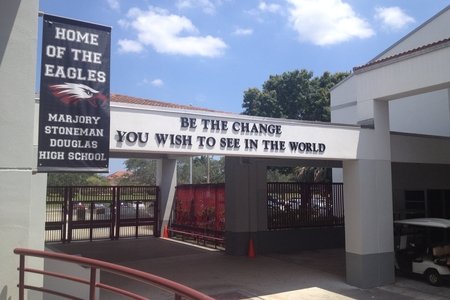 Her Story: Marjory Stoneman Douglas High School, Class of 2014
On February 14, 2018, around 2:50 p.m., my mom called me saying my alma mater was under a Code Red, meaning there was an active shooter on campus. She explained that my stepbrother, who is a sophomore at MSD, was on campus hiding in the auditorium. I began to have a panic attack. Fortunately, after hiding for 3 hours in the auditorium, he was evacuated safely.
I instantly checked Facebook to see if anyone was talking about the Code Red. I was shocked to see so many news articles and live streams of my hometown and my high school, Marjory Stoneman Douglas under a Code Red. At that moment I turned on the live stream, SWAT and police were looking for the shooter. The number of injured people was currently unknown.
My school, the place I spent 4 years at, the place my brother spent 4 years prior to my attendance, the place I met my high school sweetheart at, the place I called home. The halls I once walked were now a crime scene.
Parkland, Florida is a tiny city located in southern Florida. Parkland is so small that when I tell people where I am from they never know where it is. I have to explain to people that I am from a tiny city 30 minutes north of Fort Lauderdale. Parkland is known as a small community where you know everyone who lives there, where it's almost impossible not to recognize someone you know at the grocery store. Parkland was recently named the safest city in America, but how could this have happened? That's the thing though, massacres can happen anywhere! That's the sad and real thing about today's society. Shootings are occurring as if it's a routine. Something needs to change, people need to stop being murdered!
On February 14, 2018, from around 3:00 p.m. until 3:00 a.m. my eyes were glued to the news. I was watching a live stream on Facebook from a local news station in Parkland. I also had the TV on, flipping between CNN and Fox. My phone was going in and out of Twitter, Facebook, and Instagram. One of the first videos I saw of the massacre was a video from Snapchat, showing other students hiding. You can literally hear the blaring sounds of gunshots. In that moment, everything became real. I felt nauseous, my heart sunk and my entire body went numb. This was my school in my hometown where most of my friends have siblings who still attend Douglas. The classrooms I learned in and the halls I walked down were now a crime scene.
There were rumors popping up left and right of names of people who were injured or deceased. I didn't know what to believe. On social media, I saw my friends and followers sharing pictures of missing brothers, sisters, cousins and friends. People all over the world were talking about my tiny town of Parkland, but unfortunately not for the right reasons. A massacre and tragedy had just struck my home and everyone in the world was talking about it.
On February 15, 2018, around 8 a.m. I awoke to the saddening news that my former football coach and security guard was among the first few names released of the deceased. I checked social media to discover the same missing students were still missing. My body didn't know how to react. An hour or so passed, when my social media accounts broke the news that those missing students were among the few that were murdered during this massacre. My body that was already numb and heart that was already broken were shattered. How could this have happened to the kids and faculty of my school? School should be a safe place where you come to learn and socialize, not hide and fear for your life.
As the names of the victims starting becoming public, I started to break down. These were students and staff of my alma mater who were innocent and beautiful people. My eyes had been glued to the TV screen for over 17 hours. I couldn't eat, sleep or think about anything else. A family friend of my boyfriend was on campus during the shooting and was missing all day. All I could feel was numbness and panic. I was praying this beautiful soul would be found. My heart breaks as I write this, her beautiful soul was murdered and may she rest in peace. May all the beautiful souls who have passed away rest in peace.
Out of respect, I am not going to be naming names in this article and I will never mention the name of the killer. However, there is one name that I strongly believe needs to be talked about and that is Aaron Feis. Feis was our assistant football coach and security guard. He is a hero in the eyes of everyone who attended Marjory Stoneman Douglas. He was the sweetest angel and could always make you laugh. Feis used his body to protect students during the shooting. He gave his life for MSD and he is truly a hero. I also want to give a shout out to all of the first responders of this massacre. Thank you for all of your hard work and everything you have done for our community.
On February 15, 2018, as I was watching the news stations and hearing them interviewing my former teachers and the people of my community, I wanted nothing more than to drive 3 hours south of my current home of Orlando to my forever home of Parkland. My boyfriend and I drove down in silence. We began creeping up to the Coral Ridge Drive exit on the Sawgrass Expressway, we passed the exit for Lyons, next was 441 South and North, then University Drive and finally our stop, Coral Ridge Drive.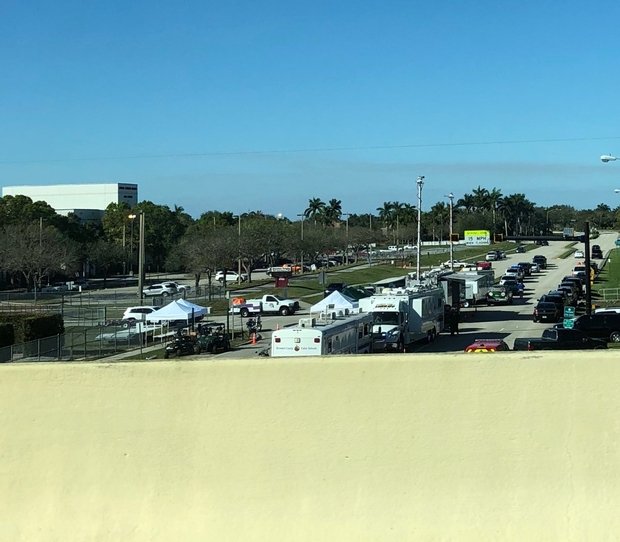 From the Sawgrass, right before the exit for Coral Ridge Drive, you have a clear view of Marjory Stoneman Douglas. My heart sunk as I looked out the window and saw the entire street in front of my high school blocked off with police, fire trucks, and news vans. Several helicopters were also circling the area. My boyfriend's neighborhood is across the street from Douglas. As we pulled into the driveway of his home, there were 7 helicopters right above his house. Even inside the home, you could hear the sound of the helicopters. Reality began to sink in and I felt completely nauseous.
An hour or so later my boyfriend's family and I walked across the street to Pine Trails Park for the candlelight vigil. The community of Parkland, alumni of MSD and people from all over Broward came together to honor those who have lost their lives during this horrific event. We unified as a community to remember those who are no longer here. Thousands and thousands of people came together to unite under stars to honor the fallen angels. Pine Trails holds a special place in my heart because I trained here, I practiced here and tonight, I came back to support my community once again. I stood on that field with a candle in my hand while tears fell down my face. For over an hour, I listened to the many incredible people speak about gun laws, our community, our leaders and the change we need to see.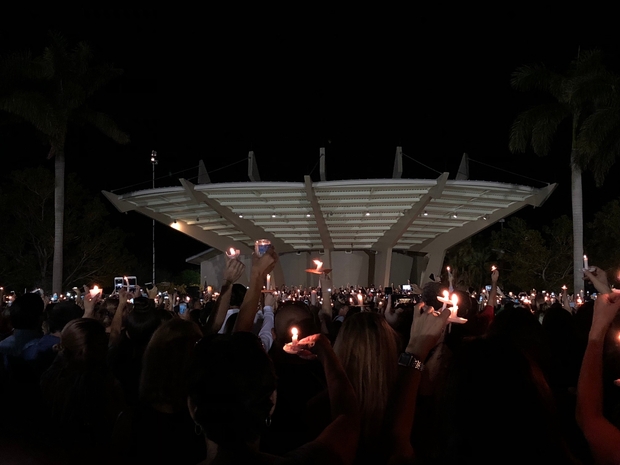 Never in a million years did I think this would happen to my city. I never thought I would see the name of my school and city trending on social media. I never thought celebrities and people all over the world would talk about Marjory Stoneman Douglas located in Parkland, Florida. It's sickening that it took a massacre for people around the world to notice our beautiful city full of wonderful people who have achieved so much. Eight years ago, I first entered the halls of Marjory Stoneman Douglas as a student and four years ago, I graduated. Now, here I am, four years later joined hand in hand with my community as we find the light through this dark time. Marjory Stoneman Douglas High School, the city of Parkland and the entire alumni community will always be a piece of me. Because once an eagle, always an eagle.