Gina Rodriguez Is Cancelled & It Makes Me Sad
Gina Rodriguez recently had to apologize twice for saying the n-word on her Instagram story.
As she was getting her hair and make-up done, the Jane the Virgin star was singing along to hip-hop song "Ready or Not" by the Fugees. Rodriguez posted the video to Instagram and immediately received backlash from fans. 
What added more fuel to the fire was when Rodriguez released an apology video that did not seem entirely genuine. In the video, she apologizes for singing along to a song that she grew up loving. It does not seem like she is aware of what she has done wrong at all.
The first apology did not do much for the actress as people already started to attack her on Twitter. After that, her PR team released several statements but the damage seems irreparable at this point. It's apparent that the actress doesn't know what she did wrong if her PR team has to release a statement after she already issued an apology.
As a fan of Gina, I never would've guessed that this is how her career would end. I became a fan of hers from her starring role on Jane the Virgin, a show that made her into a well-known Latina actress. What made her stand out from many other actresses in Hollywood is that once she received a platform, she used it to advocate for others.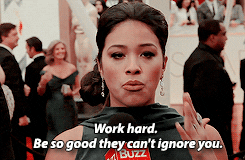 Once Rodriguez received a Golden Globe Award in 2015 for her role as Jane Villanueva, she became a philanthropist and advocate for things that she felt a personal connection to. This includes things such as the National Bullying Prevention Center and Naja, a lingerie company dedicated to helping women and the environment. She also sits on the Board of Directors for the Hispanic Scholarship Fund, one of the biggest nonprofits in the United States that supports Hispanic higher education.
When I look back on Gina Rodriguez's career, it doesn't make sense to me how we've gotten to this point. Because she's an advocate and philanthropist, one would think that she would be very aware of what can happen when you say the N-word and how that would come across if you don't fit that demographic. In a time where everyone in our society is so obsessed with being politically correct, she as an advocate should have been more aware of the impact she has. It's tragic to me that this is how her career will end.